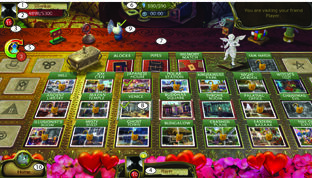 Strength points (also known as Power) are used to charge your friends' pictures, puzzles or desktop awards when visiting them. Strength is also known as Power in the game in recent updates, but both words refer to the same thing: the points needed to carry out any actions when visiting your friends.
Each charge costs you 10 strength points.
When visiting a friend's desktop your current amount strength points and current maximum amount of strength points are shown at the top of the friend's desktop, in the position your energy points are shown on your own home desktop. (Number 6 in the picture of visiting a friend above).
Note: Strength points are different from Energy Points. Using food items or talismans and artifacts that restore energy points will not increase your strength points. Energy points are used to investigate pictures and puzzles and to open new pictures. The Peace Amulet increases strength rewards by +50% for 24 hours.
Using Strength Points
Edit
To visit a friend, open the Friends Section of the game by pressing the Friends Icon on your Home Desktop. The first tab in the Friends section is the list of your current friends. Find the friend you want to visit and then press the green 'visit' button under their name in your Friends list.
You will be brought to your friend's Home Desktop (see picture of visiting a friend above). Every day you are allowed a set number of actions for each friend you visit. You may only charge that number of pictures/puzzles/awards for each friend that day. To charge a picture, puzzle or award simply press the icon for that picture/puzzle/award. A check mark will appear if you have successfully charged it (Numbers 8 and 9 in the picture of visiting a friend above).
Each charge costs you 10 strength points.
Strength Level and Maximum Strength
Edit
Number 6 in the picture of visiting a friend's Home Desktop above shows your current and maximum strength points in the form: current strength points/maximum strength points. In the example in the picture, the player has 590 out of a maximum 590 strength points available.
Your maximum strength points increase by 10 for each time you increase an level in the game. You can also increase your maximum by using a Gold Weight (restores all strength and adds 10 points to your maximum).
Strength Point Restoration
Edit
Your strength points restore at a rate of 1 point every 3 minutes.  Strength point are also restored to maximum every time you reach a new level in the game.  (Winged Lightning Talismans and Artifacts do not increase the rate of restoration of strength points.  They only work on energy points).
Once you reach your maximum, the clock stops and your strength will not start restoring again until your strength points drop below the maximum level again. However, you can still gain strength points from the Friendliness Award or by using weights in your inventory, and these will still be added to your current total strength points, even if the total is more than your maximum.
Talismans that Reward Strength
Edit
You can increase the rate your Strength restores by using Talismans that can be earned from special awards during some events or bought in the shop for crystals such as the Bronze weight disk and the Golden weight disk. Currently, these talismans are only available to buy in the shop and no collection awards them.
| Talisman | Icon | Cost | Strength Renewal Increase | Duration | Extra Strength Points Earned |
| --- | --- | --- | --- | --- | --- |
| Bronze weight disk | | 7 crystals | 3x quicker renewal | 30 minutes | 20 |
| Golden weight disk | | 18 crystals | 5x quicker renewal | 90 minutes | 120 |
Using Weights to Restore Strength Points
Edit
As you charge your friends' pictures, puzzles or awards, your strength supply will slowly go down. Once you run out of strength points you must either wait for your strength points to restore at a rate of 1 strength point every 3 minutes or you can use weights you win in the game to restore some of your strength so you can continue charging your friends' desktops.
If you try to charge a picture, puzzle or award on a friend's desktop when you do not have the required amount of strength points, you will be given the option to use a weight in your inventory or buy the weight you require in the shop for crystals.
You can use weights at any other point in the game by pressing the Inventory icon on your own Home Desktop to open your Inventory and selecting the Power tab. Pressing the icon for any weight you have in your inventory will bring up a box describing what the item does, which awards reward the item and how many you currently have in your inventory.
There are currently 4 weights available in the game:
| Name | Icon | Value |
| --- | --- | --- |
| Low weight | | 30 strength points |
| The average weight | | 50 strength points |
| Significant weight | | 100 strength points |
| Gold weight | | Fully restores all strength points and increases maximum strength by 10 points |
Collections that Reward Weights
Edit
Below is the list of Collections that reward weights when combined. See the List of Collection Items for a full list of collections and what they reward.
Notes and Historical Information
Edit