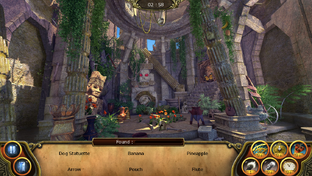 Mayan Temple is unlocked through normal game play when a player reaches level 12. 
Players can 'pay to play' Mayan Temple from level 11 onward, where they can choose to pay with crystals (which will need to be bought with real money) to unlock the Picture early rather than waiting until they reach level 12 and unlock it for free through normal game play. The opening levels for Mayan Temple, previously levels 7 and 9 respectively, were changed with the Family Mystery Update (v1.31.3100).
From the Diary:
"Ah, I'm glad I restored this photograph of a Mayan temple. There aren't many places Richard hasn't been to; he was a real world traveler! (I should say "is", because I'm going to find him, safe and sound!) Anyway, this is a great image. Sometimes it's good to just walk among the ruins in the heart of the jungle."
The following is a list of hidden items found in Mayan Temple. Depending on the Picture Level and Game Mode you may not have to find all the items in one visit. Morphs and Pieces modes have their own items that need to be found, separate from those listed below.
Amulet
Ancient Helmet
Ancient Scroll
Arrow
Backpack
Banana
Butterfly
Compass
Crystal Skull
Dagger
Dog Statuette
Flute
Goblet¹
Golden Idol
Green Apple
Hatchet
Monkey
Necklace
Parrot
Pistol
Pineapple
Pouch
Ritual Plate
Stone Mask
Tattered Map
Item Notes:
The Hanami Festival Update (April 2018) made the following changes:

Golden Goblet was renamed Goblet
Resource Demands and Rewards for Playing
Edit
The amount of energy required to play Mayan Temple will increase as the level of the Picture is increased. The experience points and coins rewards for each win of the Picture will also increase to match the increase in resource demands, as will the pool of potential collection item rewards.
The pool of rewards available for each successful game of Mayan Temple contains both Collection Items and Combining Elements:
Note: In addition to the items listed above, other items may also be in the list of potential rewards for a particular play of the picture depending on what game mode it is currently in (e.g. items from the Venetian Masks collection if it is in Text mode) or if there is an active quest involving the picture. Mayan Temple is one of the pictures that may reward event special items after completion of the event (either finished with all challenges or regular end) until the next main version update.
Mayan Temple is known for its difficulty in Pieces mode. Compasses can be very useful in finding the different objects in this mode.