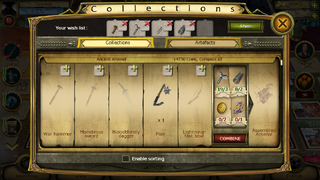 Below is a complete list of collections currently available in the game that includes each item needed to combine that collection as well as where to find each item.
In reference to this page, each collection is listed in the order they were added to the game.
Use the 'find' function on your browser to search for collection items to find their corresponding collection. Follow the links to the individual pages on each collection to get more details about them.
Regular Play Item Locations
Edit
Most, but not all, items needed to make collections can be won through normal game play. You win collection items for each successful picture investigation or puzzle game you complete. Some items can only be won when you have advanced the picture or puzzle's level to a certain point, and will not be available to win there until you reach that level of progress for the picture/puzzle. Other items can only be won when playing a picture in a certain picture mode. If you are unsure whether you are at the right picture/puzzle level or you are playing a picture in the right mode to win a particular collection item, you can check to see if it is available to win before you begin the game. You do this by opening the research window of the picture/puzzle by pressing its icon on your home desktop. In the research window, there is a "Can be Found" section, which contains all collection items and combining elements that potentially can be given out as rewards for winning the picture/puzzle game. The "Can be Found" list is located above the Research button and contains photos of all the items available to win. You can scroll through this list either by swiping or by using the arrows either side of the list. This list changes depending on what level you have advanced that picture/puzzle to, or in the case of pictures, depending on what mode the picture is currently in.
If you are trying to win a particular item in order to complete a collection, you can find out where to get it by pressing its icon in the collections tab. This will bring up an infobox for that particular item. Some items can be won in multiple pictures and puzzles, and some items can only be found in one location. Others can only be found when playing in a certain mode, for example, night mode, but can be won in any picture as long is that picture is played in night mode.
A few items cannot be won in any picture or puzzle. These items can only be won when the quest for that item is active, and once the quest is complete it will no longer be available to win in the location the quest specified. If a quest only item has a green plus sign next to it in the collections tab, then it can be gifted between friends, so if you are looking for it you can ask your friends to send it to you. However, if a quest only item does not have a green plus sign next to it, then it cannot be gifted between friends. In the case of quest only items with no green plus signs there are only 3 ways you can get the item before you activate its quest or after you have completed its quest: 1) as a reward for discharging the collectors desktop award, 2) as a random item that drops when you open a Pandora's Chest or 3) as a item that drops randomly when you are charging a friends home desktop when visiting them.
Note: If a quest is open for any collection item, you can still get the item in the 3 ways listed above, and as a gift from a friend (if it is a green plus sign item), and gaining a collection item in any of these ways will automatically complete the quest.
Quest Item Locations
Edit
Often, the quest for a particular item will ask for very specific requirements to win the item e.g. "Play Misty Shed in Morphs mode" or "Scatter the Lost Time anomaly". It is possible for the conditions specified by a quest to be different from the regular play locations for that item. When this is the case, the item will always be available to win in the regular item location, but for the duration of the quest, it will also be available to win in the quest location. That is, once the quest is active the item will be found in two locations, until you find the item, and the quest completes. At this point, the item will go back to only being available in the regular play location.
Winning an item from a regular play location during a quest asking you to find it in a quest location will still complete the quest, so while the quest is open there will be two ways to find the item and thus complete the quest. Before and after the quest appears on the left-hand side of your Home Desktop there will only be one way to find the item (the Regular location, if the item has one).
For example, if an item is normally found in Night Garden once you reach detective level for Night Garden, but a quest appears for that item asking you to search Crashed Plane in Silhouette mode:
Before the quest starts the item will only be available to win as a reward for successfully investigating Night Garden (once you reach Detective Level or higher on Night Garden).
Once the quest starts, the item will be available to win in two ways - either playing Night Garden (once it is detective level or above) or by playing Crashed Plane in Silhouette mode. Getting the item from either picture will complete the quest.
After the quest completes, the item will no longer be available to win by successfully completing Crashed Plane in Silhouette mode, from this point forward you will only be able to find the item in Night Garden (once you reach detective level or higher).
List of Collection Item Locations
Edit
Note: This table is very large because it lists each collection item within each collection. This is to enable people to search for a collection based on the name of a collection item they have found or are looking for as part of a quest. Use the List of Collections page if you already know the name of the collection you are looking for and are simply looking for information on the rewards for combining the collection. For a complete list of combining element requirements, use the List of Combining Element Requirements page, and for a complete list of Collection items without their locations, use the List of Collection Items page.
The exact requirements to complete quests can change with updates to the game. The Quest Locations listed below are up to date as of the Valentines (February 2014) update. Any changes made to earlier quests in later updates may not be taken into account (it just isn't feasible to check every single quest every time a new update is released).
Note 2: In the table, any collection items that cannot be added to your wishlist or given as gifts to your friends are marked with a light blue background. All other collection items, with light grey backgrounds, can both be added to your wishlist and sent to your friends as gifts.
Most non-giftable Collection Items were changed to giftable items with The Forgotten Story/Wildlife Photography Season Update (version 1.24.2400. March 2017).  Their light blue background has been removed. Please use the 'Giftable Collection?' column in the List of Collections and List of Collection Items pages to sort the collections into those that are giftable and those that are not.
Note 3: Some items in the game share the same name with another item from a different collection. These items are numbered in the list based on when they were introduced to the game. Any item with a (1) or (2) after the item's name indicates that another item from a different collection is called the same thing. Two different collections are called 'Magical Ingredients' and these are also indicated with a (1) and a (2).
If you copy this or any list on this wikia, please credit the original source when you re-post elsewhere. Typing this stuff out was a lot of work - your copying and pasting was not.
As of the Christmas Magic Update (December 2018, v1.36.3600), there are 834 collections in the game. There are 94 collections without regular locations and 29 collections without associated quests.
Item 1
Item 2
Item 3
Item 4
Item 5
Item Created
Coins Earned
Rewards
Banker's Treasure
Item
Antique coin
Lucky coin
Gold coin
Precious coin
Shiny coin
Regular Location
Blocks (from scene level Novice); Venice (from scene level Novice)
Blocks (from scene level Novice); Buddha's Square (from scene level Novice)
Blocks (from scene level Novice); Venice (from scene level Novice)
Blocks (from scene level Novice); Buddha's Square (from scene level Novice)
Blocks (from scene level Novice); Venice (from scene level Novice)
Quest Location
Buddha's Square
Venice
Blocks
Venice
Buddha's Square
Wisdom of the Library
Item
Geography book
Anatomy book
Alchemy book
Book of Magic
Book of Secrets
Book Set
Regular Location
Pipes (from scene level Novice); Venice (from scene level Detective)
Pipes (from scene level Novice); Venice (from scene level Detective)
Pipes (from scene level Novice); Venice (from scene level Detective)
Pipes (from scene level Novice); Buddha's Square (from scene level Trainee)
Pipes (from scene level Novice); Buddha's Square (from scene level Detective)
Quest Location
Throne Room
Venice
Blocks
Throne Room
Buddha's Square
Chess Pieces
Item
Pawn
Bishop
Rook
Queen
King
Chess Board
Regular Location
Memory Match (from scene level Novice); Venice (from scene level Pro)
Memory Match (from scene level Novice); Venice (from scene level Pro)
Memory Match (from scene level Novice); Venice (from scene level Pro)
Memory Match (from scene level Novice); Buddha's Square (from scene level Detective)
Memory Match (from scene level Novice); Throne Room (from scene level Novice)
Quest Location
Blocks
Buddha's Square
Throne Room
Pipes
Buddha's Square
Crowns of the World
Item
Gold crown
Silver crown
Copper tiara
Bronze crown
Fur crown
Majestic Crown
Regular Location
Blocks (from scene level Trainee); Venice (from scene level Pro)
Blocks (from scene level Trainee); Buddha's Square (from scene level Detective)
Blocks (from scene level Trainee); Buddha's Square (from scene level Pro)
Blocks (from scene level Trainee); Throne Room (from scene level Trainee)
Blocks (from scene level Trainee); Throne Room (from scene level Trainee)
Quest Location
Pipes
Throne Room
Venice
Buddha's Square
Throne Room
A Set of Toy Soldiers
Item
Cavalry figurine
Infantry figurine
Crossbow-man figurine
Courier figurine
Captain figurine
Toy Soldier
Regular Location
Pipes (from scene level Trainee); Buddha's Square (from scene level Pro)
Pipes (from scene level Trainee); Throne Room (from scene level Detective)
Pipes (from scene level Trainee); Throne Room (from scene level Detective)
Pipes (from scene level Trainee); Japanese House (from scene level Novice)
Pipes (from scene level Trainee); Japanese House (from scene level Novice)
Quest Location
Buddha's Square
Throne Room
Blocks
Venice
Throne Room
Stargazer's Artifacts
Item
Telescope
Stargazer's hat
Stargazer's cape
Lunar globe
Constellations map
Observatory Model
x1
Regular Location
Memory Match (from scene level Trainee); Venice (from scene level High Explorer)
Memory Match (from scene level Trainee); Venice (from scene level High Explorer)
Memory Match (from scene level Trainee); Buddha's Square (from scene level Pro)
Memory Match (from scene level Trainee); Buddha's Square (from scene level Pro)
Memory Match (from scene level Trainee); Throne Room (from scene level Detective)
Quest Location
Japanese House
Blocks
Japanese House
Buddha's Square
Japanese House
The Navigator's Secrets
Item
Compass
Marine chronometer
Sextant
Spyglass
Captain's hat
Sea Captain Figurine
Regular Location
Pipes (from scene level Detective); Throne Room (from scene level Pro)
Pipes (from scene level Detective); Throne Room (from scene level Pro)
Pipes (from scene level Detective); Japanese House (from scene level Trainee)
Pipes (from scene level Detective); Japanese House (from scene level Detective)
Pipes (from scene level Detective); Mayan Temple (from scene level Novice)
Quest Location
Throne Room
Japanese House
Pipes
Venice
Japanese House
Windows to the World

Item

Picture of the sea
Picture of the desert
Picture of the forest
Picture of the mountains
Picture of the plains
Magnificent Picture
Regular Location
Blocks (from scene level Detective); Venice (from scene level High Explorer)
Blocks (from scene level Detective); Venice (from scene level High Explorer)
Blocks (from scene level Detective); Buddha's Square (from scene level High Explorer)
Blocks (from scene level Detective); Buddha's Square (from scene level High Explorer)
Blocks (from scene level Detective); Throne Room (from scene level Pro)
Quest Location
Pipes
Throne Room
Japanese House
Throne Room
Japanese House
Fragrant Flowers

Item

Carnations
Violets
Daisies
Roses
Forget-me-nots
Gorgeous Bouquet
Regular Location
Memory Match (from scene level Detective); Japanese House (from scene level Detective)
Memory Match (from scene level Detective); Japanese House (from scene level Detective)
Memory Match (from scene level Detective); Mayan Temple (from scene level Trainee)
Memory Match (from scene level Detective); Mayan Temple (from scene level Trainee)
Memory Match (from scene level Detective); Ghost Town (from scene level Novice)
Quest Location
Memory Match
Buddha's Square
Mayan Temple
Blocks
Venice
Wild Rings

Item

Dragon ring
Lion ring
Wolf ring
Falcon ring
Stag ring
Phoenix Ring
Regular Location
Blocks (from scene level Pro); Buddha's Square (from scene level High Explorer)
Blocks (from scene level Pro); Throne Room (from scene level Pro)
Blocks (from scene level Pro); Japanese House (from scene level Pro)
Blocks (from scene level Pro); Japanese House (from scene level Pro)
Blocks (from scene level Pro); Mayan Temple (from scene level Detective)
Quest Location
Ghost Town
Memory Match
Ghost Town
Buddha's Square
Ghost Town
Psychic's Power

Item

Crystal ball
Tarot deck
Crystal pendulum
Ouija board
Rabbit's foot
Psychic Orb

Regular Location

Pipes (from scene level Pro); Buddha's Square (from scene level High Explorer)
Pipes (from scene level Pro); Throne Room (from scene level High Explorer)
Pipes (from scene level Pro); Throne Room (from scene level High Explorer)
Pipes (from scene level Pro); Japanese House (from scene level Pro)
Pipes (from scene level Pro); Japanese House (from scene level Pro)
Quest Location
Ghost Town
Pipes
Mayan Temple
Throne Room
Venice
Historical Warriors

Item

Genghis Khan
Alexander the Great
Napoleon (1)
Hannibal
Caesar
Collected Commanders

Regular Location

Memory Match (from scene level Pro); Mayan Temple (from scene level Detective)
Memory Match (from scene level Pro); Mayan Temple (from scene level Detective)
Memory Match (from scene level Pro); Ghost Town (from scene level Trainee)
Memory Match (from scene level Pro); Ghost Town (from scene level Trainee)
Memory Match (from scene level Pro); Joy Cafe (from scene level Novice)
Quest Location
Joy Cafe
Joy Cafe
Ghost Town
Joy Cafe
Joy Cafe
Dark Dwellings

Item

Bloody Mary's Mansion
Castle Dracula
Witch's Hut
Abandoned Asylum
Haunted House
"Dark Dwellings" Book

Regular Location

Pipes (from scene level High Explorer); Mayan Temple (from scene level Pro)
Pipes (from scene level High Explorer); Mayan Temple (from scene level Pro)
Pipes (from scene level High Explorer); Ghost Town (from scene level Detective)
Pipes (from scene level High Explorer); Ghost Town (from scene level Detective)
Pipes (from scene level High Explorer); Joy Cafe (from scene level Trainee)
Quest Location
Joy Cafe
Memory Match
Joy Cafe
Pipes
Joy Cafe
Athlete's Equipment

Item

Soccer ball
Jersey
Athletic shoes
Whistle
Shorts
Soccer Trophy

Regular Location

Blocks (from scene level High Explorer); Throne Room (from scene level High Explorer)
Blocks (from scene level High Explorer); Throne Room (from scene level high Explorer)
Blocks (from scene level High Explorer); Japanese House (from scene level High Explorer)
Blocks (from scene level High Explorer); Japanese House (from scene level High Explorer)
Blocks (from scene level High Explorer); Mayan Temple (from scene level Pro)
Quest Location
Mayan Temple
Buddha's Square
Pipes
Mayan Temple
Venice
Exotic Eggs

Item

Faberge egg
Easter egg
Chocolate egg
Golden egg
Silver egg
Phoenix Egg

Regular Location

Memory Match (from scene level High Explorer); Japanese House (from scene level High Explorer)
Memory Match (from scene level High Explorer); Japanese House (from scene level High Explorer)
Memory Match (from scene level High Explorer); Mayan Temple (from scene level Pro)
Memory Match (from scene level High Explorer); Mayan Temple (from scene level High Explorer)
Memory Match (from scene level High Explorer); Ghost Town (from scene level Pro)
Quest Location
Ghost Town
Mayan Temple
Memory Match
Blocks
Ghost Town
International Postage

Item

British stamp
Russian stamp
French stamp
Brazilian stamp
Australian stamp
Stamp Collection

Regular Location

Ghost Town (from scene level Detective)
Joy Cafe (from scene level Trainee)
Joy Cafe (from scene level Detective)
Polar Station (from scene level Novice)
Polar Station (from scene level Trainee)
Quest Location
Joy Cafe
Polar Station
Buddha's Square
Polar Station
Pipes
Honorary Medals
Item
Medal of Intelligence
Medal of Courage
Medal of Speed
Medal of Dexterity
Medal of Power
Medal Collection
x2
Regular Location
Mayan Temple (from scene level High Explorer)
Ghost Town (from scene level Pro)
Ghost Town (from scene level Pro)
Joy Cafe (from scene level Detective)
Joy Cafe (from scene level Detective)
Quest Location
Polar Station
Joy Cafe
Japanese House
Polar Station
Mayan Temple
Ancient Arsenal
Item
War hammer
Monstrous sword
Bloodthirsty dagger
Flail
Lightning fast bow
Assembled Arsenal
Regular Location
Mayan Temple (from scene level High Explorer)
Mayan Temple (from scene level High Explorer)
Ghost Town (from scene level Pro)
Ghost Town (from scene level High Explorer)
Joy Cafe (from scene level Pro)
Quest Location
Crashed Plane
Memory Match
Crashed Plane
Joy Cafe
Crashed Plane
Birds of Paradise
Item
Hummingbird
Peacock
Canary
Parrot
Kiwi
Canary Cage
Regular Location
Ghost Town (from scene level High Explorer)
Joy Cafe (from scene level Pro)
Joy Cafe (from scene level Pro)
Polar Station (from scene level Trainee)
Crashed Plane (from scene level Novice)
Quest Location
Polar Station
Crashed Plane
Pipes
Ghost Town
Crashed Plane
Assortment of Sweets
Item
Caramel candy
Cookie
Candy roll
Chocolate candy
Halva
Box of Chocolates
Regular Location
Ghost Town (from scene level High Explorer)
Joy Cafe (from scene level Pro)
Joy Cafe (from scene level High Explorer)
Polar Station (from scene level Detective)
Polar Station (from scene level Detective)
Quest Location
Throne Room
Crashed Plane
Blocks
Mayan Temple
Crashed Plane
Tools of Talent
Item
Paintbrush
Quill pen
Fountain pen
Ballpoint pen
Retractable pen
Great Scroll
Regular Location
Ghost Town (from scene level High Explorer)
Joy Cafe (from scene level High Explorer)
Polar Station (from scene level Detective)
Polar Station (from scene level Pro)
Crashed Plane (from scene level Trainee)
Quest Location
Polar Station
Joy Cafe
Polar Station
Mayan Temple
Polar Station
Global Visions
Item
Holiday globe
Country globe
City globe
Nature globe
Egyptian globe
Lucky Snow Globe
Regular Location
Joy Cafe (from scene level High Explorer)
Polar Station (from scene level Pro)
Polar Station (from scene level Pro)
Crashed Plane (from scene level Trainee)
Crashed Plane (from scene level Detective)
Quest Location
Venice
Japanese House
Ghost Town
Memory Match
Ghost Town
Beautiful Music
Item
Gramophone
Guitar
Violin
Drums
Piano
Music Award
Regular Location
Ghost Town (from scene level High Explorer)
Joy Cafe (from scene level High Explorer)
Joy Cafe (from scene level High Explorer)
Polar Station (from scene level Pro)
Crashed Plane (from scene level Detective)
Quest Location
Amusement Park
Joy Cafe
Amusement Park
Memory Match
Amusement Park
Grandmother's Jam
Item
Strawberries
Plums
Redcurrent berries
Raspberries
Peaches
Grandmother's Jam
Regular Location
Polar Station (from scene level High Explorer)
Polar Station (from scene level High Explorer)
Crashed Plane (from scene level Detective)
Crashed Plane (from scene level Pro)
Amusement Park (from scene level Novice)
Quest Location
Bungalow
Joy Cafe
Mayan Temple
Blocks
Bungalow
Virtuous Armor
Item
Sword
Shield
Helmet
Gauntlets
Breastplate
Golden Knight
Regular Location
Polar Station (from scene level High Explorer)
Polar Station (from scene level High Explorer)
Crashed Plane (from scene level Pro)
Crashed Plane (from scene level Pro)
Amusement Park (from scene level Trainee)
Quest Location
Amusement Park
Bungalow
Crashed Plane
Bungalow
Throne Room
Royal Assembly
Item
Throne
A crown
Kings robe
Scepter
King's orb
Golden King
Regular Location
Polar Station (from scene level High Explorer)
Crashed Plane (from scene level Pro)
Crashed Plane (from scene level High Explorer)
Amusement Park (from scene level Trainee)
Amusement Park (from scene level Detective)
Quest Location
Venice
Bungalow
Bungalow
Crashed Plane
Buddha's Square
Creatures of Myth
Item
Unicorn
Dragon
Phoenix
Elf
Dwarf
The Great Dragon
Regular Location
Crashed Plane (from scene level High Explorer)
Crashed Plane (from scene level High Explorer)
Amusement Park (from scene level Detective)
Amusement Park (from scene level Detective)
Amusement Park (from scene level Pro)
Quest Location
Amusement Park
Bungalow
Crashed Plane
Bungalow
Joy Cafe
Relics of the Past
Item
Dinosaur footprint
Fossilized shell
Fish skeleton
Mammoth tusk
Jellyfish cast
T. Rex Exhibit
Regular Location
Amusement Park (from scene level Pro)
Amusement Park (from scene level Pro)
Bungalow (from scene level Novice)
Bungalow (from scene level Trainee)
Bungalow (from scene level Trainee)
Quest Location
Memory Match
Polar Station
Ghost Town
Venice
Buddha's Square
Instruments of Time
Item
Wall clock
Floor clock
Pocket watch
Wristwatch
Alarm clock
Hourglass of the Order
Regular Location
Amusement Park (from scene level Pro)
Bungalow (from scene level Detective)
Bungalow (from scene level Detective)
Misty Shed (from scene level Novice)
Misty Shed (from scene level Trainee)
Quest Location
Bungalow
Mayan Temple
Amusement Park
Amusement Park
Buddha's Square
Parade of Princesses
Item
Indian Princess
French Princess
Russian Princess
British Princess
Japanese Princess
Portrait of Beauty
Regular Location
Crashed Plane (from scene level High Explorer)
Amusement Park (from scene level High Explorer)
Amusement Park (from scene level High Explorer)
Bungalow (from scene level Detective)
Bungalow (from scene level Pro)
Quest Location
Japanese House
Bungalow
Polar Station
Bungalow
Pipes
Silver Setting
Item
Silver cup
Silver plate
Silver knife
Silver spoon
Silver fork
Royal Tea Service
Regular Location
Crashed Plane (from scene level High Explorer)
Amusement Park (from scene level High Explorer)
Bungalow (from scene level Pro)
Bungalow (from scene level Pro)
Misty Shed (from scene level Trainee)
Quest Location
Misty Shed
Bungalow
Amusement Park
Misty Shed
Venice
Earth's Wealth
Item
Cubic Zirconia
Sapphire
Ruby
Amber
Emerald
Precious Pendant
Regular Location
Amusement Park (from scene level High Explorer)
Bungalow (from scene level Pro)
Bungalow (from scene level High Explorer)
Misty Shed (from scene level Detective)
Misty Shed (from scene level Detective)
Quest Location
Misty Shed
Blocks
Bungalow
Misty Shed
Throne Room
Law and Order
Item
Badge
Handcuffs
Pistol
Nightstick
Police officer's hat
Police Officer Statue
Regular Location
Amusement Park (from scene level High Explorer)
Bungalow (from scene level High Explorer)
Bungalow (from scene level High Explorer)
Misty Shed (from scene level Detective)
Misty Shed (from scene level Pro)
Quest Location
Misty Shed
Misty Shed
Misty Shed
Amusement Park
Bungalow
Engineering Aids
Item
Open wrench
Screwdriver
Vise
Pipe wrench
Hammer
Engineer's Toolbox
Regular Location
Bungalow (from scene level High Explorer)
Misty Shed (from scene level Pro)
Misty Shed (from scene level Pro)
Misty Shed (from scene level Pro)
Misty Shed (from scene level High Explorer)
Quest Location
Misty Shed
Memory Match
Misty Shed
Bungalow
Amusement Park
Bottled Boats
Item
Galley
Frigate
Drekar
Galleon
Corvette
The Black Rose
Regular Location
Bungalow (from scene level High Explorer)
Misty Shed (from scene level High Explorer)
Misty Shed (from scene level High Explorer)
Misty Shed (from scene level High Explorer)
Misty Shed (from scene level High Explorer)
Quest Location
Amusement Park
Misty Shed
Throne Room
Bungalow
Misty Shed
Colorful Set
Item
Blue pencil
Red pencil
Yellow pencil
Green pencil
Black pencil
Colored Pencil Set
Regular Location
Amusement Park (from scene level Pro)
Bungalow (from scene level Trainee)
Bungalow (from scene level Detective)
Misty Shed (from scene level Novice)
Misty Shed (from scene level Trainee)
Quest Location
Mayan Temple
Pipes
Venice
Mayan Temple
Throne Room
Venetian Masks
Item
Bauta
Kolombina
Moretta
Plague Doctor
Cat
Venetian Lady
Regular Location
Text mode
Text mode
Text mode
Text mode
Text mode
Quest Location
Palatial Office
Buddha's Square
Palatial Office
Misty Shed
Palatial Office
Italian Cuisine
Item
Spaghetti Bolognese
Lasagna
Risotto
Ravioli
Italian wine
Pizza
Regular Location
Silhouette mode
Silhouette mode
Silhouette mode
Silhouette mode
Silhouette mode
Quest Location
Amusement Park
Venice
Throne Room
Ghost Town
Venice
Ghost Town (Collection)
Item
Raven
Skull
Gallows
Ghost of criminal
Ancient lamp
Dead Man's Treasure
Regular Location
Night mode
Night mode
Night mode
Night mode
Night mode
Quest Location
Palatial Office
Crashed Plane
Palatial Office
Ghost Town
Jigsaw
Polar Fauna
Item
Polar hare
Polar bear
Polar owl
Seal
Polar fox
Reindeer
Regular Location
Morphs mode
Morphs mode
Morphs mode
Morphs mode
Morphs mode
Quest Location
Palatial Office
Venice
Buddha's Square
Palatial Office
Joy Cafe
Amusement Park (Collection)
Item
Sugar candy on a stick
Wafer horn
Balloons
Cotton candy
Inflatable doggie
Rollers
Regular Location
Pairs mode
Pairs mode
Pairs mode
Pairs mode
Pairs mode
Quest Location
Amusement Park
Venice
Ghost Town
Misty Shed
Mayan Temple
Wishmasters
Item
Lamp with the Genie
Leprechaun
Goldfish
Daruma
Fairy
Falling Star
Regular Location
Pieces mode
Pieces mode
Pieces mode
Pieces mode
Pieces mode
Quest Location
Mayan Temple
Throne Room
Joy Cafe
Crashed Plane
Polar Station
Grandmother's Needlework
Item
Ancient embroidery
Scrappy blanket
Lacy scarf
Knitted sweater
Woven rug
Trunk of a handy woman
Regular Location
Banish/Research "Scroll Eater" anomaly
Banish/Research "Scroll Eater" anomaly
Banish/Research "Scroll Eater" anomaly
Banish/Research "Scroll Eater" anomaly
Banish/Research "Scroll Eater" anomaly
Quest Location
Night Garden
Japanese House
Ghost Town
Joy Cafe
Mayan Temple
Voodoo Magic
Item
Rag doll
Pins
Button eyes
Plush heart
Thread
Voodoo Doll
Regular Location
Banish/Research "Ghostly Mirror" anomaly
Banish/Research "Ghostly Mirror" anomaly
Banish/Research "Ghostly Mirror" anomaly
Banish/Research "Ghostly Mirror" anomaly
Banish/Research "Ghostly Mirror" anomaly
Quest Location
Night Garden
Amusement Park
Misty Shed
Crashed Plane
Joy Cafe
Poker Combinations
Item
Straight
Flush
Full house
Four of a Kind
Royal flush
Poker counters
Regular Location
Banish/Research "Mystic Smoke" anomaly
Banish/Research "Mystic Smoke" anomaly
Banish/Research "Mystic Smoke" anomaly
Banish/Research "Mystic Smoke" anomaly
Banish/Research "Mystic Smoke" anomaly
Quest Location
Ghost Town
Amusement Park
Polar Station
Joy Cafe
Japanese House
Photographer's Things
Item
Support
Umbrella
Film
Flashlight (1)
Cheese
Gold Camera
Regular Location
Curse/Anagram mode
Curse/Anagram mode
Curse/Anagram mode
Curse/Anagram mode
Curse/Anagram mode
Quest Location
Night Garden
Venice
Polar Station
Night Garden
Buddha's Square
Animal Tracks
Item
Raven tracks
Snake tracks
Lizard tracks
Deer tracks
Bear tracks
Pathfinder's Encyclopedia
Regular Location
Banish/Research "Lost Time" anomaly
Banish/Research "Lost Time" anomaly
Banish/Research "Lost Time" anomaly
Banish/Research "Lost Time" anomaly
Banish/Research "Lost Time" anomaly
Quest Location
Buddha's Square
Mayan Temple
Joy Cafe
Ghost Town
Ghost Town
Sunshower
Item
Chanterelles
Field mushrooms
Truffles
Birch bolete mushrooms
Oyster mushrooms
Mushroom soup
Regular Location
Palatial Office (from scene level Novice)
Palatial Office (from scene level Trainee)
Palatial Office (from scene level Trainee)
Palatial Office (from scene level Detective)
Palatial Office (from scene level Detective)
Quest Location
Night Garden
Misty Shed
Night Garden
Venice
Night Garden
Photo Frames
Item
Pendant with a photo
Children's photo frame
Wooden photo frame
Photo tree
Digital photo frame
Photo Album
Regular Location
Palatial Office (from scene level Trainee)
Palatial Office (from scene level Detective)
Palatial Office (from scene level Detective)
Palatial Office (from scene level Pro)
Palatial Office (from scene level Pro)
Quest Location
Joy Cafe
Bungalow
Crashed Plane
Venice
Joy Cafe
Tarot Cards
Item
Fate wheel
Devil
Star (1)
Moon
Sun
Fool
Regular Location
Palatial Office (from scene level Pro)
Palatial Office (from scene level Pro)
Palatial Office (from scene level High Explorer)
Palatial Office (from scene level High Explorer)
Palatial Office(from scene level High Explorer)
Quest Location
Night Garden
Venice
Amusement Park
Buddha's Square
Crashed Plane
Doll Collection
Item
Scarlett
Wend
Eloise
Betty
Alice
Doll lodge
Regular Location
Night Garden (from scene level Trainee)
Night Garden (from scene level Trainee)
Night Garden (from scene level Trainee)
Night Garden (from scene level Trainee)
Night Garden (from scene level Trainee)
Quest Location
Night Garden
Ghost Town
Joy Cafe
Ghost Town
Mayan Temple
Music Boxes
Item
Arab dancer
Hula dancer
Geisha
Angel
Christmas box
Ballerina
Regular Location
Night Garden (from scene level Detective)
Night Garden (from scene level Detective)
Night Garden (from scene level Detective)
Night Garden (from scene level Detective)
Night Garden (from scene level Detective)
Quest Location
Night Garden
Mayan Temple
Crashed Plane
Bungalow
Bungalow
Paradise of Sweet Teeth
Item
Napoleon (2)
Cheesecake
Tiramisu
Eclair
Brownie
Gingerbread lodge
Regular Location
Night Garden (from scene level Pro)
Night Garden (from scene level Pro)
Night Garden (from scene level Pro)
Night Garden (from scene level Pro)
Night Garden (from scene level Pro)
Quest Location
Night Garden
Bungalow
Night Garden
Japanese House
Night Garden
Princess's Things
Item
Silver crest
Pea
Sun Umbrella
Carriage
Fan
Gold Princess
Regular Location
Night Garden (from scene level High Explorer)
Night Garden (from scene level High Explorer)
Night Garden (from scene level High Explorer)
Night Garden (from scene level High Explorer)
Night Garden (from scene level High Explorer)
Quest Location
Amusement Park
Crashed Plane
Mayan Temple
Ghost Town
Japanese House
Tea Collection
Item
Black tea
Green tea
Red tea
Chamomile (1)
Mushroom tea
Fruit Tea
Regular Location
Night Garden (from scene level Novice)
Night Garden (from scene level Trainee)
Night Garden (from scene level Detective)
Night Garden (from scene level Pro)
Night Garden (from scene level High Explorer)
Quest Location
Night Garden
Mayan Temple
Bungalow
Night Garden
Mayan Temple
Mysterious Beings
Item
Loch Ness Monster
Yeti
Chupacabra
Huge octopus
Alien
Ktulkh
Regular Location
Night Garden (from scene level Novice)
Night Garden (from scene level Novice)
Night Garden (from scene level Novice)
Night Garden (from scene level Novice)
Night Garden (from scene level Novice)
Quest Location
Night Garden
Venice
Bungalow
Japanese House
Japanese House
Data storage device
Item
Videotape
Audiocassette
Diskette
Compact disk
USB flash drive
Hard drive
Regular Location
Ancient Library (from scene level Novice)
Ancient Library (from scene level Novice)
Ancient Library (from scene level Novice)
Ancient Library (from scene level Trainee)
Ancient Library (from scene level Trainee)
Quest Location
Ancient Library
Night Garden in Morphs mode
Ancient Library
Palatial Office in Curse mode
Ancient Library
Personal computer
Item
Computer tower
Monitor
Keyboard
Computer mouse
Cable
Computer
Regular Location
Ancient Library (from scene level Trainee)
Ancient Library (from scene level Detective)
Ancient Library (from scene level Detective)
Ancient Library (from scene level Detective)
Ancient Library (from scene level Pro)
Quest Location
Ancient Library in Pieces mode
Joy Cafe
Ancient Library in Pairs mode
Polar Station in Text mode
Ancient Library
Paint brushes
Item
Brush made with squirrel fur
Brush made with sable fur
Brush made with pony hair
Brush made with goat fur
Brush made with cat hair
Set of brushes
Regular Location
Ancient Library (from scene level Pro)
Ancient Library (from scene level Pro)
Ancient Library (from scene level High Explorer)
Ancient Library (from scene level High Explorer)
Ancient Library (from scene level High Explorer)
Quest Location
Misty Shed in Curse mode
Venice in Night Mode
Bungalow
Crashed Plane in Text mode
Ancient Library
Picturesque paints

Item

Oil paints
Tempora paints
Gouache paints
Watercolor paints
Acrylic paints
Palette

Regular Location

Mill (from scene level Novice)
Mill (from scene level Novice)
Mill (from scene level Novice)
Mill (from scene level Trainee)
Mill (from scene level Trainee)
Quest Location
Ghost Town in Silhouette mode
Memory Match
Japanese House
Ancient Library
Venice
Art supplies

Item

Airbrush
Canvas
Maulstick
Palette knife
Beret
Easel

Regular Location

Mill
Mill
Mill
Mill
Mill
Quest Location
Ancient Library in Morphs mode
Throne Room
Polar Station in Text mode
Memory Match
Joy Cafe in Night mode
Frames workshop

Item

Aluminum frame
Plastic frame
Wooden frame
Frame with a flat profile
Classic frame
Frame with return profile

Regular Location

Mill
Mill
Mill
Mill
Mill
Quest Location
Mill in Pieces mode
Night Garden
Throne Room in pairs mode
Ancient Library
Palatial Office in Curse mode
Statuette of the witch

Item

Witch's cauldron
Book of potions
Broom (1)
Witch's hat
Black cat
Witch from fairy tale

Regular Location

Mill
Mill
Mill
Mill
Mill
Quest Location
Joy Cafe in Silhouette mode
Throne Room
Ancient Library
Buddha's Square in Night mode
Polar Station in Text mode
Statuette of the wizard

Item

Wizard's robe
Wizard's stick
Book of spells
Magic sphere
Wizard's hat
Wizard from fairy tale

Regular Location

Mill
Mill
Mill
Mill
Mill
Quest Location
Palatial Office in Curse mode
Blocks
Ancient Library in Pieces
Mayan Temple
Window to Metropolis (Japanese House) in Pairs mode
Magical ingredients (1)

Item

Phoenix feather
Unicorn hair
Vermilion flower pollen
Dragon's scales
Fairy's wings
Malachite casket

Regular Location

Mill
Mill
Mill
Mill
Mill
Quest Location
Crashed Plane in Morphs mode
Bungalow
"Scatter" the 'Lost Time' anomaly from Night Garden
Ghost Town
Misty Shed in Silhouette mode
Fabulous things

Item

Invisible cloak
Magic tablecloth
Wand
Seven-league boots
Magic carpet
Hourglass

Regular Location

Venice
Venice
Venice
Venice
Buddha's Square
Quest Location
Venice
Ancient Library
"Scatter" the 'Ghostly Mirror' anomaly from Buddha's Square
Night Garden
Mill in Night mode
Self-writing means

Item

Self-writing pen
Bottomless inkwell
Endless paper
Erases everything eraser
Non-breakable sealing wax
Changing seal

Regular Location

Buddha's Square
Buddha's Square
Buddha's Square
Throne Room
Throne Room
Quest Location
Amusement Park in Morphs mode
Joy Cafe
Throne Room in Text mode
Polar Station
Ancient Library in Curse mode
Famous pearls

Item

Pearl "Asia"
Pearl "Regent"
Pearl "Abernathy"
Pearl "Arco Valley"
Pearl "Hope"
Great Southern Cross pearl

Regular Location

Throne Room
Throne Room
Japanese House
Japanese House
Japanese House
Quest Location
Throne Room in Pairs mode
Memory Match
Night Garden in Silhouette mode
Crashed Plane
Buddha's Square
Mammoth whales

Item

A sperm whale
Humpback whale
Beluga whale
Fin whale
Bowhead whale
Narwhal

Regular Location

Japanese House
Mayan Temple
Mayan Temple
Mayan Temple
Mayan Temple
Quest Location
Bungalow in Text mode
Pipes
Misty Shed in Pieces mode
Window to Metropolis (Japanese House)
Ancient Library in Curse mode
Set of the criminalist

Item

Police tape
Rubber gloves
Investigation brush
Chalk
Tweezers
Evidence bag

Regular Location

Venice
Venice
Venice
Venice
Buddha's Square
Quest Location
Joy Cafe in "Night" mode
Ghost Town
Mayan Temple
Crashed Plane in "Morphs" mode
Polar Station in "Pairs" mode
Strange instruments

Item

Rotating eye
Three-dimensional compass
Mine
Teleportation machine
Spotlight
Box of strange instruments

Regular Location

Buddha's Square
Buddha's Square
Buddha's Square
Throne Room
Throne Room
Quest Location
Ancient Library
Night Garden
Amusement Park
Blocks
Ancient Library in Silhouette mode
Toolmaker's Set

Item

Soldering iron of Gauss
Curved probe
Vacuum annihilator
A piston screwdriver
Precision pyrography tool
Neutron battery

Regular Location

Throne Room
Throne Room
Japanese House
Japanese House
Japanese House
Quest Location
Ancient Library in Pairs mode
Polar Station
Japanese House in Text mode
Ancient Library
Venice
Police notes

Item

Notebook
Graphite pencil
Tape recorder
Battery (1)
Webcam
Typewriter

Regular Location

Japanese House
Mayan Temple
Mayan Temple
Mayan Temple
Mayan Temple
Quest Location
Ancient Library
"Cabinet of the Palace" (Palatial Office)
Bungalow in Morphs mode
Ancient Library
Pipes
The rules of the Order

Item

The first rule of the Explorer
The second rule of the Explorer
The third rule of the Explorer
The fourth rule of the Explorer
The fifth rule of the Explorer
Set of rules of the Seeker

Regular Location

Ghost Town
Ghost Town
Ghost Town
Ghost Town
Joy Cafe
Quest Location
"Scatter" the 'Scroll-eater' anomaly from Ancient Library
Palatial Office
Throne Room in Morphs mode
Memory Match
Mayan Temple in Pairs mode
Flatware

Item

Serving knife
Pastry tongs
Strainer
Soup ladle
Slotted spatula
Serving set

Regular Location

Joy Cafe; Mayan Temple
Joy Cafe
Joy Cafe
Polar Station
Polar Station
Quest Location
Mayan Temple
Mill
Crashed Plane
Mill in Morphs mode
"Scatter" the 'Lost Time' anomaly from "Misty Barn" (Misty Shed)
Magical ingredients (2)

Item

Mandrake root
Frog eye
Wing of a flying mouse
Rabbit's teeth
Monitor lizard's egg
Mouse tail

Regular Location

Polar Station
Polar Station
Crashed Plane
Crashed Plane
Crashed Plane
Quest Location
Mill in Night mode
Blocks
Mill
Ancient Library
Mill in Pairs mode
Weapons against monsters

Item

Aspen stake
Silver bullet
Water of the Holy Grail
Liquid fire
Wooden trident
Arsenal against monsters

Regular Location

Crashed Plane
Amusement Park
Amusement Park
Amusement Park
Amusement Park
Quest Location
Mill in Pieces mode
Buddha's Square
Mill in Curse mode
Ancient Library
Mayan Temple in Text mode
Magical amulets

Item

Sun amulet
Moon amulet
Fire amulet
Water amulet
Wind amulet
Bag with amulets

Regular Location

Ghost Town
Ghost Town
Ghost Town
Ghost Town
Joy Cafe
Quest Location
Mill in Silhouette mode
Amusement Park
Mill
Throne Room
Throne Room
Charging device

Item

Alchemy flask
Energy synthesizer
Sterilizing socket
Molecular kinescope
Magic board
Accumulating rotor

Regular Location

Joy Cafe
Joy Cafe
Joy Cafe
Polar Station
Polar Station
Quest Location
Ghost Town in Morphs
Ancient Library
Mill in Pieces mode
Memory Match
Mill
Cartography

Item

Geological map
Portolan charts
Upside down map
Geographical map
Topographic map
Political map

Regular Location

Polar Station
Polar Station
Crashed Plane
Crashed Plane
Crashed Plane
Quest Location
Jigsaw
Buddha's Square in Curse mode
Ancient Library in Pairs mode
Mill in Text mode
Polar Station in Night mode
The set of the traveling

Item

First aid assistance kit
Tent
Sleeping bag (1)
Awning
Mosquito net
Traveler's backpack

Regular Location

Crashed Plane
Amusement Park
Amusement Park
Amusement Park
Amusement Park
Quest Location
Mill in Silhouette mode
Ancient Library
Throne Room
Mill
Crashed Plane in Curse mode
Gzhel toys

Item

Gzhel dwarf
Gzhel pony
Gzhel soldier
Gzhel rabbit
Gzhel mushroom
Gzhel basket

Regular Location

Bungalow
Bungalow
Bungalow
Bungalow
Misty Shed
Quest Location
Night Garden in Silhouette mode
Gem Match
"Dispel" the 'Mystic Smoke' anomaly from Polar Station
Throne Room
Palatial Office in Curse mode
Wooden toys

Item

Wooden car
Wooden plane
Wooden ship
Wooden train
Wooden rocket
Wooden box

Regular Location

Misty Shed
Misty Shed
Misty Shed
Palatial Office
Palatial Office
Quest Location
Mill in Text mode
Buddha's Square
"Dispel" the 'Ghostly Mirror' anomaly from Ghost Town
Ancient Library in Night mode
Polar Station in Pieces mode
Movie reels

Item

Melodrama film reel
Comedy film reel
Horror film reel
Fantasy film reel
Thriller film reel
Documentary filmreel

Regular Location

Palatial Office
Palatial Office
Ancient Library
Ancient Library
Ancient Library
Quest Location
"Dispel" the 'Lost Time' anomaly from Night Garden
Window to Metropolis (Japanese House)
Amusement Park in Morphs mode
Mill
Mayan Temple in Pairs mode
Vinyl records

Item

Blues
Jazz
Country
Rock 'n' Roll
Pop
Classical music

Regular Location

Ancient Library
Eastern Bazaar
Eastern Bazaar
Eastern Bazaar
Eastern Bazaar
Quest Location
Joy Cafe in Silhouette mode
Ghost Town
"Dispel" the 'Ghostly Mirror' anomaly from Palatial Office
Memory Match
Misty Shed in Text mode
Gingerbread man

Item

Gingerbread body
Gingerbread legs
Gingerbread hands
Glazed buttons
Cream frosting
Gingerbread man

Regular Location

Bungalow
Bungalow
Bungalow
Bungalow
Misty Shed
Quest Location
Ancient Library in Pairs mode
"Dispel" the 'Scroll-Eater' anomaly from Mill
Buddha's Square in Pieces
Jigsaw
"Dispel" the 'Lost Time' anomaly from Night Garden
Wooden dinnerware

Item

Bamboo coaster
Wooden chopsticks
Wooden bowl
Small wooden cup
Wooden tray
Complete set

Regular Location

Misty Shed
Misty Shed
Misty Shed
Palatial Office
Palatial Office
Quest Location
Throne Room in Night mode
Ancient Library
Mayan Temple in "Curse" mode
Pipes
Palatial Office in Morphs mode
Autographs of the celebrities

Item

Autograph of a baseball player
Autograph of a football player
Autograph of a basketball player
Autograph of an ice skater
Autograph of a biathlete
Boxer's autograph

Regular Location

Palatial Office
Palatial Office
Ancient Library
Ancient Library
Ancient Library
Quest Location
Palatial Office in Silhouette mode
Mill
"Dispel" the 'Mystic Smoke' anomaly from Throne Room
Night Garden
Ancient Library in Pieces
Insects in amber

Item

Ancient dragonfly
Ancient butterfly
Ancient ant
Ancient spider
Ancient bee
Prehistoric mosquito

Regular Location

Ancient Library
Ancient Library
Ancient Library
Ancient Library
Ancient Library
Quest Location
"Dispel" the 'Lost Time' anomaly from Palatial Office
Polar Station
Window to Metropolis (Japanese House) in Morphs mode
"Dispel" the 'Scroll-Eater' anomaly from Mill
Bungalow in Curse mode
Different cheeses

Item

Blue cheese
Roquefort cheese
Feta cheese
Maasdam cheese
Cheshire cheese
Mascarpone cheese

Regular Location

Mill
Mill
Mill
Mill
Mill
Quest Location
Night Garden in Text mode
Buddha's Square
Palatial Office in Night Mode
Blocks
Ghost Town in Pairs mode
Circus artists

Item

Clown
Acrobat
Illusionist
Fakir
Juggler
Trained bear

Regular Location

Illusionist's Room
Illusionist's Room
Illusionist's Room
Illusionist's Room
Illusionist's Room
Quest Location
Ancient Library in Silhouette mode
Window to Metropolis (Japanese House)
"Dispel" the 'Ghostly Mirror' anomaly from Amusement Park
Venice in Curse mode
"Dispel" the 'Mystic Smoke' anomaly from Joy Cafe
Board games

Item

Dominoes
Bingo
Backgammon
Scrabble
Monopoly
Checkers

Regular Location

Memory Match
Memory Match
Memory Match
Memory Match
Memory Match
Quest Location
Mayan Temple in Morphs mode
Misty Shed
"Dispel" the 'Lost Time' anomaly from Bungalow
Throne Room
Mill in Text mode
Cowboy's clothes

Item

Frayed jeans
Boots with spurs
Plaid shirt
Leather gloves
Cowboy hat
Complete cowboy outfit

Regular Location

Mill
Mill
Mill
Mill
Mill
Quest Location
Night Garden in Night mode
Buddha's Square
Mill in Pairs mode
Blocks
Palatial Office in Pieces mode
Cowboy's horse

Item

Frisky horse
Saddle
Stirrups
Bridle
Saddle bag
Cowboy's outfitted horse

Regular Location

Blocks
Blocks
Blocks
Blocks
Blocks
Quest Location
Crashed Plane in Silhouette mode
"Dispel" the 'Mystic Smoke' anomaly from Polar Station
Ghost Town in Morphs mode
Misty Shed
"Dispel" the 'Scroll-Eater' anomaly from Venice
Cowboy's weapons

Item

Leather belt
Holster
Revolver
Box of bullets
Rope for lasso
Complete cowboy kit

Regular Location

Blocks
Blocks
Blocks
Blocks
Blocks
Quest Location
"Dispel" the 'Ghostly Mirror' anomaly from Palatial Office
Window to Metropolis (Japanese House)
"Dispel" the 'Lost Time' anomaly from Ancient Library
Throne Room
Joy Cafe in Night mode
Variety of papers

Item

Notebook paper
Newspaper
Crepe paper
Office paper
Glossy paper
Colored paper

Regular Location

Pipes
Pipes
Pipes
Pipes
Pipes
Quest Location
Mill in Curse mode
Mayan Temple in Text mode
Buddha's Square in Pieces mode
Memory Match
Ancient Library in Silhouette mode
Paper origami

Item

Origami "Boat"
Origami "Crane"
Origami "Rose"
Origami "Plane"
Origami "Cube"
Origami heart

Regular Location

Pipes
Pipes
Pipes
Pipes
Pipes
Quest Location
Palatial Office in Pairs mode
Amusement Park
Night Garden in Pieces mode
Mill
Buddha's Square in Night mode
Captivating aromas

Item

Patchouli oil
Vanilla oil
Attar of roses
Ylang-ylang oil
Jasmine oil
Perfume bottle
N/A

Regular Location

Eastern Bazaar
Eastern Bazaar
Eastern Bazaar
Eastern Bazaar
Eastern Bazaar
Quest Location
Eastern Bazaar
Night Garden in Morphs mode
Eastern Bazaar
Palatial Office in Curse mode
Eastern Bazaar
Essential oil burners

Item

Essential oil burner "Morning"
Essential oil burner "Day"
Essential oil burner "Evening"
Essential oil burner "Twilight"
Essential oil burner "Night"
Set of essential oil burners
N/A

Regular Location

Eastern Bazaar
Eastern Bazaar
Eastern Bazaar
Eastern Bazaar
Eastern Bazaar
Quest Location
Ancient Library in Pieces mode
Blocks
Ancient Library in Pairs mode
Eastern Bazaar in Text mode
"Scatter" the 'Lost Time' anomaly from Ancient Library
Little candles

Item

Yellow candle
White candle
Red candle
Green candle
Blue candle
Colored candles
N/A

Regular Location

Eastern Bazaar
Eastern Bazaar
Eastern Bazaar
Eastern Bazaar
Eastern Bazaar
Quest Location
"Scatter" the 'Ghostly Mirror' anomaly from Amusement Park
Blocks
Night mode (any picture)
Night Garden
Eastern Bazaar
Security system

Item

Temperature sensor
Sound sensor
Smoke detector
Security camera
Remote control
Control unit
N/A

Regular Location

Illusionist's Room
Illusionist's Room
Illusionist's Room
Illusionist's Room
Illusionist's Room
Quest Location
Illusionist's Room
Ancient Library in Silhouette mode
Eastern Bazaar in Pairs mode
Pipes
Japanese House in Text mode
Hunting traps

Item

Mousetrap
Net
Throw net
Birdcage
Lasso
Animal traps
N/A

Regular Location

Illusionist's Room
Illusionist's Room
Illusionist's Room
Illusionist's Room
Illusionist's Room
Quest Location
Ancient Library
"Scatter" the 'Scroll-Eater' anomaly from Venice
Memory Match
Illusionist's Room
"Scatter" the 'Ghostly Mirror' anomaly (any picture)
Wonderful bells

Item

Silver bell
Gold bell
Porcelain bell
Crystal bell
Ceramic bell
Set of bells

Regular Location

Illusionist's Room
Illusionist's Room
Illusionist's Room
Illusionist's Room
Illusionist's Room
Quest Location
Bungalow in Morphs mode
Night mode (any picture)
Ancient Library
Pieces mode (any picture)
Pipes
Magic crystals

Item

Emerald crystal
Ruby crystal
Sapphire crystal
Amethyst crystal
Diamond crystal
Complete crystal holder
N/A

Regular Location

Illusionist's Room
Illusionist's Room
Illusionist's Room
Illusionist's Room
Illusionist's Room
Quest Location
Silhouette mode
Blocks
Eastern Bazaar
"Scatter" the 'Scroll-Eater' anomaly from Illusionist's Room
Palatial Office
Prophetic objects

Item

Magical pyramid
Magical cube
Magical cone
Magical prism
Magical cylinder
Magical 8 ball
N/A

Regular Location

Illusionist's Room
Illusionist's Room
Illusionist's Room
Illusionist's Room
Illusionist's Room
Quest Location
Throne Room in Morphs mode
Memory Match
Mayan Temple in Pairs mode
Pipes
Misty Shed in Curse mode
Ghost explorer

Item

Multigrid visor
Infared laser
Low-frequency sensor
Aluminum antenna
Gas sensor
Poltergeist detection device
N/A

Regular Location

Illusionist's Room
Illusionist's Room
Illusionist's Room
Illusionist's Room
Illusionist's Room
Quest Location
Venice in Night mode
Bungalow
Crashed Plane in Text mode
"Scatter" the 'Lost Time' anomaly from Ancient Library
Eastern Bazaar
Paranormal investigation

Item

Rod of Gauss
Cyclical accelerator
Ion nozzle
Plasma block
Power control switch
Neutron cannon
N/A
Regular Location
Gem Match
Gem Match
Gem Match
Gem Match
Gem Match
Quest Location
Ghost Town in Silhouette mode
Memory Match
"Scatter" the 'Scroll-Eater' anomaly from Japanese House
Memory Match
"Scatter" the 'Ghostly Mirror' anomaly from Venice
Ouija board
Item
Ouija board base
Ouija board letters
Ouija board numbers
Planchette
Black candle
Ouija board
N/A

Regular Location

Gem Match
Gem Match
Gem Match
Gem Match
Gem Match
Quest Location
Ancient Library in Morphs mode
Throne Room
Polar Station in Text mode
Memory Match
Joy Cafe in Night mode
Records of investigations

Item

Record of investigation No. 1
Record of investigation No. 2
Record of investigation No. 3
Record of investigation No. 4
Record of investigation No. 5
Records of investigation
N/A
Regular Location
Gem Match
Gem Match
Gem Match
Gem Match
Gem Match
Quest Location
Eastern Bazaar in Pieces mode
"Scatter" the 'Lost Time' anomaly from Night Garden
Blocks
Ancient Library
Palatial Office in Curse mode
Cornelius's personal belongings
Item
Leather briefcase
Oak cane
Unusual newspaper
Old-fashioned cap
Smoking pipe
Crumpled sheet of paper
N/A
Regular Location
Gem Match
Gem Match
Gem Match
Gem Match
Gem Match
Quest Location
"Dissipate" the 'Mystic Smoke' anomaly (any picture)
Silhouette mode (any picture)
"Scatter" the 'Mystic Smoke' anomaly from Mayan Temple
Eastern Bazaar
"Scatter" the 'Ghostly Mirror' anomaly from Crashed Plane
Cornelius's diary
Item
Bamboo paper
Leather cover
Little lock
Bookmarks
Emblem of the Order
Secret diary
N/A

Regular Location

Gem Match
Gem Match
Gem Match
Gem Match
Gem Match
Quest Location
"Scatter" the 'Lost Time' anomaly from Misty Shed
Memory Match
Blocks
"Scatter" the 'Scroll-Eater' anomaly from Eastern Bazaar
Ancient Library
Cornelius's decoding tools

Item

Decoding lens
Thin frames
Fasteners
Chain
Clip
Decoding monocle
N/A

Regular Location

Illusionist's Room
Illusionist's Room
Illusionist's Room
Illusionist's Room
Illusionist's Room
Quest Location
Mill in Pieces mode
Buddha's Square
Mill in Curse mode
Eastern Bazaar
Mayan Temple in Text mode
Lost notes
Item
First note in the diary
Second note in the diary
Third note in the diary
Fourth note in the diary
Fifth note in the diary
Secret note in the diary
N/A

Regular Location

Gem Match
Gem Match
Gem Match
Gem Match
Gem Match
Quest Location
Mill in Silhouette mode
"Scatter" the 'Scroll-Eater' anomaly from Amusement Park
"Scatter" the 'Mystic Smoke' anomaly from Mill
Memory Match
"Scatter" the 'Lost Time' anomaly from Throne Room
Strange mirrors

Item

Flat mirror
Concave mirror
Convex mirror
Curved mirror
Double mirror
Spherical mirror
N/A

Regular Location

Gem Match
Gem Match
Gem Match
Gem Match
Gem Match
Quest Location
Ghost Town in Morphs mode
Ancient Library
Eastern Bazaar in Pieces mode
Memory Match
"Scatter" the 'Ghostly Mirror' anomaly from Mill
Substantial breakfast

Item

Glass of milk
Porridge flakes
Butter
Sugar
Salt
Porridge
N/A

Regular Location

Night Garden
Night Garden
Night Garden
Night Garden
Night Garden
Quest Location
Mill in Text mode
Buddha's Square in Curse mode
Ancient Library in Pairs mode
Eastern Bazaar
Polar Station in Night mode
Overhead projector

Item

Overhead projector frame
Reflector
Overhead projector lens
Paper holder
Screen
Overhead projector
N/A

Regular Location

Night Garden
Night Garden
Night Garden
Night Garden
Night Garden
Quest Location
Mill in Silhouette mode
Ancient Library
Blocks
Mill
Crashed Plane in Curse mode
Eastern sweets
Item
Turkish delight
Nougat
Chak chak
Churchkhela
Candied fruit
Tray of sweets
N/A
Regular Location
Memory Match (from scene level Academician)
Memory Match (from scene level Academician)
Memory Match (from scene level Academician)
Memory Match (from scene level Academician)
Memory Match (from scene level Academician)
Quest Location
"Scatter" the 'Ghostly Mirror' anomaly (any picture)
Illusionist's Room
"Scatter" the 'Scroll-Eater' anomaly from Venice
Ancient Library
"Scatter" the 'Ghostly Mirror' anomaly from Buddha's Square
Refreshing drinks

Item

Kiwi lemonade
Cherry iced tea
Strawberry smoothie
Orange smoothie
Watermelon spritzer
Glass of lemonade
N/A

Regular Location

Joy Cafe (from scene level Professor)
Joy Cafe (from scene level Professor)
Joy Cafe (from scene level Professor)
Joy Cafe (from scene level Professor)
Joy Cafe (from scene level Professor)
Quest Location
Pipes
Throne Room
"Scatter" the 'Ghostly Mirror' anomaly from Eastern Bazaar
Buddha's Square in Night mode
Polar Station in Text mode
Child's dream

Item

Child's bed
Down pillow
Down comforter
Little bedside table
Night light projetor [sic]
Made bed

Regular Location

Theater (from scene level Grand Magister)
Theater (from scene level Grand Magister)
Theater (from scene level Grand Magister)
Theater (from scene level Grand Magister)
Theater (from scene level Grand Magister)
Quest Location
Palatial Office in Curse mode
Blocks
Ancient Library in Pieces mode
Mayan Temple
Japanese House in Pairs mode
Lullaby music

Item

Hurdy-gurdy frame
Metal roller
Hurdy-gurdy needle
Horn
Handle
Hurdy-gurdy
N/A

Regular Location

Wonder Shop (from scene level Professor)
Wonder Shop (from scene level Professor)
Wonder Shop (from scene level Professor)
Wonder Shop (from scene level Professor)
Wonder Shop (from scene level Professor)
Quest Location
Crashed Plane in Morphs mode
"Scatter" the 'Mystic Smoke' anomaly from Bungalow
"Scatter" the 'Lost Time' anomaly from Night Garden
Ghost Town
Memory Match
Fairy tales

Item

Fairy tale "Jack and the Beanstalk"
Fairy tale "Goldilocks and the Three Bears"
Fairy tale "Little Red Riding Hood"
Fairy tale "Puss in Boots"
Fairy tale "Three Little Pigs"
Collection of fairy tales

Regular Location

Wonder Shop (from scene level Professor)
Wonder Shop (from scene level Professor)
Wonder Shop (from scene level Professor)
Wonder Shop (from scene level Professor)
Wonder Shop (from scene level Professor)
Quest Location
Amusement Park in "Morphs" mode
Throne Room in "Text" mode
Eastern Bazaar in "Curse" mode
Memory Match
Crashed Plane
Fairy tale animals

Item

Goose
Little bear
Wolf
Puss in Boots
Three little pigs
Set of fairy tale animals

Regular Location

Memory Match (from scene level Grand Magister)
Memory Match (from scene level Grand Magister)
Memory Match (from scene level Grand Magister)
Memory Match (from scene level Grand Magister)
Memory Match (from scene level Grand Magister)
Quest Location
Joy Cafe
"Scatter" the 'Lost Time' anomaly from Polar Station
Pieces mode (any picture)
Pipes
"Scatter" the 'Ghostly Mirror' anomaly from Buddha's Square
Balloons

Item

Heart-shaped balloon
Fish-shaped balloon
Star-shaped balloon
Bear-shaped balloon
Flower-shaped balloon
Bunch of balloons

Regular Location

Amusement Park (from scene level Professor)
Amusement Park (from scene level Professor)
Amusement Park (from scene level Professor)
Amusement Park (from scene level Professor)
Amusement Park (from scene level Professor)
Quest Location
Bungalow in Text mode
Pipes
Misty Shed in Pieces mode
Japanese House
Eastern Bazaar in Curse mode
Wind instruments

Item

Flute
Clarinet
Trumpet
Zurna
Trombone
French horn
N/A

Regular Location

Banquet Hall (from scene level Professor)
Banquet Hall (from scene level Professor)
Banquet Hall (from scene level Professor)
Banquet Hall (from scene level Professor)
Banquet Hall (from scene level Professor)
Quest Location
Joy Cafe in Night mode
Ghost Town
Pipes
Crashed Plane in Morphs mode
Polar Station in Pairs mode
String instruments

Item

Contrabass
Gusli
Harp
Balalaika
Lute
Cello
N/A

Regular Location

Tavern (from scene level Professor)
Tavern (from scene level Professor)
Tavern (from scene level Professor)
Tavern (from scene level Professor)
Tavern (from scene level Professor)
Quest Location
Night Garden in Silhouette mode
Bungalow
"Scatter" the 'Mystic Smoke' anomaly from Polar Station
Throne Room
Palatial Office in Curse mode
Keyboard instruments

Item

Clavichord
Piano
Accordion
Pump organ
Synthesizer
Pipe organ

Regular Location

Rock Stage (from scene level Professor)
Rock Stage (from scene level Professor)
Rock Stage (from scene level Professor)
Rock Stage (from scene level Professor)
Rock Stage (from scene level Professor)
Quest Location
Eastern Bazaar in Text mode
Buddha's Square
"Scatter" the 'Ghostly Mirror' anomaly from Ghost Town
Ancient Library in Night mode
Memory Match
Geniuses of poetry

Item

Bust of Homer
Bust of Dante Alighieri
Bust of Matsuo Basho
Bust of Johann Wolfgang von Goethe
Bust of Alexander Sergeyevich Pushkin
Bust of William Shakespeare

Regular Location

Ancient Library (from scene level Professor)
Ancient Library (from scene level Professor)
Ancient Library (from scene level Professor)
Ancient Library (from scene level Professor)
Ancient Library (from scene level Professor)
Quest Location
"Scatter" the 'Lost Time' anomaly from Night Garden
Japanese House
Amusement Park in Morphs mode
Mill
Mayan Temple in Pairs mode
Ancient legends
Item
Pegasus
Medusa the Gorgon
Cerberus
Minotaur
Centaur
Hercules
Regular Location
Ancient Library (from scene level Professor)
Ancient Library (from scene level Professor)
Ancient Library (from scene level Professor)
Ancient Library (from scene level Professor)
Ancient Library (from scene level Professor)
Quest Location
Joy Cafe in Silhouette
Ghost Town
"Scatter" the 'Ghostly Mirror' anomaly from Palatial Office
Blocks
Misty Shed in Text mode
Sushi mania
Item
"California" roll
"Philadelphia" roll
"Dragon" roll
"Banzai" roll
"Unagi tempura" roll
Tray of sushi
N/A
Regular Location
Japanese House (from scene level Professor)
Japanese House (from scene level Professor)
Japanese House (from scene level Professor)
Japanese House (from scene level Professor)
Japanese House (from scene level Professor)
Quest Location
Night Garden in Night mode
Buddha's Square
Eastern Bazaar in Pairs mode
Blocks
Palatial Office in Pieces mode
Wonders of the world
Item
The Great Wall of China
Colosseum
Taj Mahal
Colossus of Rhodes
Lighthouse of Alexandria
Great Pyramid of Giza
N/A
Regular Location
Excavations (from scene level Professor)
Excavations (from scene level Professor)
Excavations (from scene level Professor)
Excavations (from scene level Professor)
Excavations (from scene level Professor)
Quest Location
Crashed Plane in Silhouette mode
"Scatter" the 'Mystic Smoke' anomaly from Polar Station
Pipes
Misty Shed
"Scatter" the 'Scroll-Eater' anomaly from Venice
Sights of Seoul
Item
Gyeongbok -gung Palace
Namsan Tower
69 Building
Banpo Bridge
Namsan Mountain
Seoul guidebook
Regular Location
Observation Deck (from scene level Professor)
Observation Deck (from scene level Professor)
Observation Deck (from scene level Professor)
Observation Deck (from scene level Professor)
Observation Deck (from scene level Professor)
Quest Location
"Scatter" the 'Ghostly Mirror' anomaly from Palatial Office
Japanese House
"Scatter" the 'Lost Time' anomaly from Eastern Bazaar
Throne Room
Joy Cafe in Night mode
Exotic fruits
Item
Rambutan
Carambolas
Noni fruit
Kiwano
Buddha's hand
Fruit basket
Regular Location
Buddha's Square (from scene level Professor)
Buddha's Square (from scene level Professor)
Buddha's Square (from scene level Professor)
Buddha's Square (from scene level Professor)
Buddha's Square (from scene level Professor)
Quest Location
Mill in Curse mode
Mayan Temple in Text mode
Buddha's Square in Pieces mode
Memory Match
Ancient Library in Silhouette mode
Exotic vegetables
Item
Purple carrots
Black tomatoes
Rainbow cauliflowers
Purple potatoes
Red cucumbers
Vegetable basket
N/A
Regular Location
Farm (from scene level Professor)
Farm (from scene level Professor)
Farm (from scene level Professor)
Farm (from scene level Professor)
Farm (from scene level Professor)
Quest Location
Palatial Office in "Pairs" mode
Amusement Park
Night Garden in "Pieces" mode
Memory Match
Eastern Bazaar in "Night" mode
London gentleman
Item
Tails
Top hat (1)
Gloves
Cravat
Walking stick
Figure of a gentleman
Regular Location
Banquet Hall (from scene level Professor)
Banquet Hall (from scene level Professor)
Banquet Hall (from scene level Professor)
Banquet Hall (from scene level Professor)
Banquet Hall (from scene level Professor)
Quest Location
Throne Room in Night mode
Ancient Library
Mayan Temple in Curse mode
Pipes
Palatial Office in Morphs mode
Great chieftain
Item
Eagle feather headdress
Suede clothing
Bear claw necklace
Spear
Peace pipe
Figure of a chieftain
Regular Location
Wigwam (from scene level Professor)
Wigwam (from scene level Professor)
Wigwam (from scene level Professor)
Wigwam (from scene level Professor)
Wigwam (from scene level Professor)
Quest Location
Eastern Bazaar
Palatial Office in Silhouette mode
Blocks
"Scatter" the 'Mystic Smoke' anomaly from Throne Room
Night Garden
Hockey equipment
Item
Hockey helmet
Hockey skates
Hockey stick
Hockey jersey
Hockey gloves
Figure of a hockey player
Regular Location
Mountain Resort (from scene level Professor)
Mountain Resort (from scene level Professor)
Mountain Resort (from scene level Professor)
Mountain Resort (from scene level Professor)
Mountain Resort (from scene level Professor)
Quest Location
"Scatter" the 'Lost Time' anomaly from Palatial Office
Polar Station
Japanese House in Morphs mode
Eastern Bazaar
Bungalow in Curse mode
Military uniform
Item
Shako
Trim for the shako
A soldier's greatcoat
Bag of ammunition
Leather boots
Figure of a soldier
Regular Location
Palatial Office (from scene level Professor)
Palatial Office (from scene level Professor)
Palatial Office (from scene level Professor)
Palatial Office (from scene level Professor)
Palatial Office (from scene level Professor)
Quest Location
Night Garden in Text mode
Buddha's Square
Palatial Office in Night mode
Blocks
Ghost Town in Pairs mode
Space traveler
Item
Space suit
Rocket
Earth
Comet
Ursa Major (Great Bear)
Figure of an astronaut
Regular Location
Observation Deck (from scene level Professor)
Observation Deck (from scene level Professor)
Observation Deck (from scene level Professor)
Observation Deck (from scene level Professor)
Observation Deck (from scene level Professor)
Quest Location
Ancient Library in "Silhouette" mode
Japanese House
Pipes
Venice in "Curse" mode
Joy Cafe
Beautiful birds
Item
Painted Bunting
Baltimore Oriole
Northern Cardinal
Atlantic Puffin
Kingfisher
Grey Crowned Crane
Regular Location
Forest House (from scene level Professor)
Forest House (from scene level Professor)
Forest House (from scene level Professor)
Forest House (from scene level Professor)
Forest House (from scene level Professor)
Quest Location
Mayan Temple in Morphs mode
Misty Shed
Bungalow
Throne Room
Mill in Text mode
Birds of prey
Item
Secretary Bird
Red Kite
Typical Falconet
Harpy Eagle
Monkey- eating Eagle
Steller's Sea Eagle
N/A
Regular Location
Forest House (from scene level Professor)
Forest House (from scene level Professor)
Forest House (from scene level Professor)
Forest House (from scene level Professor)
Forest House (from scene level Professor)
Quest Location
Night Garden in Night mode
Buddha's Square
Mill in Pairs mode
Blocks
Palatial Office in Pieces mode
Wild cats
Item
Caracal
Pampas Cat
Cheetah
Eurasian Lynx
Cougar
Panther
N/A
Regular Location
Crashed Plane (from scene level Professor)
Crashed Plane (from scene level Professor)
Crashed Plane (from scene level Professor)
Crashed Plane (from scene level Professor)
Crashed Plane (from scene level Professor)
Quest Location
Crashed Plane in Silhouette mode
"Scatter" the 'Mystic Smoke' anomaly from Polar Station
Memory Match
Misty Shed
"Scatter" the 'Scroll-Eater' anomaly from Venice
Miniature animals
Item
Denise's Pygmy Seahorse
Dwarf gecko
Northern Pudu
Pygmy Marmoset
Lesser Pygmy Shrew
Fennec fox
N/A
Regular Location
Curiosities Room (from scene level Grand Magister)
Curiosities Room (from scene level Grand Magister)
Curiosities Room (from scene level Grand Magister)
Curiosities Room (from scene level Grand Magister)
Curiosities Room (from scene level Grand Magister)
Quest Location
"Scatter" the 'Ghostly Mirror' anomaly from Palatial Office
Japanese House
"Scatter" the 'Lost Time' anomaly from Ancient Library
Throne Room
Joy Cafe in Night mode
Naturalist's collection
Item
"Moon moth"
"Atlas moth"
"Morpho amathonte"
"Sloane's Urania"
"Priam's Birdwing"
Butterfly and moth collection
Regular Location
Mayan Temple (from scene level Professor)
Mayan Temple (from scene level Professor)
Mayan Temple (from scene level Professor)
Mayan Temple (from scene level Professor)
Mayan Temple (from scene level Professor)
Quest Location
Mill in Curse mode
Mayan Temple in Text mode
Buddha's Square in Pieces mode
Memory Match
Ancient Library in Silhouette mode
Spice rack
Item
Vanilla
Ginger
Cinnamon
Star anise
Nutmeg
Spices in a bottle
N/A
Regular Location
Eastern Bazaar (from scene level Professor)
Eastern Bazaar (from scene level Professor)
Eastern Bazaar (from scene level Professor)
Eastern Bazaar (from scene level Professor)
Eastern Bazaar (from scene level Professor)
Quest Location
Palatial Office in Pairs mode
Amusement Park
Blocks
Mill
Buddha's Square in Night mode
Hair accessories
Item
Hair clip
Hair band
Greek bandeau
Maang tikka
Kanzashi
Tiara
N/A
Regular Location
Theater (from scene level Professor)
Theater (from scene level Professor)
Theater (from scene level Professor)
Theater (from scene level Professor)
Theater (from scene level Professor)
Quest Location
Eastern Bazaar
Night Garden in Morphs mode
Eastern Bazaar
Palatial Office in Curse mode
Eastern Bazaar
Coquette's toilette
Item
Compact
Lipstick
Mascara
Blush
Palette of eye shadows
Cosmetic case
N/A
Regular Location
Theater (from scene level Grand Magister)
Theater (from scene level Grand Magister)
Theater (from scene level Grand Magister)
Theater (from scene level Grand Magister)
Theater (from scene level Grand Magister)
Quest Location
Ancient Library in Pieces mode
Joy Cafe
Ancient Library in Pairs mode
Eastern Bazaar in Text mode
"Scatter" the 'Lost Time' anomaly from Ancient Library
Famous diamonds
Item
"Cullinan" diamond
"Regent" diamond
"Orlov" diamond
"Hope" diamond
"Tiffany" yellow diamond
"Koh-i-Noor" diamond
Regular Location
Treasure Island (from scene level Professor)
Treasure Island (from scene level Professor)
Treasure Island (from scene level Professor)
Treasure Island (from scene level Professor)
Treasure Island (from scene level Professor)
Quest Location
Amusement Park
Blocks
Pipes
Night Garden
Eastern Bazaar
Corners of the universe
Item
Cigar galaxy
Triangulum galaxy
Sombrero galaxy
Black Eye galaxy
Hoag's Object galaxy
Milky Way galaxy
N/A
Regular Location
Rock Stage (from scene level Grand Magister)
Rock Stage (from scene level Grand Magister)
Rock Stage (from scene level Grand Magister)
Rock Stage (from scene level Grand Magister)
Rock Stage (from scene level Grand Magister)
Quest Location
Morphs mode (any picture)
Illusionist's Room
Throne Room in Morphs mode
Memory Match
Mayan Temple in Pairs mode
Knights of the Middle Ages
Item
Ulrich von Liechtenstein
Edward the Black Prince
Jacques de Molay
Sir Galahad, Knight of the Round table
Sir William Marshal
Richard the Lionheart
N/A
Regular Location
Throne Room (from scene level Professor)
Throne Room (from scene level Professor)
Throne Room (from scene level Professor)
Throne Room (from scene level Professor)
Throne Room (from scene level Professor)
Quest Location
Illusionist's Room
Ancient Library in Silhouette mode
Ancient Library in Pairs mode
Polar Station
Japanese House in Text mode
Unhappy wives
Item
Woman in blue dress
Woman in red dress
Woman in pink dress
Woman in yellow dress
Woman in purple dress
Statuette of Bluebeard
N/A
Regular Location
Illusionist's Room (from scene level Professor)
Illusionist's Room (from scene level Professor)
Illusionist's Room (from scene level Professor)
Illusionist's Room (from scene level Professor)
Illusionist's Room (from scene level Professor)
Quest Location
Ancient Library
"Scatter" the 'Scroll-Eater' anomaly from Venice
Illusionist's Room
Memory Match
"Scatter" the 'Ghostly Mirror' (any picture)
Fairy maids
Item
Vila
Youwarkee
Banshee
Mermaid
Sphinx
Valkyrie
N/A
Regular Location
Mayan Temple (from scene level Professor)
Mayan Temple (from scene level Professor)
Mayan Temple (from scene level Professor)
Mayan Temple (from scene level Professor)
Mayan Temple (from scene level Professor)
Quest Location
Bungalow in Morphs mode
Night mode (any picture)
Ancient Library
Pieces mode (any picture)
Pipes
Symmetrical inkblots
Item
Rorschach inkblot No. 1
Rorschach inkblot No. 2
Rorschach inkblot No. 3
Rorschach inkblot No. 4
Rorschach inkblot No. 5
Rorschach test
N/A
Regular Location
Polar Station (from scene level Professor)
Polar Station (from scene level Professor)
Polar Station (from scene level Professor)
Polar Station (from scene level Professor)
Polar Station (from scene level Professor)
Quest Location
Ancient Library in Pairs mode
Eastern Bazaar
Buddha's Square in Pieces mode
Blocks
"Scatter" the 'Lost Time' anomaly from Night Garden
Stuffed animals
Item
Toy bunny
Teddy bear
Toy turtle
Toy deer
Toy monkey
Box with toys
N/A
Regular Location
Amusement Park (from scene level Professor)
Amusement Park (from scene level Professor)
Amusement Park (from scene level Professor)
Amusement Park (from scene level Professor)
Amusement Park (from scene level Professor)
Quest Location
Throne Room in Night mode
Ancient Library
Mayan Temple in Curse mode
Pipes
Palatial Office in Morphs mode
Colored chalk
Item
Blue chalk
Red chalk
Yellow chalk
Green chalk
Purple chalk
Set of coloured chalk
Regular Location
Blocks (from scene level Grand Magister)
Blocks (from scene level Grand Magister)
Blocks (from scene level Grand Magister)
Blocks (from scene level Grand Magister)
Blocks (from scene level Grand Magister)
Quest Location
Palatial Office in Silhouette mode
Mill
"Scatter" the 'Mystic Smoke' anomaly from Throne Room
Night Garden
Eastern Bazaar in Pieces mode
Laboratory beakers
Item
Pear-shaped beaker
Metal beaker
Measuring beaker
Heat-resistant beaker
Conical beaker
Set of beakers
N/A
Regular Location
Polar Station (from scene level Professor)
Polar Station (from scene level Professor)
Polar Station (from scene level Professor)
Polar Station (from scene level Professor)
Polar Station (from scene level Professor)
Quest Location
"Scatter" the 'Lost Time' anomaly from Palatial Office
Polar Station
Japanese House in Morphs mode
Memory Match
Bungalow in Curse mode
Memory devices
Item
Comfortable chair
Memory sensors
Oscilloscope
Cap with wires
Varicolored wires
Memory chair
Regular Location
Bungalow (from scene level Professor)
Bungalow (from scene level Professor)
Bungalow (from scene level Professor)
Bungalow (from scene level Professor)
Bungalow (from scene level Professor)
Quest Location
Night Garden in Text mode
Buddha's Square
Palatial Office in Night mode
Blocks
Ghost Town in Pairs mode
Objects from the subconscious
Item
Dreamcatcher
Teru teru bozu
Air flashlight
Mist picture
Spinning top
Alice's thoughts
N/A
Regular Location
Ghost Town (from scene level Professor)
Ghost Town (from scene level Professor)
Ghost Town (from scene level Professor)
Ghost Town (from scene level Professor)
Ghost Town (from scene level Professor)
Quest Location
Ancient Library in Silhouette mode
Japanese House
"Scatter" the 'Ghostly Mirror' anomaly from Amusement Park
Blocks
"Scatter" the 'Mystic Smoke' anomaly from Joy Cafe
Cool drinks
Item
Cranberry juice
Cherry drink
Strawberry drink
Grape juice
Watermelon drink
Red bilberry fruit drink
N/A
Regular Location
Amusement Park (from scene level Professor)
Amusement Park (from scene level Professor)
Amusement Park (from scene level Professor)
Amusement Park (from scene level Professor)
Amusement Park (from scene level Professor)
Quest Location
Curse mode (any picture)
"Scatter" the 'Lost Time' anomaly (any picture)
Silhouette mode (any picture)
"Dissipate" the 'Mystic Smoke' anomaly (any picture)
Blocks
Convenient boxes
Item
Cardboard box
Wicker box
Iron box
Needlework box
Plastic box
Wooden box
N/A
Regular Location
Witch's Hut (from scene level Novice)
Witch's Hut (from scene level Novice)
Witch's Hut (from scene level Novice)
Witch's Hut (from scene level Trainee)
Witch's Hut (from scene level Trainee)
Quest Location
"Scatter" the 'Mystic Smoke' anomaly from Venice
Pipes
Eastern Bazaar in Morphs mode
Memory Match
Mill
Unique paper clips
Item
Teapot paper clip
Flower paper clip
Brush paper clip
Folder paper clip
Watch paper clip
Magnifier paper clip
N/A
Regular Location
Witch's Hut (from scene level Trainee)
Witch's Hut (from scene level Detective)
Witch's Hut (from scene level Detective)
Witch's Hut (from scene level Detective)
Witch's Hut (from scene level Pro)
Quest Location
"Scatter" the 'Scroll-Eater' anomaly from Illusionist's Room
Ancient Library in Silhouette mode
Mayan Temple
Buddha's Square in Text mode
Amusement Park in Curse mode
Crime scene
Item
Wooden stool
Aluminum case
Ashtray
Floor lamp
Black cloak
Photo "Crime scene"
N/A
Regular Location
Witch's Hut (from scene level Pro)
Witch's Hut (from scene level Pro)
Witch's Hut (from scene level High Explorer)
Witch's Hut (from scene level High Explorer)
Witch's Hut (from scene level High Explorer)
Quest Location
Polar Station in Pairs mode
Joy Cafe
Bungalow in Silhouette mode
Throne Room in Night mode
Blocks
Sting operation
Item
Mannequin
Video camera
Digital camera
Floodlights
Tape measure
Composition notebook
N/A
Regular Location
Witch's Hut (from scene level Novice)
Witch's Hut (from scene level Trainee)
Witch's Hut (from scene level Detective)
Witch's Hut (from scene level Pro)
Witch's Hut (from scene level High Explorer)
Quest Location
Night Garden in Pieces mode
"Scatter" the 'Scroll-Eater' anomaly from Mill
Misty Shed in Night mode
Crashed Plane in Text mode
Eastern Bazaar
Modern Prometheus
Item
Green makeup
Black turtleneck
Green coat
Chains and shackles
Huge boots
Frankenstein's monster
Regular Location
Witch's Hut (from scene level Novice)
Witch's Hut (from scene level Trainee)
Witch's Hut (from scene level Detective)
Witch's Hut (from scene level Pro)
Witch's Hut (from scene level High Explorer)
Quest Location
Blocks
Ancient Library in Curse mode
Joy Cafe in Text mode
Bungalow
Pipes
Lycanthrope
Item
Red contacts
Pointy ears
Long fangs
Sharp claws
Thick fur
Werewolf
Regular Location
Witch's Hut (from scene level Novice)
Witch's Hut (from scene level Trainee)
Witch's Hut (from scene level Detective)
Witch's Hut (from scene level Pro)
Witch's Hut (from scene level High Explorer)
Quest Location
"Scatter" the 'Mystic Smoke' anomaly from Illusionist's Room
Polar Station in Pairs mode
Misty Shed in Morphs mode
Eastern Bazaar in Pieces mode
Memory Match
Week of terror
Item
Black contacts
White makeup
White dress
Black nail polish
Black wig
Girl in white
Regular Location
Witch's Hut (from scene level Academician)
Witch's Hut (from scene level Academician)
Witch's Hut (from scene level Academician)
Witch's Hut (from scene level Academician)
Witch's Hut (from scene level Academician)
Quest Location
Ghost Town
Throne Room in Text mode
Buddha's Square in Silhouette mode
Night Garden in Curse mode
Mill in Morphs mode
Set of negatives
Item
Negative No. 1
Negative No. 2
Negative No. 3
Negative No. 4
Negative No. 5
Familiar face in the picture
Regular Location
Witch's Hut (from scene level Magister)
Witch's Hut (from scene level Magister)
Witch's Hut (from scene level Magister)
Witch's Hut (from scene level Magister)
Witch's Hut (from scene level Magister)
Quest Location
Blocks
Amusement Park in Text mode
Japanese House in Pieces mode
Eastern Bazaar in Pairs mode
Ancient Library in Night mode
Halloween mood
Item
Frightened pumpkin
Angry pumpkin
Thoughtful pumpkin
Sleepy pumpkin
Crying pumpkin
Smiling pumpkin
Regular Location
Blocks (from scene level Professor)
Blocks (from scene level Professor)
Blocks (from scene level Professor)
Blocks (from scene level Professor)
Blocks (from scene level Professor)
Quest Location
No Quest
No Quest
No Quest
No Quest
No Quest
Halloween decorations
Item
Pumpkin garland
Mummy candles
Cobwebs
Floating eyes
Dancing skeleton
Kettle with candy
Regular Location
Pipes (from scene level Professor)
Pipes (from scene level Professor)
Pipes (from scene level Professor)
Pipes (from scene level Professor)
Pipes (from scene level Professor)
Quest Location
No Quest
No Quest
No Quest
No Quest
No Quest
Halloween fuss
Item
Checkered shirt
Denim overalls
Straw hat
Burlap sack head
Straw
Scarecrow
Regular Location
Memory Match (from scene level Professor)
Memory Match (from scene level Professor)
Memory Match (from scene level Professor)
Memory Match (from scene level Professor)
Memory Match (from scene level Professor)
Quest Location
No Quest
No Quest
No Quest
No Quest
No Quest
Halloween facade
Item
Vampire
Zombie
Goblin
Devil
Warlock
Ghost
Regular Location
Gem Match (from scene level Professor)
Gem Match (from scene level Professor)
Gem Match (from scene level Professor)
Gem Match (from scene level Professor)
Gem Match (from scene level Professor)
Quest Location
No Quest
No Quest
No Quest
No Quest
No Quest
Aromatic coffee
Item
Irish coffee
Macchiato
Latte
Cafe mocha
Cafe frappe
Ristretto
Regular Location
Winter Street (from scene level Professor)
Winter Street (from scene level Professor)
Winter Street (from scene level Professor)
Winter Street (from scene level Professor)
Winter Street (from scene level Professor)
Quest Location
Night Garden in Night mode
Memory Match
Palatial Office in Silhouette mode
"Scatter" the 'Lost Time' anomaly from Buddha's Square
Japanese House in Text mode
Purebred cats
Item
Persian cat
Ragdoll cat
Scottish fold cat
Sphynx
Himalayan cat
Siberian cat
Regular Location
Spring Festival (from scene level Professor)
Spring Festival (from scene level Professor)
Spring Festival (from scene level Professor)
Spring Festival (from scene level Professor)
Spring Festival (from scene level Professor)
Quest Location
Mill in Pieces mode
Illusionist's Room
"Scatter" the 'Scroll-Eater' anomaly from Throne Room
Amusement Park in Morphs mode
Crashed Plane in Curse mode
Sumerian gods
Item
Enlil
Enki
Marduk
Inanna
Drumuzid
Anu
N/A
Regular Location
Excavations (from scene level Professor)
Excavations (from scene level Professor)
Excavations (from scene level Professor)
Excavations (from scene level Professor)
Excavations (from scene level Professor)
Quest Location
Blocks
Pipes
Illusionist's Room in Text mode
Ghost Town in Silhouette mode
Venice in Curse mode
Clean up
Item
Brush and dustpan
Pail and rag
Broom (2)
Laundry detergent
Spray Cleaner
Vacuum cleaner
N/A
Regular Location
Japanese House (from scene level Professor)
Japanese House (from scene level Professor)
Japanese House (from scene level Professor)
Japanese House (from scene level Professor)
Japanese House (from scene level Professor)
Quest Location
Buddha's Square in Morphs mode
Misty Shed in Pieces mode
Crashed Plane in Night mode
"Scatter" the 'Mystic Smoke' anomaly from Amusement Park
Eastern Bazaar
Magical bracelet
Item
Red crystal
Green crystal
Orange crystal
Blue crystal
Yellow crystal
Magical bracelet
N/A
Regular Location
Treasure Island (from scene level Professor)
Treasure Island (from scene level Professor)
Treasure Island (from scene level Professor)
Treasure Island (from scene level Professor)
Treasure Island (from scene level Professor)
Quest Location
Memory Match
"Scatter" the 'Ghostly Mirror' anomaly from Polar Station
Venice in "Pairs" mode
Joy Cafe in "Silhouette" mode
Mayan Temple in "Night" mode
Potion of the past
Item
Six frog legs
Four flowers of the belladonna plant
Two snake fangs
Horned snail
Dried juniper
Fiery potion
Regular Location
Night Garden (from scene level Professor)
Night Garden (from scene level Professor)
Night Garden (from scene level Professor)
Night Garden (from scene level Professor)
Night Garden (from scene level Professor)
Quest Location
Throne Room in Curse mode
Night Garden in Night mode
Illusionist's Room in Morphs mode
Witch's Hut in Pieces mode
Mayan Temple in Pairs mode
Potion of the present
Item
Wild honey
Dried lizard skin
Bile of a mountain troll
Sapphire crumbs
Three pairs of dragonfly wings
Crystal clear potion
Regular Location
Spooky Yard (from scene level Grand Magister)
Spooky Yard (from scene level Grand Magister)
Spooky Yard (from scene level Grand Magister)
Spooky Yard (from scene level Grand Magister)
Spooky Yard (from scene level Grand Magister)
Quest Location
Pipes
Mill in Text mode
Bungalow
"Scatter" the 'Ghostly Mirror' anomaly from Throne Room
Buddha's Square in Silhouette mode
Potion of the future
Item
Dragon scale
Crow feather
Three fern flowers
Star dust
Spider
Amber potion
Regular Location
Pipes (from scene level Grand Magister)
Pipes (from scene level Grand Magister)
Pipes (from scene level Grand Magister)
Pipes (from scene level Grand Magister)
Pipes (from scene level Grand Magister)
Quest Location
Eastern Bazaar in Night mode
"Scatter" the 'Mystic Smoke' anomaly from Ancient Library
Bungalow in Text mode
Misty Shed in Silhouette mode
Memory Match
Restoration
Item
Surgical gloves
Round brush
Impregnating oil
Piece of gauze
Eraser
Restoration set
N/A
Regular Location
Curiosities Room (from scene level Professor)
Curiosities Room (from scene level Professor)
Curiosities Room (from scene level Professor)
Curiosities Room (from scene level Professor)
Curiosities Room (from scene level Professor)
Quest Location
Crashed Plane in Silhouette mode
"Scatter" the 'Mystic Smoke' anomaly from Polar Station
Gem Match
Misty Shed

"Scatter" the 'Scroll-Eater' anomaly from Venice

Ancient languages
Item
Latin
Old Russian
Classical Greek
Coptic
Ottoman language
Digest of languages
N/A
Regular Location
Venice (from scene level Professor)
Venice (from scene level Professor)
Venice (from scene level Professor)
Venice (from scene level Professor)
Venice (from scene level Professor)
Quest Location
"Scatter" the 'Ghostly Mirror' anomaly from Palatial Office
Japanese House
"Scatter" the 'Lost Time' anomaly from Ancient Library
Throne Room
Joy Cafe in Night mode
Storage of the grimoire
Item
Wooden legs
Wooden pillar
Wooden stand
Wooden stop
Glass cover
Lectern
N/A
Mountain Vacation Update
Regular Location
Buddha's Square (from scene level Professor)
Buddha's Square (from scene level Professor)
Buddha's Square (from scene level Professor)
Buddha's Square (from scene level Professor)
Buddha's Square (from scene level Professor)
Quest Location
Mill in Curse mode
Mayan Temple in Text mode
Buddha's Square in Pieces mode
Memory Mtach
Ancient Library in Silhouette mode
Series of encyclopedias
Item
Book of dream interpretation
Encyclopedia of predictions
Encyclopedia of superstitions
Encyclopedia of meanings
Encyclopedia of thoughts
Encyclopedia of visions
N/A
Regular Location
Spooky Yard (from scene level Professor)
Spooky Yard (from scene level Professor)
Spooky Yard (from scene level Professor)
Spooky Yard (from scene level Professor)
Spooky Yard (from scene level Professor)
Quest Location
Palatial Office in Pairs mode
Amusement Park
Blocks
Mill
Buddha's Square in Night mode
Doll clothes
Item
Doll pants
Doll shirt
Doll shoes
Doll hat
Doll gloves
Doll wardrobe
N/A
Regular Location
Christmas Eve
Christmas Eve
Christmas Eve
Christmas Eve
Christmas Eve
Quest Location
"Bazaar" (Eastern Bazaar)
Night Garden in Morphs mode
Throne Room
Palatial Office in Curse mode
Gem Match
Family doctor
Item
Stethoscope
Blood pressure cuff
Thermometer
Mirror
Little flashlight
Medicine chest
N/A
Regular Location
Mayan Temple (from scene level Professor)
Mayan Temple (from scene level Professor)
Mayan Temple (from scene level Professor)
Mayan Temple (from scene level Professor)
Mayan Temple (from scene level Professor)
Quest Location
Ancient Library in Pieces mode
Joy Cafe
Ancient Library in "Pairs" mode
"Bazaar" (Eastern Bazaar) in "Text" mode

Ancient Library

Handmade notebook
Item
Glue bottle
Cloth roll
White thread
Firm cardboard
White paper
Firm notebook
N/A
Regular Location
Tavern (from scene level Professor)
Tavern (from scene level Professor)
Tavern (from scene level Professor)
Tavern (from scene level Professor)
Tavern (from scene level Professor)
Quest Location
"Scatter" the 'Ghostly Mirror' anomaly from Amusement Park
Blocks
Gem Match
Night Garden
"Bazaar" (Eastern Bazaar)
Doll's secret
Item
Picture of hair
Picture of footprints
Picture of the cupboard
Picture of the chandelier
Picture of the window
Picture of the box
N/A
Regular Location
Eastern Bazaar (from scene level Professor)
Eastern Bazaar (from scene level Professor)
Eastern Bazaar (from scene level Professor)
Eastern Bazaar (from scene level Professor)
Eastern Bazaar (from scene level Professor)
Quest Location
Silhouette mode (any picture)
"Scatter" the 'Scroll-Eater' anomaly from Illusionist's Room
Throne Room in Morphs mode
Memory Match
Mayan Temple in Pairs mode
Varicolored sticky notes
Item
Blue sticky note
Green sticky note
Yellow sticky note
Violet sticky note
Red sticky note
Container for sticky notes
N/A
Regular Location
Christmas Eve
Christmas Eve
Christmas Eve
Christmas Eve
Christmas Eve
Quest Location
Venice
Ancient Library in Silhouette mode
Mayan Temple in Pairs mode
Polar Station
Japanese House in Text mode
Order's relics
Item
Shabby beret
Ancient brush
The Order's portfolio
Bronze frame
Old camera
Marble palette
N/A
Regular Location
Christmas Eve
Christmas Eve
Christmas Eve
Christmas Eve
Christmas Eve
Quest Location
Ancient Library
"Scatter" the 'Scroll-Eater' anomaly from Venice
Illusionist's Room
Gem Match
"Scatter" the 'Ghostly Mirror' anomaly (any picture)
Magical ink
Item
Soot
Charcoal
Grapevine
Purple
Cinnabar
Bottle of ink
N/A
Regular Location
Ghost Town (from scene level Professor)
Ghost Town (from scene level Professor)
Ghost Town (from scene level Professor)
Ghost Town (from scene level Professor)
Ghost Town (from scene level Professor)
Quest Location
Bungalow in Morphs mode
Night mode (any picture)
Ancient Library
Pieces mode (any picture)
Pipes
Christmas decorations
Item
Angels
Cones
Pine wreath
Star (2)
Candy cane
Sprig of mistletoe
N/A
Regular Location
Christmas Eve  (from scene level Novice)
Christmas Eve  (from scene level Novice)
Christmas Eve  (from scene level Novice)
Christmas Eve  (from scene level Trainee)
Christmas Eve  (from scene level Trainee)
Quest Location
No Quest
No Quest
No Quest
No Quest
No Quest
Symbols of the holidays
Item
Poinsettia
Pomander balls
Fortune cookies
Advent calendar
Holly
Christmas tree
N/A
Regular Location
Christmas Eve (from scene level Trainee)
Christmas Eve (from scene level Detective)
Christmas Eve (from scene level Detective)
Christmas Eve (from scene level Detective)
Christmas Eve (from scene level Pro)
Quest Location
No Quest
No Quest
No Quest
No Quest
No Quest
Christmas delicacy
Item
Stollen
Osechi-ryori
Buche de Noel
Kourabiedes
Songpyeon
Christmas turkey
N/A
Regular Location
Christmas Eve (from scene level Pro)
Christmas Eve (from scene level Pro)
Christmas Eve (from scene level High Explorer)
Christmas Eve (from scene level High Explorer)
Christmas Eve (from scene level High Explorer)
Quest Location
No Quest
No Quest
No Quest
No Quest
No Quest
Irreplaceable assistants
Item
Holda
Christmas elf
Muori
Zwarte Piet
Befana
The Snow Maiden
N/A
Regular Location
Christmas Eve (from scene Novice)
Christmas Eve (from scene Trainee)
Christmas Eve (from scene Detective)
Christmas Eve (from scene Pro)
Christmas Eve (from scene High Explorer)
Quest Location
No Quest
No Quest
No Quest
No Quest
No Quest
Christmas hero
Item
Joulupukki
Father Frost
Saint Nicholas
Shogatsu-san
Chyskhaan
Santa Claus
N/A
Regular Location
Christmas Eve (from scene Novice)
Christmas Eve (from scene Trainee)
Christmas Eve (from scene Detective)
Christmas Eve (from scene Pro)
Christmas Eve (from scene High Explorer)
Quest Location
No Quest
No Quest
No Quest
No Quest
No Quest
Secret Code
Item
"The Society Bulletin"
Lottery Ticket
Gargoyle Magazine
List of Winners
Passports
Coordinates
N/A
Regular Location
Winter Street (from scene level Professor)
Winter Street (from scene level Professor)
Winter Street (from scene level Professor)
Winter Street (from scene level Professor)
Winter Street (from scene level Professor)
Quest Location
Witch's Hut in Text mode
Gem Match
Pairs mode (any picture)
Christmas Eve in Silhouette mode
Memory Match
Tourist Rations
Item
Cereal
Dried Milk
Coffee
Candy Bars
Macaroni
Canned Stewed Meat
N/A
Regular Location
Buddha's Square (from scene level Grand Magister)
Buddha's Square (from scene level Grand Magister)
Buddha's Square (from scene level Grand Magister)
Buddha's Square (from scene level Grand Magister)
Buddha's Square (from scene level Grand Magister)
Quest Location
Morphs mode (any picture)
Japanese House in Text mode
Gem Match
Silhouette mode (any picture)
Tree of Dates in Pairs mode
Mad Tea Party
Item
Bunny Rabbit
Young Frog
Fox
Prince
Princess
Fairy
N/A
Regular Location
Tree of Dates
Tree of Dates
Tree of Dates
Tree of Dates
Tree of Dates
Quest Location
Pieces mode (any picture)
Pipes
Tree of Dates in Pairs mode
Night mode (any picture)
Illusionist's Room
Spy's Shadow
Item
Spy Painting
Corridor Painting
Library Painting
Cabinet Painting
Hall Painting
Alice Painting
N/A
Regular Location
Luxury Express (from scene level Professor)
Luxury Express (from scene level Professor)
Luxury Express (from scene level Professor)
Luxury Express (from scene level Professor)
Luxury Express (from scene level Professor)
Quest Location
Witch's Hut in Night mode
Blocks
Text mode (any picture)
Christmas Eve in Pairs mode
Memory Match
Drastic Measures
Item
Ax
Saw
Crowbar
Lock Picks
Chainsaw
Magical Key
N/A
Regular Location
Ghost Town (from scene level Professor)
Ghost Town (from scene level Professor)
Ghost Town (from scene level Professor)
Ghost Town (from scene level Professor)
Ghost Town (from scene level Professor)
Quest Location
Morphs mode (any picture)
Japanese House in Silhouette mode
Gem Match
Silhouette mode (any picture)
Tree of Dates
Effective Sedative
Item
Melissa Tea
Motherwort Tea
Hawthorn Tea
Ginger Tea
St. John's Wort Tea
Valerian Tea
N/A
Regular Location
Tree of Dates
Tree of Dates
Tree of Dates
Tree of Dates
Tree of Dates
Quest Location
Pieces mode (any picture)
Gem Match
Tree of Dates
Night mode (any picture)
Illusionist's Room
After The Dream
Item
Everest Photograph
Everest Map
Airline Ticket
Golden Dragon
Forbidden City Photo
Snack Bar Photograph
N/A
Regular Location
Mountain Resort (from scene level Professor)
Mountain Resort (from scene level Professor)
Mountain Resort (from scene level Professor)
Mountain Resort (from scene level Professor)
Mountain Resort (from scene level Professor)
Quest Location
Witch's Hut in Silhouette mode
Blocks
Text mode (any picture)
Christmas Eve
Memory Match
Gifts of Tianxia
Item
Jiaozi
Wonton Noodle Soup
Kung Pao Chicken
Mooncake
Pu-erh Tea
Tanghulu
N/A
Regular Location
Flower Shop (from scene level Professor)
Flower Shop (from scene level Professor)
Flower Shop (from scene level Professor)
Flower Shop (from scene level Professor)
Flower Shop (from scene level Professor)
Quest Location
Morphs mode (any picture)
Japanese House
Gem Match
Pairs mode (any picture)
Pairs mode (any picture)
Mountaineering Equipment
Item
Crampon
Ice Axe
Climbing Rope
Fifi Hook
Ice Screw
Carabiner
N/A
Regular Location
Misty Shed (from scene level Professor)
Misty Shed (from scene level Professor)
Misty Shed (from scene level Professor)
Misty Shed (from scene level Professor)
Misty Shed (from scene level Professor)
Quest Location
Tree of Dates in Silhouette mode
Pieces mode (any picture)
Pipes
Tree of Dates in Text mode
Pairs mode (any picture)
Camping Equipment
Item
Camper Knife
Rucksack
Cooking Pot
Gas Stove
Sleeping Bag (2)
Tent
N/A
Regular Location
Mountain Resort (from scene level Grand Magister)
Mountain Resort (from scene level Grand Magister)
Mountain Resort (from scene level Grand Magister)
Mountain Resort (from scene level Grand Magister)
Mountain Resort (from scene level Grand Magister)
Quest Location
Illusionist's Room
Witch's Hut
Blocks
Text mode (any picture)
Christmas Eve in Night mode
Beautiful Flowers
Item
Orchid (1)
Gloriosa
Aquilegia
Middlemist's Red
Black Tulip
Medinilla
N/A
Regular Location
Tree of Dates
Tree of Dates
Tree of Dates
Tree of Dates
Tree of Dates
Quest Location
Morphs mode (any picture)
Japanese House in Pairs mode
Jigsaw
Silhouette mode
Tree of Dates in Morphs mode
Holiday Traditions
Item
Wooden Spoon
Cuddly Toy
Chocolate Heart
St. Valentine Statue
Golden Pendant
Flower Petals
N/A
Regular Location
Tree of Dates (from scene level Novice)
Tree of Dates (from scene level Novice)
Tree of Dates (from scene level Novice)
Tree of Dates (from scene level Trainee)
Tree of Dates (from scene level Trainee)
Quest Location
No Quest
No Quest
No Quest
No Quest
No Quest
Valentine's Card
Item
Angel Valentine Card
Dove Valentine Card
Swan Valentine Card
Butterfly Valentine Card
Squirrel Valentine Card
Lover's Valentines Card
N/A
Regular Location
Tree of Dates (from scene level Trainee)
Tree of Dates (from scene level Detective)
Tree of Dates (from scene level Detective)
Tree of Dates (from scene level Detective)
Tree of Dates (from scene level Pro)
Quest Location
No Quest
No Quest
No Quest
No Quest
No Quest
Long-Awaited Date
Item
Suit
Box of Chocolate
Poetry Collection
Picnic Basket
Bouquet
Fireworks
N/A
Regular Location
Tree of Dates  (from scene level Pro)
Tree of Dates (from scene level Pro)
Tree of Dates (from scene level High Explorer)
Tree of Dates (from scene level High Explorer)
Tree of Dates (from scene level High Explorer)
Quest Location
No Quest
No Quest
No Quest
No Quest
No Quest
Enamored Presents
Item
Pair of Scarves
Pair of Plates
Pair of Glasses
Pair of Pendants
Pair of Rings
Pair of T-Shirts
N/A
Regular Location
Tree of Dates (from scene level Novice)
Tree of Dates (from scene level Trainee)
Tree of Dates (from scene level Detective)
Tree of Dates (from scene level Pro)
Tree of Dates (from scene level High Explorer)
Quest Location
No Quest
Tree of Dates
No Quest
No Quest
No Quest
Hearts
Item
Knitted Heart
Shell Heart
Bead Heart
Candy Heart
Heart Lock
Flower Heart
N/A
Regular Location
Tree of Dates (from scene level Novice)
Tree of Dates (from scene level Trainee)
Tree of Dates (from scene level Detective)
Tree of Dates (from scene level Pro)
Tree of Dates (from scene level High Explorer)
Quest Location
No Quest
No Quest
No Quest
No Quest
No Quest
Toy cars
Item
Minivan
Off-road jeep
Pickup truck
Hatchback
Convertible
Sedan
N/A
Regular Location
Wonder Shop (from scene level Grand Magister)
Wonder Shop (from scene level Grand Magister)
Wonder Shop (from scene level Grand Magister)
Wonder Shop (from scene level Grand Magister)
Wonder Shop (from scene level Grand Magister)
Quest Location
Tavern
Bungalow
Blocks
"Dissipate" the 'Mystic Smoke' anomaly (any picture)
Tavern
Dwellings
Item
Hut
Siberian hut
Cottage
Mansion
Castle
Apartment building
N/A
Regular Location
Spooky Yard (from scene level Professor)
Spooky Yard (from scene level Professor)
Spooky Yard (from scene level Professor)
Spooky Yard (from scene level Professor)
Spooky Yard (from scene level Professor)
Quest Location
Gem Match
Tavern
Tree of Dates in Silhouette mode
Tavern
Christmas Eve
Lanterns
Item
Keychain flashlight
Oil lamp
Flashlight (2)
Camping lantern
Dynamo lantern
Headlamp
N/A
Regular Location
Luxury Express (from scene level Grand Magister)
Luxury Express (from scene level Grand Magister)
Luxury Express (from scene level Grand Magister)
Luxury Express (from scene level Grand Magister)
Luxury Express (from scene level Grand Magister)
Quest Location
Blocks
Gem Match
Tavern
Bungalow in Text mode
Tavern
Microphones
Item
Studio microphone
Microphone on a stand
Throat microphone
Headset
Retro microphone
Lavalier mic
N/A
Regular Location
Saloon (from scene level Professor)
Saloon (from scene level Professor)
Saloon (from scene level Professor)
Saloon (from scene level Professor)
Saloon (from scene level Professor)
Quest Location
Pieces mode (any picture)
Gem Match
Tavern
Christmas Eve
Tavern
Listening devices
Item
Tin can telephone
Wireless earpieces
Radio receiver
Sound locator
GSM listening device
Bug
N/A
Regular Location
Crashed Plane (from scene level Professor)
Crashed Plane (from scene level Professor)
Crashed Plane (from scene level Professor)
Crashed Plane (from scene level Professor)
Crashed Plane (from scene level Professor)
Quest Location
Tree of Dates
Gem Match
Tavern
"Scatter" the 'Scroll-Eater' anomaly (any picture)
Tavern in Text mode
Party attire
Item
Dress
Shoes
Clutch
Bracelet
Earrings
Mannequin
N/A
Regular Location
Festive Dinner (from scene level Grand Magister)
Festive Dinner (from scene level Grand Magister)
Festive Dinner (from scene level Grand Magister)
Festive Dinner (from scene level Grand Magister)
Festive Dinner (from scene level Grand Magister)
Quest Location
Ghost Town
Tavern
Blocks
Bungalow
Tree of Dates
Legendary swords
Item
Napoleon's saber
Sword of Mercy
Dhu al-Fiqar sword
Honjo Masamune sword
Joyeuse sword
Excalibur
N/A
Regular Location
Tavern
Tavern
Tavern
Tavern
Tavern
Quest Location
Tavern
Illusionist's Room
Tavern
Misty Shed
Pipes
Legendary shields
Item
Aegis shield
Achilles's shield
Svalinn shield
Ancile shield
Wynebgwr-thucher shield
Lancelot's shield
N/A
Regular Location
Tavern
Tavern
Tavern
Tavern
Tavern
Quest Location
Memory Match
Tavern
"Scatter" the 'Lost Time' anomaly (any picture)
Witch's Hut
Tavern
Legendary armor
Item
Achilles's armor
Beowulf's armor
Thor's armor
The Nemean lion's pelt
Goibniu's jacket
Wigar armor
N/A
Regular Location
Throne Room (from scene level Professor)
Throne Room (from scene level Professor)
Throne Room (from scene level Professor)
Throne Room (from scene level Professor)
Throne Room (from scene level Professor)
Quest Location
Misty Shed
Tavern
Pairs mode (any picture)
Tavern
Memory Match
Legendary bows
Item
Artemis's bow
Red bow
Gandiva bow
Cupid's bow
Odysseus's bow
Robin Hood's bow
N/A
Regular Location
Curiosities Room (from scene level Professor)
Curiosities Room (from scene level Professor)
Curiosities Room (from scene level Professor)
Curiosities Room (from scene level Professor)
Curiosities Room (from scene level Professor)
Quest Location
Witch's Hut
Tavern
Illusionist's Room
Morphs mode (any picture)
Tavern
Meteor rain
Item
Tunguska meteorite
Sikhote-Alin meteorite
Murchison meteorite
Allende meteorite
Jilin meteorite
Chelyabinsk meteorite
N/A
Regular Location
Farm (from scene level Professor)
Farm (from scene level Professor)
Farm (from scene level Professor)
Farm (from scene level Professor)
Farm (from scene level Professor)
Quest Location
Tavern
Witch's Hut
"Scatter" the 'Scroll-Eater' anomaly (any picture)
Tavern
Illusionist's Room
Favorite heroines
Item
Scarlett O'Hara
Scheherazade
Natasha Rostova
Angelique
Milady de Winter
Jane Eyre
N/A
Regular Location
Tavern (from scene level Novice)
Tavern (from scene level Novice)
Tavern (from scene level Novice)
Tavern (from scene level Trainee)
Tavern (from scene level Trainee)
Quest Location
No Quest
No Quest
No Quest
No Quest
No Quest
Favorite heroes
Item
Ivanhoe
Hamlet
Hercule Poirot
Charles D'Artagnan
Count of Monte Cristo
Mr. Rochester
N/A
Regular Location
Tavern
Tavern
Tavern
Tavern
Tavern
Quest Location
Illusionist's Room
Night Garden
Mill
Illusionist's Room
Night Garden
Beautiful bracelets
Item
Chrysolite bracelet
Lapis lazuli bracelet
Turquoise bracelet
Amethyst bracelet
Topaz bracelet
Labradorite bracelet
N/A
Regular Location
Tavern
Tavern
Tavern
Tavern
Tavern
Quest Location
Mill
Illusionist's Room
Night Garden
Mill
Illusionist's Room
Megalopolises
Item
Yangtze River Delta
BosWash
Pearl River Delta
Blue Banana
SanSan
Tokaido
N/A
Regular Location
Tavern
Tavern
Tavern
Tavern
Tavern
Quest Location
Night Garden
Mill
Illusionist's Room
Night Garden
Mill
Elegant hats
Item
Cloche hat
Straw hat
Borsalino hat
Tribly hat
Slouch hat
Beach hat
N/A
Regular Location
Tavern
Tavern
Tavern
Tavern
Tavern
Quest Location
Illusionist's Room
Night Garden
Mill
Illusionist's Room
Night Garden
Carrier birds
Item
Swift
Frigate bird
Swallow
Pygmy owl
Magpie
Pigeon
N/A
Regular Location
Buddha's Square (from scene level Professor)
Buddha's Square (from scene level Professor)
Buddha's Square (from scene level Professor)
Buddha's Square (from scene level Professor)
Buddha's Square (from scene level Professor)
Quest Location
Treasure Island
Crashed Plane
Treasure Island
Tavern in Text mode
Blocks
Herbalist's advice
Item
Elderberry twig
Willow tree
Burdock root
Chamomile (2)
Oats (1)
Cranberries
N/A
Regular Location
Flower Shop (from scene level Professor)
Flower Shop (from scene level Professor)
Flower Shop (from scene level Professor)
Flower Shop (from scene level Professor)
Flower Shop (from scene level Professor)
Quest Location
Crashed Plane
Treasure Island
Illusionist's Room
Witch's Hut in Text mode
Treasure Island
Howard's experiment
Item
Hydrochloric acid
Nitric acid
Sulfuric acid
Selenous acid
Phosphoric acid
Test tube rack
N/A
Regular Location
Misty Shed (from scene level Professor)
Misty Shed (from scene level Professor)
Misty Shed (from scene level Professor)
Misty Shed (from scene level Professor)
Misty Shed (from scene level Professor)
Quest Location
Tavern
Treasure Island
Pipes
Crashed Plane
Treasure Island
Neat copies
Item
Swiss watch
Italian shoes
French perfume
Cosmetics
Diamond earrings
Statue
N/A
Regular Location
Treasure Island
Treasure Island
Treasure Island
Treasure Island
Treasure Island
Quest Location
Treasure Island
Venice in Curse mode
Tavern
Memory Match
Treasure Island
Bunch of keys
Item
Attic key
Closet key
Cellar key
Cupboard key
Pantry key
Keychain
N/A
Regular Location
Treasure Island
Treasure Island
Treasure Island
Treasure Island
Treasure Island
Quest Location
Crashed Plane
Treasure Island
Ghost Town in Pieces mode
Gem Match
Joy Cafe
Haute cuisine
Item
Duck bordeaux
Pâté foie gras
Provençal lamb
Turkey fricassee
Chicken with apples
Chicken julienne
N/A
Regular Location
Treasure Island
Treasure Island
Treasure Island
Treasure Island
Treasure Island
Quest Location
Treasure Island
Witch's Hut
Polar Station
Tavern
Blocks
Cursed things
Item
Black wolf
Black rose
Blackbird
Black rat
Queen of spades
Bat
N/A
Regular Location
Treasure Island
Treasure Island
Treasure Island
Treasure Island
Treasure Island
Quest Location
Treasure Island
Crashed Plane
"Scatter" the 'Scroll-Eater' anomaly (any picture)
Throne Room
Tavern
Garden gnomes
Item
Gnome with a flashlight
Gnome with a broom
Gnome with a rake
Gnome with a basket
Gnome with a water can
Gnome with a sack
N/A
Regular Location
Orangery (from scene level Professor)
Orangery (from scene level Professor)
Orangery (from scene level Professor)
Orangery (from scene level Professor)
Orangery (from scene level Professor)
Quest Location
Treasure Island
Illusionist's Room
Witch's Hut
Crashed Plane
Pipes
Fragrant spices
Item
Anise
Turmeric
Saffron
Cardamom
Tarragon
Cloves
N/A
Regular Location
Treasure Island
Treasure Island
Treasure Island
Treasure Island
Treasure Island
Quest Location
Treasure Island
Misty Shed
"Scatter" the 'Lost Time' anomaly (any picture)
Tree of Dates
Tavern
Funny gummies
Item
Oranges
Berries
Flowers
Worms
Mushrooms
Stars
N/A
Regular Location
Treasure Island
Treasure Island
Treasure Island
Treasure Island
Treasure Island
Quest Location
Memory Match
Treasure Island
Illusionist's Room
Eastern Bazaar
Christmas Eve
Sporty new clothes
Item
Tank top
Sweatpants
Tennis shoes
Windbreaker
Panama hat
Sunglasses
N/A
Regular Location
Ghost Town (from scene level Grand Magister)
Ghost Town (from scene level Grand Magister)
Ghost Town (from scene level Grand Magister)
Ghost Town (from scene level Grand Magister)
Ghost Town (from scene level Grand Magister)
Quest Location
Illusionist's Room
Treasure Island
Palatial Office
Crashed Plane
Tavern
Icy treats
Item
Chocolate ice cream
Strawberry ice cream
Blueberry ice cream
Pistachio ice cream
Vanilla ice cream
Popsicle
N/A
Regular Location
Joy Cafe (from scene level Professor)
Joy Cafe (from scene level Professor)
Joy Cafe (from scene level Professor)
Joy Cafe (from scene level Professor)
Joy Cafe (from scene level Professor)
Quest Location
Treasure Island
Witch's Hut in Curse mode
Treasure Island
Blocks
Misty Shed
Informative maps
Item
Landscape map
Electronic map
Nautical chart
Resource map
Physical map
T and O map
N/A
Regular Location
Treasure Island
Treasure Island
Treasure Island
Treasure Island
Treasure Island
Quest Location
Witch's Hut
Treasure Island
Tavern
Mill in Morphs mode
Crashed Plane
Antique globes
Item
Schoner globe
Globe of Crates
The Erdapfel
Globe of Gottorf
Jagiellonian globe
Blaeu globe
N/A
Regular Location
Ancient Library (from scene level Professor)
Ancient Library (from scene level Professor)
Ancient Library (from scene level Professor)
Ancient Library (from scene level Professor)
Ancient Library (from scene level Professor)
Quest Location
Witch's Hut
Ghost Town
Treasure Island
Illusionist's Room
Pipes
Archivist's set
Item
Table clock
Table lamp
File
Stack of books
Bundle of documents
Glasses
N/A
Regular Location
Palatial Office (from scene level Professor)
Palatial Office (from scene level Professor)
Palatial Office (from scene level Professor)
Palatial Office (from scene level Professor)
Palatial Office (from scene level Professor)
Quest Location
Witch's Hut
Crashed Plane
Treasure Island in Pairs mode
Memory Match
Illusionist's Room
Beautiful minerals
Item
Pyrite
Muscovite
Fluorite
Stibnite
Unakite
Celestine
N/A
Regular Location
Wigwam (from scene level Professor)
Wigwam (from scene level Professor)
Wigwam (from scene level Professor)
Wigwam (from scene level Professor)
Wigwam (from scene level Professor)
Quest Location
Tavern
Pipes
Treasure Island
Witch's Hut
Crashed Plane
Photo collage
Item
Photo 1
Photo 2
Photo 3
Photo 4
Photo 5
Photo collage
N/A
Regular Location
Luxury Express (from scene level Professor)
Luxury Express (from scene level Professor)
Luxury Express (from scene level Professor)
Luxury Express (from scene level Professor)
Luxury Express (from scene level Professor)
Quest Location
Mill in Night mode
Amusement Park
Tavern in Text mode
Misty Shed
Gem Match
Anonymous's treasures
Item
Golden pen
Hand mirror
Eyeglass case
Jewelry case
Golden watch
Golden bobby pin
N/A
Regular Location
Theatre
Theatre
Theatre
Theatre
Theatre
Quest Location
Theatre
Illusionist's Room in Morphs mode
Gem Match
Pairs mode (any picture)
Pairs mode (any picture)
Photographer's stuff
Item
Level
Reflectors
Lens filters
Lens
Waterproof case
Camera bag
N/A
Regular Location
Theatre
Theatre
Theatre
Theatre
Theatre
Quest Location
Tavern in Pairs mode
Treasure Island
Theatre in Curse mode
Misty Shed in Night mode
Memory Match
Photographer's essentials
Item
Memory card
Lens hood
External flash
Screen protector
Stabilizer
Scanner
N/A
Regular Location
Theatre
Theatre
Theatre
Theatre
Theatre
Quest Location
"Scatter" the 'Scroll-Eater' anomaly (any picture)
Theatre in Text mode
Treasure Island
Memory Match
Theatre in Morphs mode
Teapots
Item
Cast-iron teapot
Earthenware teapot
Ceramic teapot
Glass teapot
Porcelain teapot
Samovar
N/A
Regular Location
Theatre
Theatre
Theatre
Theatre
Theatre
Quest Location
Gem Match
Amusement Park
Treasure Island in Pairs mode
Tavern
"Scatter" the 'Scroll-Eater' anomaly (any picture)
Special literature
Item
The list
"Myths and Legends"
"The World of Reflections"
"Mystery of Mirrors"
"Secrets of the Absurd"
"Reflection and Its Paradoxes"
N/A
Regular Location
Theatre
Theatre
Theatre
Theatre
Theatre
Quest Location
Illusionist's Room
Tavern in Silhouette mode
Gem Match
"Scatter" the 'Lost Time' anomaly (any picture)
Pipes
The Archivist's notes
Item
Note 1
Note 2
Note 3
Note 4
Note 5
Glue stick
N/A
Regular Location
Forest House
Forest House
Forest House
Forest House
Forest House
Quest Location
Theatre
Theatre in Night mode
Theatre
Theatre in Curse mode
Tavern in Text mode
Healing incense
Item
Orchid (2)
Bergamot
Magnolia
Aloe vera
Nag Champa
Patchouli
N/A
Regular Location
Forest House
Forest House
Forest House
Forest House
Forest House
Quest Location
Theatre
Ghost Town in Silhouette mode
Treasure Island
Gem Match
Christmas Eve in Night mode
Hygiene products
Item
Soap
Body wash
Shampoo
Toothpaste
Razor
Shaving cream
N/A
Regular Location
Forest House
Forest House
Forest House
Forest House
Forest House
Quest Location
Amusement Park in Pairs mode
Tavern
Treasure Island
Bungalow
Theatre in Pieces mode
Magical water
Item
Well water
Star water
Sunny water
Moon water
Dead water
Live water
N/A
Regular Location
Forest House
Forest House
Forest House
Forest House
Forest House
Quest Location
Amusement Park
Theatre
Treasure Island in Curse mode
Jigsaw
"Scatter" the 'Lost Time' anomaly (any picture)
Life-giving broth
Item
Vegetable broth
Mushroom broth
Creamy broth
Fish broth
Meat broth
Chicken broth
N/A
Regular Location
Forest House
Forest House
Forest House
Forest House
Forest House
Quest Location
Witch's Hut
Treasure Island in "Night" mode
Pipes
Theatre in "Text" mode
Illusionist's Room
Greeting cards
Item
Birthday card
Housewarming card
Job promotion card
College acceptance card
Newborn baby card
Marriage card
N/A
Regular Location
Japanese House (from scene level Grand Magister)
Japanese House (from scene level Grand Magister)
Japanese House (from scene level Grand Magister)
Japanese House (from scene level Grand Magister)
Japanese House (from scene level Grand Magister)
Quest Location
"Scatter" the 'Scroll-Eater' anomaly (any picture)
Tavern
Theatre in "Pairs" mode
Treasure Island in "Pieces" mode
Pipes
Bookmarks
Item
Bookmark with chain
Bookmark with pointer
Bookmark with backlight
Bookmark with clip
Sticky bookmark
The Order's bookmark
N/A
Regular Location
Japanese House (from scene level Professor)
Japanese House (from scene level Professor)
Japanese House (from scene level Professor)
Japanese House (from scene level Professor)
Japanese House (from scene level Professor)
Quest Location
Christmas Eve
Treasure Island in "Pieces" mode
Ghost Town
Tavern
Theatre in "Pieces" mode
The Order's robes
Item
Half robe
Academic robe
Everyday robe
The Archivist's robe
Sports robe
Dressy robe
N/A
Regular Location
Throne Room (from scene level Professor)
Throne Room (from scene level Professor)
Throne Room (from scene level Professor)
Throne Room (from scene level Professor)
Throne Room (from scene level Professor)
Quest Location
Amusement Park
Theatre in "Night" mode
Treasure Island in "Curse" mode
Bungalow
Illusionist's Room
Phonograph
Item
Rolling cylinder
Needle
Flywheel
Hand crank
Sounding horn
Phonograph
N/A
Regular Location
Saloon (from scene level Professor)
Saloon (from scene level Professor)
Saloon (from scene level Professor)
Saloon (from scene level Professor)
Saloon (from scene level Professor)
Quest Location
Misty Shed in Pieces mode
Tavern
Theatre in Text mode
Treasure Island
Amusement Park in Morphs mode
Puppet theater
Item
Mother puppet
Woodcutter puppet
Hunter puppet
Granny puppet
Wolf puppet
Red Riding Hood puppet
N/A
Regular Location
Theater (from scene level Professor)
Theater (from scene level Professor)
Theater (from scene level Professor)
Theater (from scene level Professor)
Theater (from scene level Professor)
Quest Location
Illusionist's Room in Pairs mode
Gem Match
"Scatter" the 'Lost Time' anomaly (any picture)
Theatre in Curse mode
Witch's Hut in Text mode
Halloween puppets
Item
"Skeleton" puppet
"Scarecrow" puppet
"Vampire" puppet
"Werewolf" puppet
"Ghost" puppet
"Witch" puppet
N/A
Regular Location
Haunted Attraction (from scene level Grand Magister)
Haunted Attraction (from scene level Grand Magister)
Haunted Attraction (from scene level Grand Magister)
Haunted Attraction (from scene level Grand Magister)
Haunted Attraction (from scene level Grand Magister)
Quest Location
No Quest
No Quest
No Quest
No Quest
No Quest
Halloween toys
Item
Toy spider
Toy rat
Toy toad
Toy bat
Toy crow
Toy cat
N/A
Regular Location
Pipes (from scene level Grand Magister)
Pipes (from scene level Grand Magister)
Pipes (from scene level Grand Magister)
Pipes (from scene level Grand Magister)
Pipes (from scene level Grand Magister)
Quest Location
No Quest
No Quest
No Quest
No Quest
No Quest
Halloween snacks
Item
Ghost meringue
Mummy on a stick
Zombie drink
"Skeleton cookies"
Afterworld cupake
Halloween cake
N/A
Regular Location
Memory Match (from scene level Grand Magister)
Memory Match (from scene level Grand Magister)
Memory Match (from scene level Grand Magister)
Memory Match (from scene level Grand Magister)
Memory Match (from scene level Grand Magister)
Quest Location
No Quest
No Quest
No Quest
No Quest
No Quest
Pumpkin soup
Item
Pumpkin
Coconut milk
Potatoes
Carrots
Spices
Pumpkin soup
N/A
Regular Location
Eastern Bazaar (from scene level Grand Magister)
Eastern Bazaar (from scene level Grand Magister)
Eastern Bazaar (from scene level Grand Magister)
Eastern Bazaar (from scene level Grand Magister)
Eastern Bazaar (from scene level Grand Magister)
Quest Location
No Quest
No Quest
No Quest
No Quest
No Quest
Invitations
Item
Invitation #1
Invitation #2
Invitation #3
Invitation #4
Invitation #5
Invitations
N/A
Regular Location
Throne Room (from scene level Grand Magister)
Throne Room (from scene level Grand Magister)
Throne Room (from scene level Grand Magister)
Throne Room (from scene level Grand Magister)
Throne Room (from scene level Grand Magister)
Quest Location
No Quest
No Quest
No Quest
Gem Match
No Quest
Cozy pillows
Item
Round pillow
Children's pillow
Embroidered pillow
Neck roll pillow
Massage pillow
Pillow
N/A
Regular Location
Excavations
Excavations
Excavations
Excavations
Excavations
Quest Location
Excavations
Gem Match
Theatre in Night mode
"Scatter" the 'Scroll-Eater' anomaly (any picture)
Treasure Island in Silhouette mode
Handkerchiefs
Item
White handkerchief
Embroidered handkerchief
Red handkerchief
Yellow handkerchief
Satin handkerchief
Silk handkerchief
N/A
Regular Location
Excavations
Excavations
Excavations
Excavations
Excavations
Quest Location
Blocks
Polar Station in Text mode
Illusionist's Room
Theatre
Theatre
Warm wraps
Item
Fleece wrap
Mohair wrap
Hooded wrap
Acrylic wrap
Cotton wrap
Woolen wrap
N/A
Regular Location
Excavations
Excavations
Excavations
Excavations
Excavations
Quest Location
Excavations
Joy Cafe in Morphs mode
Theatre in Night mode
Excavations
Crashed Plane
Invigorating beverage
Item
Milk
Dark chocolate
Cream
Lavender
Honey
Hot chocolate
N/A
Regular Location
Excavations
Excavations
Excavations
Excavations
Excavations
Quest Location
Gem Match
"Scatter" the 'Scroll-Eater' anomaly (any picture)
Excavations
Memory Match
Treasure Island
Merchant vessel
Item
Mast
Steering wheel
Sail
Keel
Cabin
Sunken ship
N/A
Regular Location
Excavations
Excavations
Excavations
Excavations
Excavations
Quest Location
Excavations in Curse mode
Christmas Eve in Silhouette mode
Gem Match
Excavations in Night mode
Treasure Island
Sweet medicine
Item
Candy rose
Caramel bull
Daifuku
Fruit drops
Candy rooster
Green tea chocolate
N/A
Regular Location
Excavations
Excavations
Excavations
Excavations
Excavations
Quest Location
Excavations
Amusement Park in Text mode
Pipes
Excavations in Pieces mode
Gem Match
Pantry staples
Item
Buckwheat
Rice
Lentils
Barley
Oats (2)
Corn grits
N/A
Regular Location
Excavations
Excavations
Excavations
Excavations
Excavations
Quest Location
Theater
Pairs mode (any picture)
Pairs mode (any picture)
Any Picture
Any Picture
Lost glasses
Item
Contact lenses
Photochromic sunglasses
Round glasses
Square glasses
Lorgnette
Pince-nez
N/A
Regular Location
Banquet Hall (from scene level Grand Magister)
Banquet Hall (from scene level Grand Magister)
Banquet Hall (from scene level Grand Magister)
Banquet Hall (from scene level Grand Magister)
Banquet Hall (from scene level Grand Magister)
Quest Location
Bungalow in Morphs mode
Buddha's Square
Excavations
Mayan Temple in Night mode
Treasure Island
Elegant buttons
Item
Coral button
Amber button
Pearl button
Silver button
Gold button
Cufflinks
N/A
Regular Location
Eastern Bazaar (from scene level Professor)
Eastern Bazaar (from scene level Professor)
Eastern Bazaar (from scene level Professor)
Eastern Bazaar (from scene level Professor)
Eastern Bazaar (from scene level Professor)
Quest Location
Gem Match
Theatre in Silhouette mode
Excavations in Text mode
Amusement Park
Polar Station
Ornamental plates
Item
"Italy" plate
"Germany" plate
"Brazil" plate
"Japan" plate
"Egypt" plate
"India" plate
N/A
Regular Location
Spring Festival (from scene level Professor)
Spring Festival (from scene level Professor)
Spring Festival (from scene level Professor)
Spring Festival (from scene level Professor)
Spring Festival (from scene level Professor)
Quest Location
Illusionist's Room
"Scatter" the 'Lost Time' anomaly (any picture)
Bungalow
Gem Match
Theatre in Curse mode
Shocking article
Item
Scrap #1
Scrap #2
Scrap #3
Scrap #4
Scrap #5
Article
N/A
Regular Location
Winter Street (from scene level Professor)
Winter Street (from scene level Professor)
Winter Street (from scene level Professor)
Winter Street (from scene level Professor)
Winter Street (from scene level Professor)
Quest Location
Excavations in Pieces mode
Any Picture
Any Picture
Pairs mode (any picture)
Pairs mode (any picture)
Christmas cake
Item
Almonds
Hazelnuts
Figs
Raisins
Lemon peel
Panforte
N/A
Regular Location
Winter Street (from scene level Novice)
Winter Street (from scene level Novice)
Winter Street (from scene level Novice)
Winter Street (from scene level Trainee)
Winter Street (from scene level Trainee)
Quest Location
No Quest
No Quest
No Quest
No Quest
No Quest
Christmas ornaments
Item
Christmas lantern
Christmas kitten
Christmas puppy
Christmas bear
Christmas penguin
Christmas bird
N/A
Regular Location
Winter Street (from scene level Trainee)
Winter Street (from scene level Detective)
Winter Street (from scene level Detective)
Winter Street (from scene level Detective)
Winter Street (from scene level Pro)
Quest Location
No Quest
No Quest
No Quest
No Quest
No Quest
Christmas candles
Item
"Angel" candle
"Snowman" candle
"Cute kids" candle
"Reindeer" candle
"Elf candle"
"Santa Claus" candle
N/A
Regular Location
Winter Street (from scene level Pro)
Winter Street (from scene level Pro)
Winter Street (from scene level High Explorer)
Winter Street (from scene level High Explorer)
Winter Street (from scene level High Explorer)
Quest Location
No Quest
No Quest
No Quest
No Quest
No Quest
Dancing elves
Item
Elf with violin
Elf with guitar
Elf with triangle
Elf with flute
Elf with bells
Elf with Harmonica
N/A
Regular Location
Winter Street (from scene level Academician)
Winter Street (from scene level Academician)
Winter Street (from scene level Academician)
Winter Street (from scene level Magister)
Winter Street (from scene level Magister)
Quest Location
No Quest
No Quest
No Quest
No Quest
No Quest
Gingerbread Ornaments
Item
Gingerbread house
Gingerbread sun
Gingerbread moon
Gingerbread kids
Gingerbread Santa
Gingerbread star
N/A
Regular Location
Winter Street (from scene level Magister)
Winter Street (from scene level Professor)
Winter Street (from scene level Professor)
Winter Street (from scene level Professor)
Winter Street (from scene level Professor)
Quest Location
No Quest
No Quest
No Quest
No Quest
No Quest
Warm gear
Item
Mittens
Knitted socks
Knitted scarf
Boots with fur
Winter coat
Winter outfit
N/A
Regular Location
Flower Shop
Flower Shop
Flower Shop
Flower Shop
Flower Shop
Quest Location
Flower Shop
Gem Match
Excavations in Morphs mode
"Dissipate" the 'Mystic Smoke' anomaly (any picture)
Theater
Cold-fighting drink
Item
Grapefruit
Pomegranate
Mango
Papaya
Sweet cherries
Vitamin juice
N/A
Regular Location
Flower Shop
Flower Shop
Flower Shop
Flower Shop
Flower Shop
Quest Location
Treasure Island in Silhouette mode
Flower Shop
Joy Cafe in Night mode
Any Picture
Any Picture
Collector's passion
Item
Dark blue scarab
Green scarab
Red scarab
Light blue scarab
Black scarab
Golden scarab
N/A
Regular Location
Flower Shop
Flower Shop
Flower Shop
Flower Shop
Flower Shop
Quest Location
Crashed Plane in Pairs mode
Theater
Gem Match
Flower Shop
Memory Match
Chinese vase
Item
Piece of vase No. 1
Piece of vase No. 2
Piece of vase No. 3
Piece of vase No. 4
Piece of vase No. 5
Chinese vase
N/A
Regular Location
Flower Shop
Flower Shop
Flower Shop
Flower Shop
Flower Shop
Quest Location
Polar Station in Text mode
Treasure Island
Treasure Island
Flower Shop
Flower Shop
Special coffee
Item
Coffee beans
Coffee mill
Cezve
Fresh berries
Whipped cream
Berry coffee
N/A
Regular Location
Flower Shop
Flower Shop
Flower Shop
Flower Shop
Flower Shop
Quest Location
Blocks
Tree of Dates in Silhouette mode
Gem Match
Flower Shop in Night mode
Excavations
Set of fuses
Item
Fuse 5A
Fuse 15A
Fuse 25A
Fuse 30A
Fuse 50A
Fuse 60A
N/A
Regular Location
Crashed Plane (from scene level Professor)
Crashed Plane (from scene level Professor)
Crashed Plane (from scene level Professor)
Crashed Plane (from scene level Professor)
Crashed Plane (from scene level Professor)
Quest Location
"Scatter" the 'Scroll Eater' anomaly (any picture)
Tavern
Flower Shop
Amusement Park in Text mode
Pipes
Carburetor parts
Item
Float
Emulsion tubes
Filter
Fuel filter
Carburetor cover
Solenoid valve
N/A
Regular Location
Misty Shed (from scene level Professor)
Misty Shed (from scene level Professor)
Misty Shed (from scene level Professor)
Misty Shed (from scene level Professor)
Misty Shed (from scene level Professor)
Quest Location
Gem Match
Illusionist's Room
Flower Shop in Curse mode
Tree of Dates
Pairs mode (any picture)
Monthly magazine
Item
June magazine
July magazine
August magazine
September magazine
October magazine
November magazine
N/A
Regular Location
Ancient Library (from scene level Grand Magister)
Ancient Library (from scene level Grand Magister)
Ancient Library (from scene level Grand Magister)
Ancient Library (from scene level Grand Magister)
Ancient Library (from scene level Grand Magister)
Quest Location
Excavations
Bungalow in Morphs mode
Buddha's Square
Flower Shop
Mayan Temple in Night mode
Convincing evidence
Item
Dossier of Claire
Dossier of Marc
Claire's camera
Claire's photos
Magazine article
Claire's diary
N/A
Regular Location
Palatial Office (from scene level Professor)
Palatial Office (from scene level Professor)
Palatial Office (from scene level Professor)
Palatial Office (from scene level Professor)
Palatial Office (from scene level Professor)
Quest Location
Theater in Silhouette mode
Amusement Park
Excavations
"Scatter" the 'Lost Time' anomaly (any picture)
Gem Match
Bicycle repair
Item
Handlebar
Brake lever
Wheel
Carrier
Pedals
Bicycle
N/A
Regular Location
Winter Street (from scene level Grand Magister)
Winter Street (from scene level Grand Magister)
Winter Street (from scene level Grand Magister)
Winter Street (from scene level Grand Magister)
Winter Street (from scene level Grand Magister)
Quest Location
Flower Shop in Text mode
Bungalow
Illusionist's Room
Flower Shop in Pieces mode
Theater in Curse mode
Travel to Indonesia
Item
Map of Indonesia
Coat of arms of Medan
Rafflesia
Amorphophallus
Mount Toba
Package
N/A
Regular Location
Bungalow (from scene level Professor)
Bungalow (from scene level Professor)
Bungalow (from scene level Professor)
Bungalow (from scene level Professor)
Bungalow (from scene level Professor)
Quest Location
Flower Shop in Pieces mode
Excavations
Night mode (any picture)
Tree of Dates
Tavern
Beach gear
Item
Beach bag
Beach towel
Sandals
Pareo wrap
Tunic
Beach sundress
N/A
Regular Location
Gem Match (from scene level Grand Magister)
Gem Match (from scene level Grand Magister)
Gem Match (from scene level Grand Magister)
Gem Match (from scene level Grand Magister)
Gem Match (from scene level Grand Magister)
Quest Location
Observation Deck
Observation Deck
Observation Deck in Text mode
Observation Deck
Observation Deck in Silhouette mode
Skin protection
Item
Sesame oil
Avacado oil
Jojoba oil
Cocoa butter
Aloe vera gel
Sunscreen
N/A
Regular Location
Mill (from scene level Grand Magister)
Mill (from scene level Grand Magister)
Mill (from scene level Grand Magister)
Mill (from scene level Grand Magister)
Mill (from scene level Grand Magister)
Quest Location
Observation Deck
Observation Deck in Morphs mode
Observation Deck
Observation Deck in Night mode
Observation Deck
Seashells
Item
Liguus virgineus
Pecten australis
Amaea ferminiana
Precious wentletrap
Vexillum rugosum
Angaria poppei
N/A
Regular Location
Witch's Hut (from scene level Grand Magister)
Witch's Hut (from scene level Grand Magister)
Witch's Hut (from scene level Grand Magister)
Witch's Hut (from scene level Grand Magister)
Witch's Hut (from scene level Grand Magister)
Quest Location
Observation Deck in Silhouette mode
Observation Deck
Observation Deck
Observation Deck in Pairs mode
Observation Deck
Beach postcards
Item
Postcard "Starfish"
Postcard "Seashell"
Postcard "Fish"
Postcard "Coral"
Postcard "Dolphins"
Postcard "Sand castle"
N/A
Regular Location
Ghost Town (from scene level Grand Magister)
Ghost Town (from scene level Grand Magister)
Ghost Town (from scene level Grand Magister)
Ghost Town (from scene level Grand Magister)
Ghost Town (from scene level Grand Magister)
Quest Location
Observation Deck
Observation Deck in Night mode
Observation Deck
Observation Deck in Morphs mode
Observation Deck
Nutritious salad
Item
Spinach
Kale
Broccoli
Leeks
Chard
Asparagus
N/A
Regular Location
Christmas Eve (from scene level Grand Magister)
Christmas Eve (from scene level Grand Magister)
Christmas Eve (from scene level Grand Magister)
Christmas Eve (from scene level Grand Magister)
Christmas Eve (from scene level Grand Magister)
Quest Location
Observation Deck in Pairs mode
Observation Deck
Observation Deck in Silhouette mode
Observation Deck
Observation Deck in Night mode
Useful objects
Item
Feather duster
Rag
Scissors
Sharp blade
Handheld vacuum cleaner
Sugar tongs
N/A
Regular Location
Flower Shop (from scene level Professor)
Flower Shop (from scene level Professor)
Flower Shop (from scene level Professor)
Flower Shop (from scene level Professor)
Flower Shop (from scene level Professor)
Quest Location
Observation Deck
Eastern Bazaar
Gem Match
Japanese House in Pairs mode
Mill in Text mode
Documents' restoration
Item
Piece of cloth
Iron
Rope
Paper clip
Wheat paste
Vellum
N/A
Regular Location
Palatial Office (from scene level Grand Magister)
Palatial Office (from scene level Grand Magister)
Palatial Office (from scene level Grand Magister)
Palatial Office (from scene level Grand Magister)
Palatial Office (from scene level Grand Magister)
Quest Location
Tavern
Memory Match
Silhouette mode (any picture)
Observation Deck in Night mode
Illusionist's Room in Morphs mode
Chromatography
Item
Capillary columns
Katharometer
Gas tank
Regulator
Thermostat
Chromatography
N/A
Regular Location
Rock Stage (from scene level Professor)
Rock Stage (from scene level Professor)
Rock Stage (from scene level Professor)
Rock Stage (from scene level Professor)
Rock Stage (from scene level Professor)
Quest Location
Theater
Misty Shed in Text mode
Gem Match
Observation Deck in Silhouette mode
"Dissipate" the 'Mystic Smoke' anomaly (any picture)
Golden statuettes
Item
Golden peacock
Golden cat
Golden tree
Golden fox
Golden rose
Golden fairy
N/A
Regular Location
Observation Deck
Observation Deck
Observation Deck
Observation Deck
Observation Deck
Quest Location
Memory Match
Observation Deck in Morphs mode
Flower Shop in Night mode
Crashed Plane
Night Garden in Pairs mode
Radio receiver
Item
Antenna tuner
Amplifier (1)
Detector
Speaker driver
Battery (1)
Radio receiver
N/A
Regular Location
Bungalow (from scene level Professor)
Bungalow (from scene level Professor)
Bungalow (from scene level Professor)
Bungalow (from scene level Professor)
Bungalow (from scene level Professor)
Quest Location
Tree of Dates
Observation Deck
Observation Deck
Winter Street in Silhouette mode
Winter Street in Silhouette mode
Roman soldiers
Item
Velites
Hastatus
Princeps
Triarius
Cavalryman
Centurion
N/A
Regular Location
Observation Deck
Observation Deck
Observation Deck
Observation Deck
Observation Deck
Quest Location
Excavations in Curse mode
Illusionist's Room
Illusionist's Room
Theater in Text mode
Theater in Text mode
Collectible plates
Item
London plate
Moscow plate
Ankara plate
Seoul plate
Buenos Aires plate
Reykjavik plate
N/A
Regular Location
Observation Deck
Observation Deck
Observation Deck
Observation Deck
Observation Deck
Quest Location
Flower Shop
Pipes
Ghost Town in Silhouette mode
Tavern in Night mode
Winter Street
Double café glacé
Item
Ground coffee
Vanilla bean ice cream
Cane sugar
Grated chocolate
Powdered sugar
Double cafe glace
N/A
Regular Location
Observation Deck
Observation Deck
Observation Deck
Observation Deck
Observation Deck
Quest Location
Treasure Island in Pieces mode
Observation Deck in Curse mode
Christmas Eve
Gem Match
Observation Deck in Pairs mode
Mysterious gadget
Item
Cover
Piston
Motor
Timer
Switch
Blocker
N/A
Regular Location
Misty Shed (from scene level Grand Magister)
Misty Shed (from scene level Grand Magister)
Misty Shed (from scene level Grand Magister)
Misty Shed (from scene level Grand Magister)
Misty Shed (from scene level Grand Magister)
Quest Location
Polar Station in Morphs mode
Bungalow
Bungalow
Excavations
Excavations
Bad weather protection
Item
Knit shawl
Red cloak
Beaded bag
Gloves with flowers
Hat with a pompom
Children's umbrella
N/A
Regular Location
Observation Deck
Observation Deck
Observation Deck
Observation Deck
Observation Deck
Quest Location
Observation Deck in Pieces mode
Illusionist's Room
Winter Street
Flower Shop
Witch's Hut in Curse mode
Witness testimonies
Item
Testimony
Howard's testimony
Christy's testimony
Alfred's testimony
Lewis's testimony
Folder for testimonies
N/A
Regular Location
Winter Street (from scene level Grand Magister)
Winter Street (from scene level Grand Magister)
Winter Street (from scene level Grand Magister)
Winter Street (from scene level Grand Magister)
Winter Street (from scene level Grand Magister)
Quest Location
Gem Match
Forest House
Treasure Island in Night mode
Observation Deck
Crashed Plane in Text mode
Handling evidence
Item
Set of gloves
Set of forceps
Pack of baggies
Pocket flashlights
Set of Sticks
Set of megaphones
N/A
Regular Location
Polar Station (from scene level Grand Magister)
Polar Station (from scene level Grand Magister)
Polar Station (from scene level Grand Magister)
Polar Station (from scene level Grand Magister)
Polar Station (from scene level Grand Magister)
Quest Location
"Scatter" the 'Lost Time' anomaly (any picture)
Illusionist's Room
Mayan Temple in Pairs mode
Excavations
Throne Room
Massage stones
Item
Oval stones
Jadeite stones
Crescent eye stones
Miniature stones
Marble stones
Hot stone set
N/A
Regular Location
Observation Deck
Observation Deck
Observation Deck
Observation Deck
Observation Deck
Quest Location
Christmas Eve
Ghost Town in Morphs mode
Forest House
Excavations
Observation Deck in Silhouette mode
The artist's sketches
Item
Sketch of Alfred
Sketch of Christy
Sketch of Howard
Sketch of Vincent
Sketch of Alice
Lewis's sketchbook
N/A
Regular Location
Spring Festival (from scene level Professor), Illusiontist's Room
Spring Festival (from scene level Professor)
Spring Festival (from scene level Professor)
Spring Festival (from scene level Professor)
Spring Festival (from scene level Professor)
Quest Location
Illusionist's Room
Tavern
Flower Shop in Curse mode
Amusement Park in Silhouette mode
Winter Street
Beautiful spotlights
Item
LED spotlight
Metal halide lamp
Xenon arc spotlight
Sodium-vapor spotlight
Mercury spotlight
Plasma spotlight
N/A
Regular Location
Observation Deck
Observation Deck
Observation Deck
Observation Deck
Observation Deck
Quest Location
Misty Shed in Pieces mode
Theater in Night mode
Observation Deck in Text mode
Gem Match
Bungalow
Mysterious evidence
Item
Evidence: "Glove"
Evidence: "Crowbar"
Evidence: "Footprints"
Evidence: "Lock of hair"
Evidence: "Boot"
Alice's doll
N/A
Regular Location
Amusement Park (from scene level Grand Magister)
Amusement Park (from scene level Grand Magister)
Amusement Park (from scene level Grand Magister)
Amusement Park (from scene level Grand Magister)
Amusement Park (from scene level Grand Magister)
Quest Location
Forest House in Text mode
Flower Shop
Illusionist's Room in Pairs mode
Observation Deck
Excavations
Invitation postcards
Item
"China" postcard
"Cuba" postcard
"Morocco" postcard
"Iceland" postcard
"Australia" postcard
"Canada" postcard
N/A
Regular Location
Tea Corner (from scene level Grand Magister)
Tea Corner (from scene level Grand Magister)
Tea Corner (from scene level Grand Magister)
Tea Corner (from scene level Grand Magister)
Tea Corner (from scene level Grand Magister)
Quest Location
Banquet Hall
Banquet Hall
Banquet Hall in Text mode
Banquet Hall
Banquet Hall in Night mode
Jewelry pendants
Item
Aquamarine Explorer
Heliodor Explorer
Garnets Explorer
Taaffeite Explorer
Opal Explorer
Morganite Explorer
N/A
Regular Location
Gem Match (from scene level Grand Magister)
Gem Match (from scene level Grand Magister)
Gem Match (from scene level Grand Magister)
Gem Match (from scene level Grand Magister)
Gem Match (from scene level Grand Magister)
Quest Location
Banquet Hall
Banquet Hall in Silhouette mode
Banquet Hall
Banquet Hall in Morphs mode
Banquet Hall
Ice statues
Item
Ice swan
Ice deer
Ice butterfly
Ice horse
Ice peacock
Ice lion
N/A
Regular Location
Orangery (from scene level Grand Magister)
Orangery (from scene level Grand Magister)
Orangery (from scene level Grand Magister)
Orangery (from scene level Grand Magister)
Orangery (from scene level Grand Magister)
Quest Location
Banquet Hall in Text mode
Banquet Hall
Banquet Hall in Night mode
Banquet Hall
Banquet Hall in Morphs mode
Caesar salad
Item
Romaine lettuce
White bread
Lemon juice
Worcestershire sauce
Grated Parmesan cheese
Caesar salad
N/A
Regular Location
Venice (from scene level Grand Magister)
Venice (from scene level Grand Magister)
Venice (from scene level Grand Magister)
Venice (from scene level Grand Magister)
Venice (from scene level Grand Magister)
Quest Location
Banquet Hall
Banquet Hall in Pairs mode
Banquet Hall
Banquet Hall in Morphs mode
Banquet Hall
Watermelon smoothie
Item
Strawberry jam
Lime juice
Linden honey
Ice cubes
Watermelon syrup
Watermelon smoothie
N/A
Regular Location
Mill (from scene level Grand Magister)
Mill (from scene level Grand Magister)
Mill (from scene level Grand Magister)
Mill (from scene level Grand Magister)
Mill (from scene level Grand Magister)
Quest Location
Banquet Hall
Banquet Hall in Night mode
Banquet Hall
Banquet Hall
Banquet Hall in Silhouette mode
Aerostats
Item
Montgolfier's aerostat
Charlière's aerostat
Blanchard's aerostat
Griffard's aerostat
Dupuy de Lôme's aerostat
Renard and Krebs' aerostat
N/A
Regular Location
Venice (from scene level Professor)
Venice (from scene level Professor)
Venice (from scene level Professor)
Venice (from scene level Professor)
Venice (from scene level Professor)
Quest Location
Banquet Hall
Eastern Bazaar
Tavern in Night mode
Misty Shed in Silhouette mode
Gem Match
Meditation aids
Item
Gotu kola
Brahmi oil
"Prana" drink
"Sounds of Nature" CD
Incense
Meditation chair
N/A
Regular Location
Banquet Hall
Banquet Hall
Banquet Hall
Banquet Hall
Banquet Hall
Quest Location
Flower Shop in Night mode
Banquet Hall in Text mode
Memory Match
Observation Deck
Banquet Hall
Set of amulets
Item
"Wood" Sign
"Fire" Sign
"Earth" Sign
"Metal" Sign
"Water" Sign
Set of amulets
N/A
Regular Location
Spring Festival (from scene level Grand Magister)
Spring Festival (from scene level Grand Magister)
Spring Festival (from scene level Grand Magister)
Spring Festival (from scene level Grand Magister)
Spring Festival (from scene level Grand Magister)
Quest Location
Winter Street
Night Garden
Treasure Island in Pieces mode
Forest House in Silhouette mode
"Scatter" the 'Ghostly Mirror' anomaly (any picture)
Circus animals
Item
Circus dog
Circus bear
Circus horse
Circus monkey
Circus tiger
Circus elephant
N/A
Regular Location
Banquet Hall
Banquet Hall
Banquet Hall
Banquet Hall
Banquet Hall
Quest Location
Blocks
Banquet Hall
Japanese House in Morphs mode
Crashed Plane
Bungalow in Pairs mode
Appetizing quesadilla
Item
Tortillas
Garlic
Yellow bell pepper
Chili peppers
Dried tarragon
Quesadilla
N/A
Regular Location
Banquet Hall
Banquet Hall
Banquet Hall
Banquet Hall
Banquet Hall
Quest Location
Tree of Dates
Flower Shop in Night mode
Banquet Hall
Witch's Hut
Winter Street in Silhouette mode
Night camouflage
Item
Mosquito repellent
Military boots
Black jacket
Black backpack
Thermos
Night Vision goggles
N/A
Regular Location
Forest House (from scene level Grand Magister)
Forest House (from scene level Grand Magister)
Forest House (from scene level Grand Magister)
Forest House (from scene level Grand Magister)
Forest House (from scene level Grand Magister)
Quest Location
Ghost Town
Banquet Hall in Pairs mode
Observation Deck in Text mode
Theater
Pipes
British souvenirs
Item
Statuette of "Big Ben"
"Tower Bridge" souvenir
Red phone booth
Figure of foot guard
English tea
"Double decker bus" souvenir
N/A
Regular Location
Banquet Hall
Banquet Hall
Banquet Hall
Banquet Hall
Banquet Hall
Quest Location
Gem Match
Christmas Eve
Tavern in Night mode
Mill
Amusement Park in Silhouette
Ghost traps
Item
Crystal chest
Silver net
"Belladonna" perfume
Camouflage cloak
Golden wax
Stamp "Cat's eye"
N/A
Regular Location
Banquet Hall
Banquet Hall
Banquet Hall
Banquet Hall
Banquet Hall
Quest Location
Excavations
Crashed Plane in Text mode
Throne Room
Bungalow
"Scatter" the 'Lost Time' anomaly (any picture)
Special fruit tea
Item
Dried pineapple
Dried apple
Dried cherry
Dried papaya
Golden raisins
Dried raspberry
N/A
Regular Location
Banquet Hall
Banquet Hall
Banquet Hall
Banquet Hall
Banquet Hall
Quest Location
Banquet Hall
Tree of Dates in Curse mode
Japanese House
Flower Shop in Pieces mode
Throne Roon
First aid kit
Item
Cloth square
Antiseptic
Adhesive bandage
Wooden splint
Gauze bandage roll
Analgesic
N/A
Regular Location
Bungalow (from scene level Grand Magister)
Bungalow (from scene level Grand Magister)
Bungalow (from scene level Grand Magister)
Bungalow (from scene level Grand Magister)
Bungalow (from scene level Grand Magister)
Quest Location
Witch's Hut in Pairs mode
Gem Match
Forest House
Bungalow in Morphs mode
Banquet Hall
Potted flowers
Item
Tillandsia cyanea
Lachenalia aloides
Vriesea
Cyclamen
Passiflora
Azalea
N/A
Regular Location
Banquet Hall
Banquet Hall
Banquet Hall
Banquet Hall
Banquet Hall
Quest Location
Polar Station
Winter Street in "Night" mode
Illusionist's Room
Mayan Temple in "Pairs" mode
Forest House in "Silhouette" mode
Theatrical makeup
Item
Mastic skin glue
Fake beard
False eyelashes
Colorful face paint
Set of glitter paint
Makeover kit
N/A
Regular Location
Palatial Office (from scene level Grand Magister)
Palatial Office (from scene level Grand Magister)
Palatial Office (from scene level Grand Magister)
Palatial Office (from scene level Grand Magister)
Palatial Office (from scene level Grand Magister)
Quest Location
Spooky Yard
Spooky Yard
Spooky Yard in Text mode
Spooky Yard
Spooky Yard in Silhouette mode
Pirate's costume
Item
Velvet waistcoat
Silk shirt
Eye patch
Leather belt
Pirate hat
Alfred's costume
N/A
Regular Location
Treasure Island (from scene level Grand Magister)
Treasure Island (from scene level Grand Magister)
Treasure Island (from scene level Grand Magister)
Treasure Island (from scene level Grand Magister)
Treasure Island (from scene level Grand Magister)
Quest Location
Spooky Yard
Spooky Yard
Spooky Yard
Spooky Yard in Text mode
Spooky Yard
Vampire's bride
Item
Bertha collar
Cameo necklace
Corset
Fluffy Skirt
Lace sleeves
Christy's costume
N/A
Regular Location
Saloon (from scene level Grand Magister)
Saloon (from scene level Grand Magister)
Saloon (from scene level Grand Magister)
Saloon (from scene level Grand Magister)
Saloon (from scene level Grand Magister)
Quest Location
Spooky Yard in Morphs mode
Spooky Yard
Spooky Yard
Spooky Yard in Silhouette mode
Spooky Yard
Wizard's costume
Item
Pointed hat
Gray cloak
Duffel bag
Silver scarf
Wizard's staff
Howard's costume
N/A
Regular Location
Witch's Hut (from scene level Professor)
Witch's Hut (from scene level Professor)
Witch's Hut (from scene level Professor)
Witch's Hut (from scene level Professor)
Witch's Hut (from scene level Professor)
Quest Location
Spooky Yard in Night mode
Spooky Yard
Spooky Yard
Spooky Yard in Morphs mode
Spooky Yard
Preparations for the party
Item
Alfred's entrance ticket
Howard's entrance ticket
Christy's entrance ticket
Pumpkin lollipops
Skeleton gingerbread cookies
Basket of sweets
N/A
Regular Location
Rock Stage (from scene level Grand Magister)
Rock Stage (from scene level Grand Magister)
Rock Stage (from scene level Grand Magister)
Rock Stage (from scene level Grand Magister)
Rock Stage (from scene level Grand Magister)
Quest Location
Spooky Yard
Spooky Yard in Pairs mode
Spooky Yard
Spooky Yard
Spooky Yard in Silhouette mode
Bronze statuettes
Item
Bronze fox
Bronze boar
Bronze falcon
Bronze dog
Bronze horse
Bronze hunter
N/A
Regular Location
Spooky Yard
Spooky Yard
Spooky Yard
Spooky Yard
Spooky Yard
Quest Location
Spooky Yard
Crashed Plane in Morphs mode
Japanese House
Winter Street in Pairs mode
Bungalow
Orange coffee
Item
Brazilian coffee
Vanilla sugar
Ground cloves
Ground cinnamon
Orange zest
Orange coffee
N/A
Regular Location
Orangery (from scene level Professor)
Orangery (from scene level Professor)
Orangery (from scene level Professor)
Orangery (from scene level Professor)
Orangery (from scene level Professor)
Quest Location
Spooky Yard
Flower Shop in Curse mode
Tree of Dates
Blocks
Throne Room in Pieces mode
Office chandelier
Item
Fastening bolt
Mounting bracket
Candelabra bulbs
Decorative vessel
Lampshade
Chandelier
N/A
Regular Location
Theater (from scene level Professor)
Theater (from scene level Professor)
Theater (from scene level Professor)
Theater (from scene level Professor)
Theater (from scene level Professor)
Quest Location
Mayan Temple
Banquet Hall in Night mode
Spooky Yard
Polar Station
Winter Street in Silhouette mode
Indonesian bride
Item
Sarong
Baju bodo
Golden bride necklace
Golden bride bracelet
Suntiang
Indonesian bride
N/A
Regular Location
Spooky Yard (from scene level Trainee)
Spooky Yard (from scene level Trainee)
Spooky Yard (from scene level Trainee)
Spooky Yard (from scene level Detective)
Spooky Yard (from scene level Detective)
Quest Location
Night Garden
Memory Match
Flower Shop in Text mode
Tavern
Eastern Bazaar in Night mode
Gustav's glasses
Item
Temples
Rim of glasses
Emerald lenses
Additional lenses
Rubber band
Gustav's glasses
N/A
Regular Location
Flower Shop (from scene level Grand Magister)
Flower Shop (from scene level Grand Magister)
Flower Shop (from scene level Grand Magister)
Flower Shop (from scene level Grand Magister)
Flower Shop (from scene level Grand Magister)
Quest Location
Spooky Yard
Excavations in Text mode
Illusionist's Room
"Dissipate" the 'Mystic Smoke' anomaly (any picture)
Gem Match
Nasi goreng
Item
Shrimp paste
Coriander seeds
Long-grain rice
Soy sauce
Lettuce
Nasi goreng
N/A
Regular Location
Spring Festiva (from scene level Grand Magister)
Spring Festiva (from scene level Grand Magister)
Spring Festiva (from scene level Grand Magister)
Spring Festiva (from scene level Grand Magister)
Spring Festiva (from scene level Grand Magister)
Quest Location
Forest House
Misty Shed in Night mode
Any Picture
Bungalow in Silhouette mode
Observation Deck
Samurai armor
Item
Kabuto
Menpo
Kusazuri
Haidate
Suneate
Samurai armor
N/A
Regular Location
Spooky Yard (from scene level Detective)
Spooky Yard (from scene level Detective)
Spooky Yard (from scene level Pro)
Spooky Yard (from scene level Pro)
Spooky Yard (from scene level Pro)
Quest Location
Spooky Yard
Throne Room in Pairs mode
Throne Room in Pairs mode
Treasure Island
Treasure Island
Rag dolls
Item
French doll
Spanish doll
Japanese doll
Brazilian doll
Indian doll
Swedish doll
N/A
Regular Location
Spooky Yard (from scene level Pro)
Spooky Yard (from scene level High Explorer)
Spooky Yard (from scene level High Explorer)
Spooky Yard (from scene level High Explorer)
Spooky Yard (from scene level High Explorer)
Quest Location
Witch's Hut
Gem Match
Theater in "Pieces" mode
Spooky Yard
Flower Shop in "Morphs" mode
Watercolor fish
Item
"Red lionfish"
"Discus fish"
"Moorish idol"
"Parrotfish"
"Clownfish"
"Mandarinfish"
N/A
Regular Location
Spooky Yard (from scene level Academician)
Spooky Yard (from scene level Academician)
Spooky Yard (from scene level Academician)
Spooky Yard (from scene level Academician)
Spooky Yard (from scene level Magister)
Quest Location
Tree of Dates
"Scatter" the 'Scroll-Eater' anomaly (any picture)
Tavern
Witch's Hut in Night mode
Ghost Town
Antique boxes
Item
"Carriage" box
"Butterfly" box
"Elephant" box
"Turtle" box
"Bird" box
"Piano" box
N/A
Regular Location
Spooky Yard (from scene level Magister)
Spooky Yard (from scene level Magister)
Spooky Yard (from scene level Magister)
Spooky Yard (from scene level Professor)
Spooky Yard (from scene level Professor)
Quest Location
Excavations in Silhouette mode
Excavations in Silhouette mode
Spooky Yard
Spooky Yard
Mill
Indonesian sweets
Item
Kue lapis
Klepon
Mochi
Black rice pudding
Roti kukus
Getuk
N/A
Regular Location
Spooky Yard (from scene level Professor)
Spooky Yard (from scene level Professor)
Spooky Yard (from scene level Professor)
Spooky Yard (from scene level Professor)
Spooky Yard (from scene level Professor)
Quest Location
Gem Match
Theater in Pairs mode
Banquet Hall
Text mode (any Picture)
Amusement Park
Expedition photos
Item
Expedition photo No. 1
Expedition photo No. 2
Expedition photo No. 3
Expedition photo No. 4
Expedition photo No. 5
Scientist's photo
N/A
Regular Location
Polar Station (from scene level Professor)
Polar Station (from scene level Professor)
Polar Station (from scene level Professor)
Polar Station (from scene level Professor)
Polar Station (from scene level Professor)
Quest Location
Winter Street
Spooky Yard in Night mode
Observation Deck
Christmas Eve in Pairs mode
Pipes
Present for Alfred
Item
Christmas hat
Christmas scarf
Christmas gloves
Christmas socks
Christmas sweater
Present for Alfred
N/A
Regular Location
Winter Street (from scene level Grand Magister)
Winter Street (from scene level Grand Magister)
Winter Street (from scene level Grand Magister)
Winter Street (from scene level Grand Magister)
Winter Street (from scene level Grand Magister)
Quest Location
Wonder Shop
Wonder Shop in Night mode
Wonder Shop
Wonder Shop in Morphs mode
Wonder Shop
Present for Howard
Item
Cloth for plaid
Embroidered "Snowflake"
Embroidered "Reindeer"
Embroidered "Santa"
Embroidered "Present"
Christmas plaid
N/A
Regular Location
Orangery (from scene level Grand Magister)
Orangery (from scene level Grand Magister)
Orangery (from scene level Grand Magister)
Orangery (from scene level Grand Magister)
Orangery (from scene level Grand Magister)
Quest Location
Wonder Shop in Pairs mode
Wonder Shop
Wonder Shop
Wonder Shop in Silhouette
Wonder Shop
Present for Christy
Item
Chocolate stars
Chocolate bells
Chocolate baubles
Chocolate trees
Chocolate sticks
Assorted chocolates
N/A
Regular Location
Wigwam (from scene level Grand Magister)
Wigwam (from scene level Grand Magister)
Wigwam (from scene level Grand Magister)
Wigwam (from scene level Grand Magister)
Wigwam (from scene level Grand Magister)
Quest Location
Wonder Shop
Wonder Shop in Night
Wonder Shop
Wonder Shop in Text mode
Wonder Shop
Christmas atmosphere
Item
Christmas candles
Christmas sacks
Christmas bouquet
Christmas lights
Christmas fireworks
Symbol of the year
N/A
Regular Location
Christmas Eve (from scene level Professor)
Christmas Eve (from scene level Professor)
Christmas Eve (from scene level Professor)
Christmas Eve (from scene level Professor)
Christmas Eve (from scene level Professor)
Quest Location
Wonder Shop
Wonder Shop in Morphs
Wonder Shop
Wonder Shop in Silhouette
Wonder Shop
Christmas parfait
Item
Kiwi pulp
Pineapple rings
Passion fruit pulp
Coconut syrup
Watermelon ice cream
Christmas parfait
N/A
Regular Location
Spring Festival (from scene level Grand Magister)
Spring Festival (from scene level Grand Magister)
Spring Festival (from scene level Grand Magister)
Spring Festival (from scene level Grand Magister)
Spring Festival (from scene level Grand Magister)
Quest Location
Wonder Shop
Wonder Shop in Text mode
Wonder Shop
Wonder Shop
Wonder Shop in Silhouette mode
Sea knots
Item
Bachmann knot
Blood knot
Jury mast knot
Grapevine knot
Cat's paw knot
Turk's head knot
N/A
Regular Location
Wonder Shop
Wonder Shop
Wonder Shop
Wonder Shop
Wonder Shop
Quest Location
Blocks
Wonder Shop in Text mode
Flower Shop
Tavern in Night mode
Eastern Bazaar
Lost valise
Item
Old valise
Diary
Photo lab key
Business cards
Pack of hard candies
Billfold
N/A
Regular Location
Observation Deck (from scene level Grand Magister)
Observation Deck (from scene level Grand Magister)
Observation Deck (from scene level Grand Magister)
Observation Deck (from scene level Grand Magister)
Observation Deck (from scene level Grand Magister)
Quest Location
Observation Deck
Spooky Yard
Throne Room
Treasure Island in Pairs mode
Witch's Hut
First legend
Item
High relief "Village"
High relief "The Way"
High relief "Witch"
High relief "Meeting"
High relief "Collapse"
High relief "Salvation"
N/A
Regular Location
Wonder Shop (from scene level Trainee)
Wonder Shop (from scene level Trainee)
Wonder Shop (from scene level Trainee)
Wonder Shop (from scene level Detective)
Wonder Shop (from scene level Detective)
Quest Location
Excavations
Spooky Yard in Silhouette mode
Mill
Wonder Shop
Gem Match
Second legend
Item
Stained glass "Family"
Stained glass "Brothers"
Stained glass "The Gift"
Stained glass "Care"
Stained glass "Wander"
Stained glass "Meeting"
N/A
Regular Location
Wonder Shop (from scene level Detective)
Wonder Shop (from scene level Detective)
Wonder Shop (from scene level Pro)
Wonder Shop (from scene level Pro)
Wonder Shop (from scene level Pro)
Quest Location
Winter Street
Forest House in Silhouette
Misty Shed
Night mode (any Picture)
Bungalow
Pineapple cooler
Item
Pineapple juice
Banana puree
Strawberry syrup
Lemon syrup
Mango jam
Pineapple cooler
N/A
Regular Location
Wonder Shop (from scene level Pro)
Wonder Shop (from scene level High Explorer)
Wonder Shop (from scene level High Explorer)
Wonder Shop (from scene level High Explorer)
Wonder Shop (from scene level High Explorer)
Quest Location
Ancient Library
Spooky Yard in Curse mode
Flower Shop
Tree of Dates
Theater
Third legend
Item
Painting "Destiny"
Painting "Young Pupil"
Painting "Awakening"
Painting "Disclosure"
Painting "Imprisoning"
Painting "Rescue"
N/A
Regular Location
Wonder Shop (from scene level Academician)
Wonder Shop (from scene level Academician)
Wonder Shop (from scene level Academician)
Wonder Shop (from scene level Academician)
Wonder Shop (from scene level Magister)
Quest Location
Tavern
Witch's Hut in Night mode
Ghost Town
Wonder Shop in Pairs mode
Blocks
Fisherman's tools
Item
Steelyard balance
Echosounder
Downrigger
Fishing bite alarm
Soft plastic baits
Spinning rod
N/A
Regular Location
Forest House (from scene level Professor)
Forest House (from scene level Professor)
Forest House (from scene level Professor)
Forest House (from scene level Professor)
Forest House (from scene level Professor)
Quest Location
Throne Room in Pieces mode
Mayan Temple
Wonder Shop in Night mode
Spooky Yard
Polar Station
Police investigation
Item
Evidence "Testimony"
Facial composite
Video screenshots
Gas station receipt
Lemon cakes
Letter from a stranger
N/A
Regular Location
Tavern (from scene level Grand Magister)
Tavern (from scene level Grand Magister)
Tavern (from scene level Grand Magister)
Tavern (from scene level Grand Magister)
Tavern (from scene level Grand Magister)
Quest Location
Spooky Yard
Crashed Plane in Text mode
Wonder Shop
Winter Street in Pairs mode
Bungalow
Sweet tooth box
Item
Orange donut
Chocolate donut
Royal donut
Vanilla donut
Strawberry donut
Box with donuts
N/A
Regular Location
Wonder Shop (from scene level Magister)
Wonder Shop (from scene level Magister)
Wonder Shop  (from scene level Magister)
Wonder Shop (from scene level Magister)
Wonder Shop (from scene level Magister)
Quest Location
Banquet Hall
Morphs mode (any Picture)
Amusement Park
Night Garden
Banquet Hall in Night mode
Floral cake
Item
Wafer peonies
Chocolate leaves
Fruit jelly bushes
Wafer butterflies
Confectionery sequins
Floral cake
N/A
Regular Location
Wonder Shop
Wonder Shop
Wonder Shop
Wonder Shop
Wonder Shop
Quest Location
Wonder Shop
Excavations in Text mode
Illusionist's Room
"Scatter" the 'Lost Time' anomaly (any Picture)
Jigsaw
Archival photo
Item
Photo fragment No. 1
Photo fragment No. 2
Photo fragment No. 3
Photo fragment No. 4
Photo fragment No. 5
Archival photo
N/A
Regular Location
Joy Cafe (from scene level Professor)
Joy Cafe (from scene level Magister), Spooky Yard
Joy Cafe (from scene level Professor)
Joy Cafe (from scene level Professor)
Joy Cafe (from scene level Professor)
Quest Location
Theater
Spooky Yard in Pieces mode
Flower Shop
Wonder Shop in Morphs mode
Tree of Dates
Cozy fireplace
Item
Chimney
Calcium silicate bricks
Red brick
Fireplace screen
Fire iron
Fireplace bellows
N/A
Regular Location
Forest House (from scene level Grand Magister)
Forest House (from scene level Grand Magister)
Forest House (from scene level Grand Magister)
Forest House (from scene level Grand Magister)
Forest House (from scene level Grand Magister)
Quest Location
Mountain Resort
Mountain Resort
Mountain Resort in Silhouette mode
Mountain Resort
Mountain Resort in Text mode
Fun in the Snow
Item
Skis
Ski poles
Ice skate
Sled
Snowboard
Inner tube
N/A
Regular Location
Mountain Resort (from scene level Grand Magister)
Mountain Resort (from scene level Grand Magister)
Mountain Resort (from scene level Grand Magister)
Mountain Resort (from scene level Grand Magister)
Mountain Resort (from scene level Grand Magister)
Quest Location
Mountain Resort
Mountain Resort
Mountain Resort
Mountain Resort in Night mode
Mountain Resort
Cheese fondue
Item
Emmental cheese
Gruyère cheese
Baguette
Onion
Fondue pot
Fondue
N/A
Regular Location
Mountain Resort (from scene level Grand Magister)
Mountain Resort (from scene level Grand Magister)
Mountain Resort (from scene level Grand Magister)
Mountain Resort (from scene level Grand Magister)
Mountain Resort (from scene level Grand Magister)
Quest Location
Mountain Resort
Mountain Resort
Mountain Resort in Silhouette mode
Mountain Resort
Mountain Resort
Mountain peaks
Item
Note from Everest
Note from Aconcagua
Note from Denali
Note from Kilimanjaro
Note from Elbrus
Alpinist diary
N/A
Regular Location
Crashed Plane (from scene level Grand Magister)
Crashed Plane (from scene level Grand Magister)
Crashed Plane (from scene level Grand Magister)
Crashed Plane (from scene level Grand Magister)
Crashed Plane (from scene level Grand Magister)
Quest Location
Mountain Resort in Pairs mode
Mountain Resort
Mountain Resort
Mountain Resort in Morphs mode
Mountain Resort
Dog sled
Item
Sled runners
Brush bow
Dog harness
Dog sled bag
Gangline
Dog sled
N/A
Regular Location
Wigwam (from scene level Grand Magister)
Wigwam (from scene level Grand Magister)
Wigwam (from scene level Grand Magister)
Wigwam (from scene level Grand Magister)
Wigwam (from scene level Grand Magister)
Quest Location
Mountain Resort
Mountain Resort
Mountain Resort in Night mode
Mountain Resort
Mountain Resort in Silhouette mode
Elegant telephone
Item
Handset
Microphone
Receiver
Rotary dial
Coiled telephone wire
Old telephone
N/A
Regular Location
Mountain Resort
Mountain Resort
Mountain Resort
Mountain Resort
Mountain Resort
Quest Location
Mountain Resort
Theater in Morphs mode
Misty Shed
Tree of Dates
Christmas Eve in Pairs mode
Address book
Item
Address book
Page "F"
Page "R"
Page "A"
Page "M"
Page "J"
N/A
Regular Location
Mountain Resort
Mountain Resort
Mountain Resort
Mountain Resort
Mountain Resort
Quest Location
Tavern in Night mode
Pipes
Mountain Resort
Gem Match
Eastern Bazaar in Curse mode
Magical filters
Item
Star filter
Rainbow filter
Fluorescent filter
Diffusion filter
Gradient filter
Fog Filter
N/A