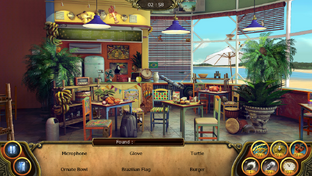 Joy Café is unlocked through normal game play when a player reaches level 17. 
Players can 'pay to play' Joy Café from level 16 onwards, where they can choose to pay with crystals (which will need to be bought with real money) to unlock the Picture early, rather than waiting until they reach level 17 and unlock it for free through normal game play. The opening levels for Joy Café, previously levels 13 (for 'pay to play') and 15, were changed with the Family Mystery Update (v1.31.3100).
From the Diary:
"I restored the next picture from Richard's collection. It's an image of the 'Joy Café' in Brazil. I'm really starting to like this. What other job gives you the chance to travel all over the world instantly?"
The following is a list of hidden items found in Joy Café. Depending on the Picture Level and Game Mode you may not have to find all the items in one visit. Morphs and Pieces modes have their own items that need to be found, separate from those listed below.
Ancient Books ²
Antique Camera
Apple ¹
Armadillo
Baseball Cap
Brazilian Flag
Broom
Burger
Butterfly
Coconut
Coffee Grinder ²
Coffee Mug
Glove
Hot-Air Balloon ²
Maracas
Microphone
Orange
Ornate Bowl
Pen
Ruler
Sandal
Security Camera
Soccer Ball
Soccer Shoes
Turtle
Item Notes:
The Christmas 2013 Update made the following change:

Cocktail was removed.
Apple was added.

The Hanami Festival Update (April 2018) made the following changes:

Ancient Tomes was renamed Ancient Books
Balloon was renamed Hot-Air Balloon
Coffee Mill was renamed Coffee Grinder
Resource Demands and Rewards for Playing
Edit
The amount of energy required to play Joy Café will increase as the level of the Picture is increased. The experience points and coins rewards for each win of the Picture will also increase to match the increase in resource demands, as will the pool of potential collection item rewards.
The pool of rewards available for each successful game of Joy Café contains both Collection Items and Combining Elements:
Level
Resource Demands
Minimum Resource Rewards
Potential Game Item Rewards Pool
Energy Points
Special Items
Experience Points
Coins
Combining Elements
Collection Items
Other
Novice
25
N/A
90
110
N/A
Caesar
Money Bag (Talisman)
Trainee
28
N/A
100
120
N/A

+

Haunted House; Russian stamp
Same as Trainee
Detective
31
N/A
110
130
Winding Key

+

French stamp; Medal of Dexterity; Medal of Power

+

Magical Lantern (Anti-Anomaly)
Pro
34
N/A
120
140

+

Silver Winding Key

+

Lightning-fast bow; Peacock; Canary; Cookie
Same as Detective
High Explorer
37
N/A
130
150

+

Gold Winding Key

+

Candy roll; Quill pen; Holiday globe; Guitar; Violin
Same as Detective
Academician
40
N/A
140
160
Same as High Explorer

+

The fifth rule of the Explorer; Serving knife; Pastry tongs; Strainer
Same as Detective
Magister
43
N/A
150
170
Same as High Explorer

+

Wind amulet; Alchemy flask; Energy synthesizer; Sterilizing socket
Same as Detective
Professor
46
N/A
160
180
Same as High Explorer

+

Kiwi lemonade; Cherry iced tea; Strawberry smoothie; Orange smoothie; Watermelon spritzer; Chocolate, Strawberry, Blueberry; Pistachio, Vanilla ice cream; Photo fragment No.1, No.2, No.3, No.4, No.5
Same as Detective
Grand Magister
49
N/A
170
190
Same as High Explorer

+

London, Moscow, Ankara, Seoul, Buenos Aires plate; Potato gratin; Pasta with mushrooms; Baked apples; Carrot muffins; Vegetable cake
Same as Detective
Note: In addition to the items listed above, other items may also be in the list of potential rewards for a particular play of the picture depending on what game mode it is currently in (e.g. items from the Venetian Masks collection if it is in Text mode) or if there is an active quest involving the picture.
Ruler - above the refrigerator, on the side of the chair on the right, on the left blinds, along the window frame.