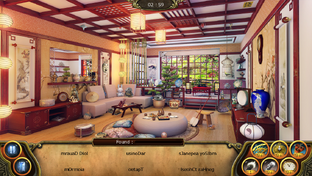 Japanese House is unlocked when the player begins the game for 'pay to play' requiring crystals or level 5 requiring only energy and coins. The opening levels for Japanese House, previously levels 5 and 6 respectively, were changed with the Family Mystery Update (v1.31.3100).
Japanese House was originally called Window to Metropolis. The picture received a complete make-over and name change as part of the Valentines 2014 Update.
From the Diary:
"There was a picture of a Japanese house in the next magical photograph I restored. It had an elegant interior, cosy atmosphere and even a garden with Sakura - you won't find any other place quite like it"
The following is a list of hidden items found in Japanese House. Depending on the Picture Level and Game Mode you may not have to find all the items in one visit. Morphs and Pieces modes have their own items that need to be found, separate from those listed below.
| Item | Regular Image | Silhouette |
| --- | --- | --- |
| Bag | | |
| Butterfly | | |
| Castle | | |
| Clothes Hanger | | |
| Crane | | |
| Daruma Doll | | |
| Dinosaur | | |
| Folding Screen | | |
| Fox | | |
| Koi¹ | | |
| Geta Sandal | | |
| Glove | | |
| Japanese Flag | | |
| Japanese Symbol | | |
| Jug | | |
| Mt. Fuji¹ | | |
| Noh Mask | | |
| Omamori | | |
| Samurai Helmet | | |
| Scissors | | |
| Shuriken Star | | |
| Teapot | | |
| Typewriter | | |
| Yin-Yang Symbol | | |
| Zen Garden¹ | | |
Item Notes:
The Hanami Festival Update (April 2018) made the following changes:

Carp Koi was renamed Koi
Fujiyama was renamed Mt. Fuji
Garden Item was renamed Zen Garden
Resource Demands and Rewards for Playing
Edit
The amount of energy required to play Japanese House will increase as the level of the Picture is increased. The experience points and coins rewards for each win of the Picture will also increase to match the increase in resource demands, as will the pool of potential collection item rewards.
The pool of rewards available for each successful game of Japanese House contains both Collection Items and Combining Elements:
Level
Resource Demands
Minimum Resource Rewards
Potential Game Item Rewards Pool
Energy Points
Special Items
Experience Points
Coins
Combining Elements
Collection Items
Other
Novice
16
N/A
60
80
N/A
Courier figurine
Explorer's Eye (Tool)
Trainee
19
N/A
70
90
Winding Key; Mad Hat

+

Captain figurine; Sextant
Same as Novice
Detective
22
N/A
80
100

+

Silver Winding Key

+

Spyglass; Carnations; Violets
Same as Novice
Pro
25
N/A
90
110

+

Gold Winding Key

+

Wolf ring; Falcon ring; Ouija board; Rabbit's foot
Same as Novice
High Explorer
28
N/A
100
120
Same as Pro

+

Athletic shoes; Whistle; Fabergé egg; Easter egg
Same as Novice
Academician
31
N/A
110
130
Same as Pro

+

Pearl "Abernathy"; Pearl "Arco Valley"; Pearl "Hope"; A sperm whale
Same as Novice
Magister
34
N/A
120
140
Same as Pro

+

Vacuum annihilator; A piston screwdriver; Precision pyrography tool; Notebook
Same as Novice
Professor
37
N/A
130
150
Same as Pro

+

"California", "Philadelphia", "Dragon", "Banzai", "Unagi tempura" roll; Brush and dustpan; Pail and rug; Broom; Laundry detergent; Spray Cleaner; Bookmark with chain, pointer, blacklight, clip; Sticky bookmark
Same as Novice
Grand Magister
40
N/A
140
160
Same as Pro

+

Birthday, Housewarming, Job promotion, College acceptance, Newborn baby card; Yukata; Obi; Hakama; Zori; Geta
Same as Novice
Note: In addition to the items listed above, other items may also be in the list of potential rewards for a particular play of the picture depending on what game mode it is currently in (e.g. items from the Venetian Masks collection if it is in Text mode) or if there is an active quest involving the picture. Japanese House is one of the pictures that may reward event special items after completion of the event (either finished with all challenges or regular end) until the next main version update.
Known Glitches
Edit
During the Valentines Update, there was a glitch in Japanese House in Silhouette mode. Occasionally in Silhouette mode the silhouette of the clothes hanger will appear twice. The second clothes hanger silhouette is actually the Noh Mask, finding the Noh Mask is the only way to finish the game if you have already found the clothes hanger and see a clothes hanger silhouette again. Explorer's Eye and Compass tools will find the Noh Mask if the second clothes hanger appears on your list of items to find. It is just the image in the list of items that is wrong. The Tavern Update fixed this glitch, and now the Noh Mask silhouette appears when a player is asked to look for the Noh Mask in Silhouette mode.
An omamori is a Japanese amulet. It looks like a tag for clothing.
Fujiyama is a picture of Mount Fuji.
The jug is a gourd jug with a looped cord handle.