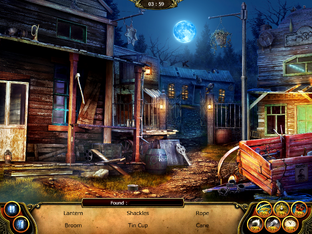 Ghost Town is unlocked through normal game play when a player reaches level 15. 
Players can 'pay to play' Ghost Town from level 14 onwards, where they can choose to pay with crystals (which will need to be bought with real money) to unlock the Picture early, rather than waiting until they reach level 15 and unlock it for free through normal game play. The opening levels for Ghost Town, previously levels 10 and 12 respectively, were changed with the Family Mystery Update (v1.31.3100).
The picture received a make-over as part of the Halloween's Horror Update.
From the Diary:
"I was impressed when I restored the next photograph. It was a picture of an eerie ghost town, full of mysteries and riddles. The photo itself seemed to tremble when I was inside it. It was a feeling that I just can't quite put into words."
The following is a list of hidden items found in Ghost Town in most modes. Depending on the Picture Level and Game Mode you may not have to find all the items in one visit.  Morphs and Pieces modes have their own items that need to be found, separate from those listed below.
Alarm Clock
Antique Camera
Antlers
Bat
Black Cat
Boot
Bottle
Broom
Cane
Dusty Globe
Feather
Film Reel
Gramophone
Horseshoe
Lantern
Ornate Jug
Pistol
Rope
Shackles
Sheriff's Star
Tin Cup
Vintage Padlock
Wanted Poster ¹
Women's Hat ¹
Wooden Bucket
Item Notes:
The Hanami Festival Update (April 2018) made the following changes:

"Wanted" Poster was renamed Wanted Poster
Woman's Hat was renamed Women's Hat
Resource Demands and Rewards for Playing
Edit
The amount of energy required to play Ghost Town will increase as the level of the Picture is increased. The experience points and coins rewards for each win of the Picture will also increase to match the increase in resource demands, as will the pool of potential collection item rewards.
The pool of rewards available for each successful game of Ghost Town contains both Collection Items and Combining Elements:
Note: In addition to the items listed above, other items may also be in the list of potential rewards for a particular play of the picture depending on what game mode it is currently in (e.g. items from the Venetian Masks collection if it is in Text mode) or if there is an active quest involving the picture.
Possible locations
Edit
Pistol

sometimes hides under the unmovable hatch