Playing with Friends is a very important part of the game. You get game benefits by having friends, visiting friends, and hiring friends. You get game benefits by receiving gifts from friends and having friends visit you.
This page was rewritten in March 2019 to cover the new G5 Friends™ system which was incorporated into The Secret Society ® - Hidden Mystery ("SSHM") in the Chinese Festivities Update released in late January 2019.    This page is not intended to be the "Missing Manual" for G5 Friends.  This page is basic information for navigating the interface in the context of playing SSHM. 
Introduction
Edit
Formerly, our games were unique to our devices (computer, tablet, etc.) and if we wanted to move our game to a different device, there was not an easy way to do this. Now we have "accounts" and our game progress is associated with our accounts and not our devices. The G5 Friends system is several years old and it has been just recently added to SSHM. 
G5 can change parts of the system without releasing an update to the game. This page cannot document every feature change; the purpose of this page is to document the most important features as they relate to playing SSHM.
Other than the Friends interface itself, the biggest changes to the game are Gifting and Hiring Friends.  The new system also added new-to-SSHM features, such as Chat, News Feed, and Requests.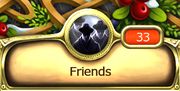 Open the Friends section from the bottom right of the Home Desktop. 
The number in red is the total of Gifts, Requests, New Chat messages, Invitations, and new News Feed items.
The Friends section has 7 bottom tabs: 
The 5 on the Friends tab indicates 5 invitations.
The 1 on the Chat tab indicates 1 new chat message.
The 47 on the Gifts tab indicates a total of Gifts and Requests.
My Profile tab
Edit
Left Side
Edit
After you have registered your game, you will primarily use the features on the Left Side.
Avatar

Tap your avatar to change it.
Gold frames are for special avatars that you have won by completing Timed Challenge Events.

Nickname

This is what your friends see in the game.
You can change it anytime. It no longer requires 2 crystals to change your Nickname.
The maximum length is 32 characters. The Nickname can include spaces and numbers, but it cannot begin with a number.
The search feature searches on the beginning of your friends' Nicknames, so it is better to not change the beginning of your nickname.

[Change Player]

Tap this to login to another game on the same computer/tablet. (NEVER attempt to login to another game by changing what is in the white boxes on the right side of the screen.)
If you have forgotten either your Player Login or your Password, use the Forgot? button to reset your password. The password reset email will include your Player Login
Right Side
Edit
As a general rule, after you have registered your game, avoid changing anything on the Right Side.
Player Login

This must be unique in the G5 Friends' system. This is what you share with potential new friends to invite them to play with you.
Your Player Login is case-sensitive and it may contain spaces. It is a good idea to write it down exactly.
It can be changed after you have completed the registration process with G5 Friends.

Password

To be registered, you must confirm your registration from an email and set a password.
You can change your password later.

E-mail

Each SSHM game that you have must have its own email address.
You must supply an email address, and confirm your registration from an email that G5 will send.
IMPORTANT You must complete this process for your game to be saved in the cloud. If you do not, you will not be able to play your game on another device.
News Feed tab
Edit
The News Feed shows changes in your friends' games, with the most recent events at the top.
You can see:

Friends' achievement of new levels.
Friends' addition of items to their Wish lists . ("asked for your help" means only that they have updated their Wish List.)
You can send a gift from a wish list by tapping it here.
If you and a friend are both playing another G5 game, you might see News items related to the other game.

You can open the Chat window with a friend from here, as well as from the Chat and Friends tabs.
Tap My Feed at the top to see your own Wish List changes and new levels.
This News Feed item shows that the friend has added the Teapot to her Wish List, 20 minutes ago.  The Teapot cannot be gifted right now because today's gift has already been sent.  If it could be gifted right now, there would be a thin white border around the Teapot image.  The gift can be sent directly from the News Feed.  The Chat Bubble shows that there is one unread chat message.
Friends tab
Edit
Gifts are sent from this screen, and visits are started from this screen. You can also access the Chat feature from this screen.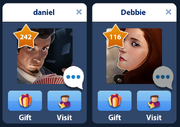 For each Friend:
Nickname is at the top.
Tap the avatar to see the friend's Player Profession.
Their current level is in a star.
Chat Bubble:

White: Your friend has updated to the G5 Friends system and you may chat with your friend.
Green: You have an unread message from your friend.
Gray: Your friend has not updated to the G5 Friends system.

Delete a friend by tapping the X to the right of their name. You will be asked to confirm.
Gift

To send a gift, tap Gift. Other than the Friends interface itself, Gifting is the biggest change to SSHM in the new system, and will be explained in a separate article.

Visit

To visit, tap Visit. Visiting works much the same as it always has; see Visiting.
You must Visit your friend to see their current Experience Points, Reputation Points, Energy, and Power.
To Hire, you must Visit. The Hire button is located at the bottom of the screen when you are viewing your friend's desktop.  Depending on your Reputation Level, you may Hire up to 5 friends before playing a picture or a puzzle.  You must visit each of them.  The benefits of hiring the four Player Professions have not changed from before; see Hiring Friends/Choosing a Player Profession to Hire
Other parts of the Friends screen:
Search by Name:  You can search for friends by keying in letters at the beginning of their Nickname.  
Sort by:

Interaction with me (default) is the most useful and is recommended when you want to send gifts to all of your friends in one session.
Recent activity is useful to gauge how recently each friend was online.
Level puts your friends in level order, Highest to Lowest. Friends who have not updated are included in the sort.
Alphabetical order also includes friends who have not updated.

Waiting tab at top

If you have given your Player Login to someone, after they enter it, you must accept them here.
Other players who invite you from the 'Random' system will appear here.
SSHM Friends who are playing other games will also Invite you to play those games. They are not actually inviting you; the system is doing that.
You can chat with each friend individually. You can also access this screen from the Friends and News Feed tabs.
Recent top tab lists every friend who you have chatted with. Tap a friend to switch the chat window to that friend.
People top tab lists all your friends in alphabetical order. This also shows the last time they were active in the G5 Friends system.
You can also open the Chat window for by tapping a Chat bubble on the News Feed, and also on the friend in the Friends tab. 
Invite friends tab
Edit
You can add new friends by Invitation and by the "Random" system, as before. Additionally you can invite Facebook friends if your game is connected to your Facebook account.
To invite someone who has given you their Player Login: Enter their Player Login in the white Invite box.
Tell someone your Player Login for them to enter in their own game. After they enter it, you will need to accept them from the Waiting tab of the Friends tab.

Gifts tab
Edit
Gifts top tab
Edit
This is where to find your incoming gifts, also known as your "Gift Box."
You must accept each gift one at a time.
You no longer send a Thank You gift when you receive a Combining Element. If you receive a Collection Item, you will be able to send a Thank You gift.
Thank you gifts that you receive for sending a Collection Items gift are pink boxes with purple ribbons. These can be any Combining Element. (The pool of Thank you gifts no longer includes any Collection Items, Tools, Talismans, or Special Items.)
When you close the Friends window with the X at the upper right corner, you will return to your home desktop and you will see your gifts go into inventory.
Requests top tab
Edit
Requests is a new feature to request Collection Items from your friends.  Requests are initiated from the Collections window.  The process will be documented elsewhere.  In the Requests section of the Gifts tab, you can see requests your friend have made of you. 
For each request, you can see how many of that item you have. If you have none, it will display 'No Item'.
If you send an item from here, it will not appear as a gift to your friend. It will go directly into their inventory.
If you send an item from here, your friend cannot send you a Thank you gift.
Requests do not appear in your News Feed.
There is no limit to how many items you send via the Request system.
You can send one of a particular item. Then the request is removed from your screen.
To send a requested item, tap the Send button. You will not be asked to confirm.
Because your friend will not be notified, you might want to use the Chat feature to tell your friend that you sent the item.
Best Players tab
Edit
To be done.
To Do: Add the other related pages after each is updated