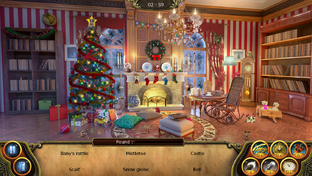 Christmas Eve is unlocked through normal game play when a player reaches level 13.
Players can 'pay to play' Christmas Eve from level 12 onwards, where they can choose to pay with crystals (which will need to be bought with real money) to unlock the Picture early, rather than waiting until they reach level 13 and unlock it for free through normal game play. The opening levels for Christmas Eve, previously levels 8 (for 'pay to play') and 10, were changed with the Family Mystery Update (v1.31.3100).
Christmas Eve was introduced during the Christmas 2013 Update. For the duration of the Christmas challenge, Christmas Baubles special items were needed in addition to energy points to play Christmas Eve. Christmas Baubles were given as rewards for every successful investigation for every picture, but not for playing puzzles. The Valentines 2014 Update removed Christmas Baubles from the game and turned Christmas Eve into a regular picture just requiring energy points to play.
From the Diary:
"It's so nice that I managed to restore a new magical photo from Richard's collection! Especially because it shows Christmas! I have so many pleasant Christmas memories. Hope lots of wonderful things are waiting for me in this photo!"
The following is a list of hidden items found in Christmas Eve. Depending on the Picture Level and Game Mode you may not have to find all the items in one visit.  Morphs and Pieces modes have their own items that need to be found, separate from those listed below.
Baby's rattle
Bag of presents
Bell
Castle
Christmas sweater
Elf ²
Fairy
Gingerbread Man
Holly ²
Humming Top
Ice skate ³
Mitten
Music Box
Nutcracker
Puppy
Red Cap
Reindeer ³
Santa hat ³
Scarf
Sleigh
Snow Globe
Snowman
Spinning Top ³
Staff
Toy train ³
Tricycle  ¹
Item Notes:
The Halloween 2015 Update (October 2015) made the following changes:

Bicycle was renamed Tricycle

The Spring Festival Update (April 2016) made the following changes:

Dwarf was renamed Elf
Mistletoe was renamed Holly

The Hanami Festival Update (April 2018) made the following changes:

Deer was renamed Reindeer
Humming top was renamed Spinning Top
Red cap was renamed Santa hat
Skates was renamed Ice skate
Steam engine was renamed Toy train
Resource Demands and Rewards for Playing
Edit
The amount of energy required to play Christmas Eve will increase as the level of the Picture is increased. The experience points and coins rewards for each win of the Picture will also increase to match the increase in resource demands, as will the pool of potential collection item rewards. The list of potential collection item rewards for Christmas Eve is made up of 10 Collections:
The pool of rewards available for each successful game of Christmas Eve contains both Collection Items and Combining Elements:
Level
Resource Demands
Minimum Resource Rewards
Potential Game Item Rewards Pool
Energy Points
Special Items
Experience Points
Coins
Combining Elements
Collection Items
Novice
20
N/A
80
100
N/A
Angels; Cones; Pine wreath; Holda; Joulupukki; Doll pants
Trainee
23
N/A
90
110
N/A

+

Star (2); Candy cane; Poinsettia; Christmas elf; Father Frost; Doll shirt
Detective
26
N/A
100
120
Screw nut; Small screw

+

Pomander balls; Fortune cookies; Advent calendar; Muori; Saint Nicholas; Doll shoes
Pro
29
N/A
110
130

+

Washer; Split Washer

+

Holly; Stollen; Osechi-ryori; Zwarte Piet; Shogatsu-san; Doll hat
High Explorer
32
N/A
120
140

+

Snowflake; Christmas stocking; Streamer; Tinsel

+

Buche de Noel; Kourabiedes; Songpyeon; Befana; Chyskhaan; Doll gloves
Academician
35
N/A
130
150
Same as High Explorer level

+

Blue sticky note; Green sticky note; Yellow sticky note; Violet sticky note; Red sticky note
Magister
38
N/A
140
160
Same as High Explorer level

+

Shabby beret; Ancient brush; The Order's portfolio; Bronze frame; Old camera
Professor
41
N/A
150
170
Same as High Explorer level

+

Christmas candles; Christmas sacks; Christmas bouquet; Christmas lights; Christmas fireworks
Grand Magister
44
N/A
160
180
Same as High Explorer level

+

Spinach; Kale; Broccoli; Leeks; Chard
Note: In addition to the items listed above, other items may also be in the list of potential rewards for a particular play of the picture depending on what game mode it is currently in (e.g. items from the Venetian Masks collection if it is in Text mode) or if there is an active quest involving the picture.
Note1: With the Christmas Magic Update, v1.36.3600 (December 2018), the Snowflake, Christmas stocking, Streamer and Tinsel Combining Elements availablity to win at Trainee and Detective level was changed to High Explorer.
Possible locations