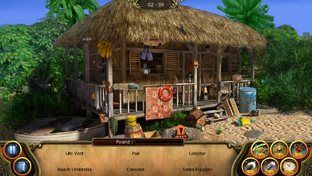 Bungalow is unlocked through normal game play when a player reaches level 23.
Players can 'pay to play' Bungalow from level 22 onward, where they can choose to pay with crystals (which will need to be bought with real money) to unlock the Picture early, rather than waiting until they reach level 23 and unlock it for free through normal game play.
From the Diary:
"I restored Richard's next photograph and jumped for joy! It's a picture of Hawaii - a personal bungalow, white sand and the azure sea! Now, there's something I'll be glad to study!"
The following is a list of hidden items found in Bungalow. Depending on the Picture Level and Game Mode you may not have to find all the items in one visit. Morphs and Pieces modes have their own items that need to be found, separate from those listed below.
Alarm Clock
Balloon
Beach Umbrella
Coconut
Conch Shell
Crab
House Key
Hula Doll
Lei ¹
Life Buoy ¹
Life Vest
Lobster
Octopus ¹
Pineapple
Portable Radio
Sandal
Seahorse
Shark
Ship Statuette
Snorkel Fins ¹
Starfish
Surf Keychain
Ukelele
Wind Chime
Item Notes:
The Hanami Festival Update (April 2018) made the following changes:

Lei Necklace was renamed Lei
Life Preserver was renamed Life Buoy
Octopus Toy was renamed Octopus
Swim Flippers was renamed Snorkel Fins
Resource Demands and Rewards for Playing
Edit
The amount of energy required to play Bungalow will increase as the level of the Picture is increased. The experience points and coins rewards for each win of the Picture will also increase to match the increase in resource demands, as will the pool of potential collection item rewards.
The pool of rewards available for each successful game of Bungalow contains both Collection Items and Combining Elements:
Note: In addition to the items listed above, other items may also be in the list of potential rewards for a particular play of the picture depending on what game mode it is currently in (e.g. items from the Venetian Masks collection if it is in Text mode) or if there is an active quest involving the picture. Bungalow is one of the pictures that may reward event special items after completion of the event (either finished with all challenges or regular end) until the next main version update.
Coming Soon