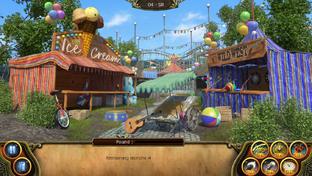 Amusement Park is unlocked through normal game play when a player reaches level 21
Players can 'pay to play' Amusement Park from level 20 onward, where they can choose to pay with crystals (which will need to be bought with real money) to unlock the Picture early, rather than waiting until they reach level 21 and unlock it for free through normal game play.
From the Diary:
"It feels good to sit near the amusement park on a sunny day after a brief rain. With this picture, I can study it."
The following is a list of hidden items found in Amusement Park. Depending on the Picture Level and Game Mode you may not have to find all the items in one visit. Morphs and Pieces modes have their own items that need to be found, separate from those listed below.
Banana
Basketball
Binoculars
Bow Tie
Boxing Gloves
Camera
Cane
Ceramic Mask
Chimpanzee
Clown Picture
Glass of Water
Handbell
Ice Cream Cone
Lollipop
Paper Airplane
Party Hat
Pocket Watch
Red Apple
Shoe ¹
Slingshot
Smoking Pipe
Spoon
Tickets
Toy Soldier
Wallet
Item Notes:
The Hanami Festival Update (April 2018) made the following changes:
Resource Demands and Rewards for Playing
Edit
The amount of energy required to play Amusement Park will increase as the level of the Picture is increased. The experience points and coins rewards for each win of the Picture will also increase to match the increase in resource demands, as will the pool of potential collection item rewards.
The pool of rewards available for each successful game of Amusement Park contains both Collection Items and Combining Elements:
Level
Resource Demands
Minimum Resource Rewards
Potential Game Item Rewards Pool
Energy Points
Special Items
Experience Points
Coins
Combining Elements
Collection Items
Other
Novice
34
N/A
120
140
Gear
Peaches
Scroll (Talisman)
Trainee
37
N/A
130
150

+

Bronze Gear

+

Breastplate; Scepter
Same as Novice
Detective
40
N/A
140
160

+

Antikythera Mechanism

+

King's orb; Phoenix; Elf
Same as Novice
Pro
43
N/A
150
170
Same as Detective

+

Dwarf; Dinosaur footprint; Fossilized shell; Wall clock; Blue pencil
Same as Novice
High Explorer
46
N/A
160
180
Same as Detective

+

French Princess; Russian Princess; Silver plate; Cubic Zirconia; Badge
Same as Novice
Academician
49
N/A
170
190
Same as Detective

+

Silver bullet; Water of the Holy Grail; Liquid fire; Wooden trident
Same as Novice
Magister
52
N/A
180
200
Same as Detective

+

Tent; Sleeping bag (1); Awning; Mosquito net
Same as Novice
Professor
55
N/A
190
210
Same as Detective

+

Heart-, Fish-, Star-, Bear-, Flower-shaped balloon; Toy bunny; Teddy bear; Toy turtle, deer, monkey; Cranberry juice; Cherry drink; Strawberry drink; Grape juice; Watermelon drink
Same as Novice
Grand Magister
58
N/A
200
220
Same as Detective

+

Evidence: "Glove", "Crowbar", "Footprints", "Lock of hair", "Boot"; Entrance tickets; DJ console; Upbeat music album; Lighting equipment; Sundress
Same as Novice
Note: In addition to the items listed above, other items may also be in the list of potential rewards for a particular play of the picture depending on what game mode it is currently in (e.g. items from the Venetian Masks collection if it is in Text mode) or if there is an active quest involving the picture. Amusement Park is one of the pictures that may reward event special items after completion of the event (either finished with all challenges or regular end) until the next main version update.
Coming Soon